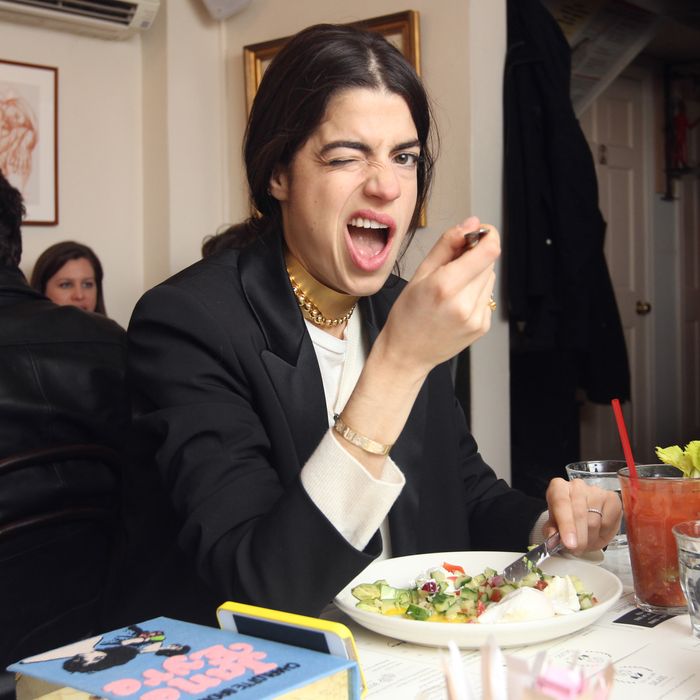 "I also drank a Bloody Mary because it is Saturday and I am alive."
Photo: Melissa Hom
It's been a busy Fashion Week for Leandra Medine, the fashion writer behind the wildly popular site Man Repeller and a book of the same name. She's attended a swanky party at Diane von Furstenberg's showroom, endured a mediocre Fashion Week dinner at Gemma, reviewed countless runway shows, and found time to kick it with friends at La Esquina and spend quality time with her family over Shabbat dinner. Read it all, straight ahead.
Thursday, February 6
If this was a Saturday Night Live skit, and my name was Stefon, here is where I might suggest that the hottest nightclub in town is Lincoln Center. Fashion Week started today, which means nothing of true importance other than that my food intake will be highly manipulated not by hunger, but by when I am capable of stopping to eat.
The first show of the day was at 10 a.m., so at eight, with two hours of solidarity to spare, I made an almond-milk matcha latte using matcha powder from Panatea. I also cut up an avocado, covered it in lemon juice and chili flakes, and smeared it across two GG crackers, which are these almost offensively fiber-rich crackers that taste really good, but only in the same way that tree bark does. Then, I put on some clothes.
At 2 p.m., I stopped at Le Pain Quotidien for a banana-crunola bowl, which is a combination of raw granola, fresh berries, and almond-milk yogurt. What is arguably the best part of being considered a technical grown-up is the ability to eat breakfast for breakfast and lunch without being judged by a parental authority.
I got hungry at 6 p.m. and went to Soho House. I ordered a hot toddy and a small bowl of shishito peppers and roasted Brussels sprouts. I love what they do to my breath (and urine). Then I had a kale salad chock-full of raw vegetables, feeling like the poster child for superfoods.
Friday, February 7
I slept later than I intended, thus eliminating the matcha-making grace period. The first thing I consumed was a Suja drink that I took from a show yesterday. It was raw and organic and fancy and tasted like spicy lemons and ginger.
At 12:30 p.m., I got so hungry that I couldn't see straight. I stopped at the Butcher's Daughter for an egg-and-vegan-cashew-cheese sandwich with guacamole and roasted potatoes. I also ordered a side of seitan sausage. I'm so glad that gluten and I see eye to eye. I drank a glass of hot water with lemon, and then, I really, really needed something sweet, so I bought a pack of Australian licorice and Matt's Munchies in the island-mango flavor. The latter is effectively a healthy Fruit Roll-up: It is only organic dried mango with organic coconut shavings sprinkled over it.
I ate my licorice and munchies throughout the afternoon, and then, I headed uptown to my mother-in-law's apartment for Shabbat dinner. Every Friday at sundown, I go to either my mother's home or to my in-laws', and we recite a Jewish prayer and then eat a large meal together. This particular week included oven-roasted artichokes, which are basically French Fries minus the potatoes, stuffed zucchini floating in a sweet brown sauce, and a salad with corn, avocado, and hearts of Palm. My husband's family is Syrian, and frankly, no one cooks a Middle Eastern dish quite like his mom.
It's pretty easy to be a vegetarian — for me, at least. I don't crave meat. If that's a thing I can do to reduce my moral footprint, why wouldn't I?
Saturday, February 8
At 11 a.m., my husband ordered an açai bowl from Liquiteria for himself, so I asked him to order one for me too. Damn, it was good. There was granola in there and berries and some liquid substance making it green.
I stopped at Jack's Wife Freda at 2:30, where on average, I eat four meals a week. I had poached eggs and a chopped salad. I also drank a Bloody Mary because it is Saturday and I am alive … kind of.
There was some Australian licorice left over from the day before, so at 3:30 p.m. I pounded that shit like it was water and I'd just been in desert exile. I'm glad to have done this because little did I know, I wouldn't be eating again until 10:30 p.m., when I attended a Fashion Week dinner at Gemma. I ate an arugula salad and mushroom crostini (between you and me, it was not good at all), and then a bowl of penne with tomato sauce. It's pretty hard to fuck that up, so I enjoyed the bowl and chased it down with a glass of Malbec.
Then, I went home to go to sleep. I think I hit my social rock bottom on Thursday night at eleven. I know I said my last meal was technically at Soho House and included all that calciferous shit, but when I got home, I put Dijon mustard on a pizza-pie-size slice of flatbread and ate it in under a minute. I didn't want to tell you about it, but I'm not a liar, so, here it is.
Sunday, February 9
I woke up at 7:30 a.m. and ordered another açai bowl for breakfast. This time, the liquid was purple instead of green. I drank a matcha latte to fill that void.
At 2:30 p.m., I took a break for lunch at a place on Tenth Avenue called Moran's. I tried to go to Cookshop before a show, but it was a shit-show, so instead I ended up at this wood-paneled, uncomfortably huge restaurant with a fireplace that made me feel like I was at the Olympics. I was wearing a turtleneck, so I made a joke about being Sochic, but no one laughed. I ordered a spinach omelette and an iced coffee. The coffee was fine; the omelette tasted old. And the neighboring hash browns tasted like rubber. The service was excellent, though.
I stopped at a brasserie on West Broadway and Grand at 5:30 p.m., and consumed three scoops of dark-chocolate sorbet. In the wise words of Aziz Ansari, Treat. Yo. Self. Right?
At 8:30 p.m., I headed over to Diane von Furstenberg's after-show dinner, which was held at her showroom. The buffet table made me feel like I was at a bar mitzvah — only the line to get to the food was rather paltry. Sant Ambroeus catered the spread, and I ate everything vegetarian before dessert came out. Then, I was forced to inhale the crème brulee, profiteroles, and this one white cake that was sweet but not offensive, and crunchy but soft at the same time. For a moment, I felt like I was reviewing a Fashion Week show, only to remember that it was dessert.
Monday, February 10
I woke up at seven and made a matcha latte. After the first show, which was at 9 a.m., I stopped at Le Pain Quotidien again. They do not have almond milk — only soy — and are therefore now planted firmly on my shit list.
I got a granola bar with almonds and currants and stuff in it. The bar was relatively small and came in just one package that when opened, cannot be resealed. This really bothered me because the nutritional facts state that the serving size is half a bar. That would mean that to eat the whole bar would mean consuming two separate servings. What am I supposed to do with the other half of the bar? I ate the whole thing faster than I could continue that stupid, stupid internal monologue.
When I came home, I ate an apple and a mashed-up avocado over a bed of arugula. From 3 to 9 p.m., I snacked on Craisins and raw almonds, and then met my friend Emily for dinner at Il Buco Alimentari. We ordered fried artichokes, which are awesome, and I was deeply compelled to try her prosciutto even though I am, and have always been, kosher. I got pasta with pecorino cheese and thick flakes of pepper on top.
Tuesday, February 11
Yesterday, I bought one of Gourmet Garage's huge macrobiotic bowls with sprouted brown rice and quinoa. I'm pretty sure that was like three servings, so I ate that between 11 a.m. and 4 p.m. I also snacked on some Craisins and pistachios.
And then I had a roll of sushi in the middle of the day. My brother and my dad were having lunch at Hatsuhana, and they have the freshest fish. I went to meet them to say hello in between shows, and I ended up having a spicy-tuna hand-roll and a yellowtail-jalapeño roll.
For dinner, I went to La Esquina with my friend-slash-co-worker Amelia. I had a jicama salad with cucumbers and a ginger-jalapeño sauce — without cheese. I was a little drunk! They have these amazing jalapeño margaritas, but it's not really a margarita. It's jalapeño, cucumber, cilantro, and vodka. I had a whole lot of those.