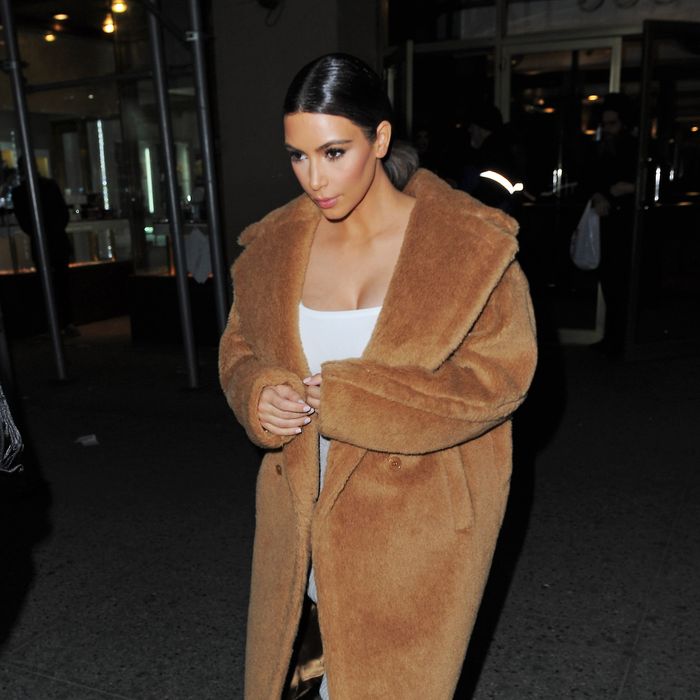 Kim Kardashian apparently stole someone's plush bathrobe.
Photo: Josiah Kamau/BuzzFoto/FilmMagic
With Academy Awards festivities gearing up in sunny Los Angeles this weekend, many A-listers seem to have taken the opportunity to skip out on the never-ending polar vortex for warmer festivities. Few braved the chill in New York this week: The Kings of Leon partied at Bagatelle after their MSG performance, Kim Kardashian jetted in for her best friend's birthday lunch, and a newly single John Mayer caught some live music. Read all about it, straight ahead.
Bagatelle: The Kings of Leon, plus 20 guests, kicked it after their show at MSG. [Page Six/NYP]
Blue Fin: Luke Wilson ate seafood at the famed Times Square restaurant. [Page Six/NYP]
Blue Note: John Mayer caught an act or two on the night before his first Late Night With Seth Meyers appearance. [People]
The Bowery Hotel: Padma Lakshmi and Harvey Keitel attended Eric Goode's second annual Turtle Ball. [Page Six/NYP]
Cipriani 42nd Street: Kim Kardashian celebrated her BFF Jonathan Cheban's birthday over lunch. [Grub Street]
Gallaghers Steakhouse: Broadway star Patti Lupone ate baked potatoes and a Caesar salad at the recently reopened restaurant. What about steak? [Grub Street]
Ocean Grill: Kyra Sedgwick grabbed dinner on the Upper West Side. [Page Six/NYP]
Philippe: Golfer Rory McIlroy enjoyed a romantic dinner with his new fiancée, tennis star Caroline Wozniacki. [Page Six/NYP]
Sirio Ristorante: The king and queen of Sweden celebrated the birth of their granddaughter at brunch. [Page Six/NYP]