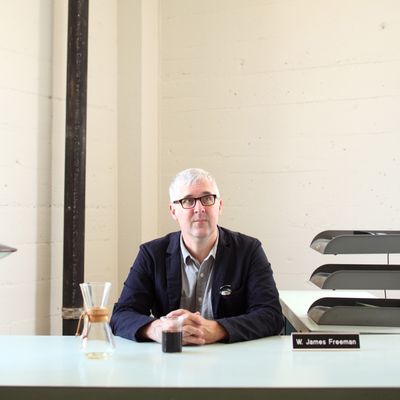 "I'm influenced by the dowdy and unfashionable kissaten culture in Japan."
Photo: Clay McLachlan/Claypix.com
This week, James Freeman opened his thirteenth Blue Bottle location (and sixth in New York) on Dean Street in Boerum Hill. Even though the new shop keeps a neighborhood feel, it's also a far cry from the lone coffee cart that Freeman operated in 2002. It's also the first Blue Bottle location to open since Freeman raised $25.75 million in funding last month (add that to the $20 million Blue Bottle received in October 2012). Grub Street got Freeman on the phone to talk about the new store, James Murphy's coffee blend (now being sold on Dean Street), and what Freeman plans to do with all that cash.
Let's talk about your latest funding round. You've said that you'd like to use the money to expand retail operations. Are you looking beyond California and New York?
I'm going to Japan on Thursday, and I think there are a lot interesting opportunities there, especially in Tokyo. I just love it there. My development person and I just came from looking at a building in New York, too. It's nice that we can go shopping! We're trying to choose beautiful locations.
I'm influenced by the dowdy and unfashionable kissaten culture In Japan. It's not a big deal in Japan, but there are threads from that culture that I think we have picked out, and we can show it to people in a new and interesting way. I think it's interesting that we can actually help younger Japanese people connect with this important part of their food culture.
If we do open in Japan, I don't want it to be a joint venture. I want to spend our own money and use our own gear and employees. That's the way that feels authentic and right for me. If you go to Tokyo, there are a lot of American brands. Sometimes they're executed pretty well, but they have this sheen of a binder that got FedExed.
The co-founders of Twitter and Instagram contributed to the latest round of funding. Why do you think your business strategy resonates with them?
I'm not exactly sure why the gleaming rosters of tech celebrities are interested in Blue Bottle. I'm very glad that they are. Some people like that we don't have Wi-Fi and that coffee is tangible. It's not really steal-able, and that's part of the allure. They're smart guys. They see that there's a lot of opportunities in coffee, and that inevitably, people want better and better things.
Think about the olive oil that's in people's cabinets now, compared to what was in people's cabinets ten years ago. They like that it's a real thing: It's a refreshing departure from the more virtual parts of their lives. Tech people also connect with coffee because it fuels their all-nighters. And it's the hacker mentality of anything can be better and can be improved. But that's just my theory!
There are more tech-world connections: Your new Oakland store, which has a big retail component and offers espresso machine repairs, has been called the "Apple Store for coffee." Is that a goal of yours?
I love that. I was inspired by the tables in the Apple store, and I tried to take some of that inspiration and apply it to the tables we have our espresso machines on in Oakland. It was an engineering marvel, but at the end of the day, it just looks like a table. A modest marvel, but one that nevertheless is inspiring to me.
What's the new Dean Street shop like?
It's adorable! It was such a dank little depressing real-estate office. A lot of cafes in New York are long and narrow. But this is a shoebox that faces the street. It's more like a little fish tank. We have these windows that open, and it's like this little public theater. It's so pleasant. We had the soft opening this weekend, and so many people came by with their dogs and their kids. It feels like our little kiosk in Hayes Valley when we opened.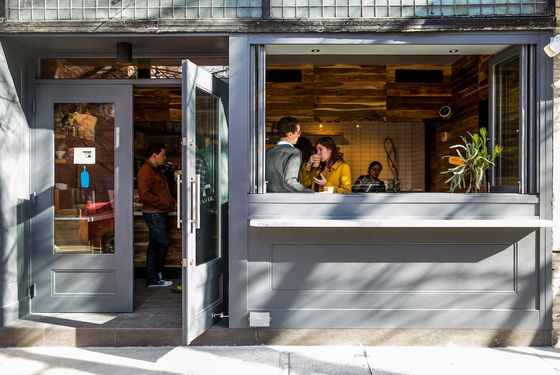 The new Boerum Hill shop.Photo: Shir Stein/ShirStein.com
And you're finally serving James Murphy's espresso. How'd that collaboration come about?
Yeah! We just tasted it, and I think it's great. We're serving it at the bar at Boerum Hill, and we'll keep it on the bar in the foreseeable future. We'll probably sell it on our web store, too. His manager read some article in which I was in talking about this pajama project, which kind of made me sound like a weirdo. He said we should meet.
Two-and-a-half years ago, we had coffee together and talked about his long-term dream of making a tailor-made espresso. Then, we hung out in London and went on coffee crawls and got to know each other, and it finally started coming together. We cupped our coffees and chose the components and the percentages, and came up with the parameters. He has a deep and abiding love for coffee, and I respect that.
Buying high-quality milk has always been a priority of yours. What kinds are you using now?
It's such a huge part of your coffee! Especially if you order a cappuccino. How coffee tastes is directly related to how the milk tastes. Unfortunately, good milk is a lot more expensive. I really like our Battenkill milk, and we've been testing a few others in California, like St. Benoît, which is an organic, Jersey milk. Battenkill is not certified organic, but I think it's really delicious. Sometimes delicious wins over organic.
What's your stance on soy and almond milk?
It's a hospitality issue. We offer organic, non-GMO, Pacific-brand soy, but I personally don't have a deep connection with soy. We don't charge extra for it because I think that's kind of tacky — although we probably should because it's a lot more expensive. Those containers that soy milk comes in represent 50 percent of our non-compostable, recyclable waste. I haven't had an almond milk yet that's not gritty. Well, I've had good almond milk, just not good almond milk in coffee. We should probably make our own.
Are you unveiling any new machinery?
I've got a couple of customized machines coming out — more cosmetic than mechanical. One will be covered in a mysterious-looking damask fabric, and one will resemble the interior of a 1973 Citroen SM car.
In the Times review of Gotham West Market, Pete Wells mentioned that he'd like Blue Bottle to stay open longer. Any plans to make that happen?
I was just talking to my head retail manager for New York, and he's got some ideas about trying that out. We were a very tangential part of the review, but it was exciting that he liked the desserts and the coffee, and wished we'd stay open longer. And my wife got her name in the Times!
Will the Bryant Park shop be the next to open?
I think so. We just finalized our floor plan, but we don't have a building permit yet. I don't know when, but next is fair enough. It will be bigger than Dean Street. Any café that opens in Brooklyn or New York will feel bigger than this one, because this is 266 square feet. It's airier, and there will be some seating. It used to be the headquarters of the Overseas Press Club, which is kind of exciting.
How big do you want to grow? Do you have an idea of how many locations you'd like to open?
I have no idea. I think it's nice to have several roasteries. If we were to open 40 shops in San Francisco, that would really tax the roastery. If we opened a few shops per market every year, that wouldn't feel as hard. The plan is to build enough back-end and infrastructure and sourcing so that every year, our coffee gets better and better. We don't want our hospitality to suffer.
There's also the notion that if you go big, you immediately lose credibility.
There will always be that notion. Some people like a certain punk band because they like the music, and some people like the same band because no on else has heard of it. And as soon as other people have heard of it, it's not as attractive to them. Those people are always out there, but it's a very small portion of the customers at large. We just have to treat people really well.
Related: Blue Bottle Raises $25 Million for Retail Expansion, More