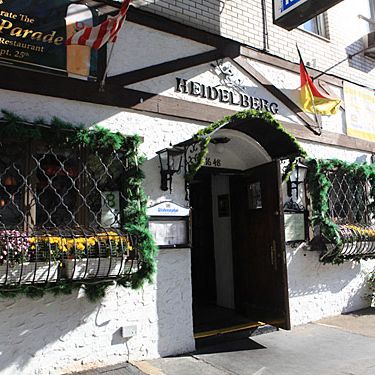 Beer. Sausges. Oompah. Gurkensalat.
Photo: Cynthia Chung
The consistently excellent blogger Jeremiah's Vanishing New York visits Upper East Side schnitzel institution Heidelberg today, where a waiter says business has dropped 40 percent because of ongoing Second Avenue Subway construction. "If we didn't own the building," the server says, "we'd be gone by now. People drive by and they can't see us. They call all the time and ask if we're closed. We just have to hold out a few more years. I hope we can make it."
The blogger, who's become known as Jeremiah, also posted a note on Facebook today announcing he is working on a printed guide that can be distributed to imperiled mom-and-pop businesses in the face of new real estate developments. On the Upper East Side, he reports, Heidelberg's owners have asked for customers to pay the bill or the gratuity in cash. The move, in part, helps them bypass merchant service costs and addition fees.
The restaurant, which once appeared on a No Reservations episode, is an alluring old place with weird decorations, surly waiters, and cheap beer served in large steins. The house schnitzel is legendary and recommended, even if you hate schnitzel, and in all, Heidelberg deserves more defenders and fans than it currently appears to have. We second, and third, Jeremiah's call to action.
And, anyhow, seriously, isn't it about time you had the roasted pork shank known as schweinehaxe, or some liver dumpling soup at the bar? There's also the immense helping of meat known as the Stammtisch platter, which lists bacon, tongue, blutwurst, bratwurst, leberwurst, Kasseler Rippchen, leberkäse, and some bone-in schweinshaxe among its constituent parts, not to mention boiled potatoes, potato pancakes, kraut, and red cabbage. You can always get a side of Black Forest bacon if you're still hungry, or spring for the Emmentaler and Gruyère fondue, which is suitable for vegetarians.

Go Eat at Heidelberg [JVNY]