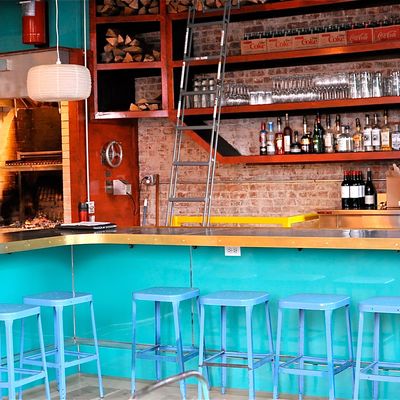 Glady's opened last April.
Photo: Hugh Merwin
Last night was the final night of service at Glady's, or at least the final night of the Crown Heights restaurant's focus on things like wood-fired grilled-cheese sandwiches and ember-roasted vegetable entrées. Michael Jacober, who owns and operates mobile oozefest Morris Grilled Cheese, still plans to open the truck's first brick-and-mortar outpost next door to Glady's this year, but says that Glady's itself will be retooled and will reopen with a focus on Caribbean food.

A representative for Glady's tells Grub Street that co-founding chefs Chris Austin and Nick Curtola were with the restaurant through the end of service last night, but both have now moved onto "new things." Details on Jacober's Caribbean menu are scarce at the moment, but it will be "inspired by the neighborhood." The restaurant's wood-burning grill and rotisserie will next burn pimento wood, and the bar will be restocked with an extensive selection of rums. Also, a lobster tank filled with live seafood will be central to Glady's next iteration.
The annexed 200-square-foot space next door will be called Morris Test Kitchen and will open this summer, selling sandwiches and prepared food. Morris Grilled Cheese will keep on truckin' while both spaces undergo renovations.

Earlier: Glady's Rolling Out Dinner Service, Expanding Next Door