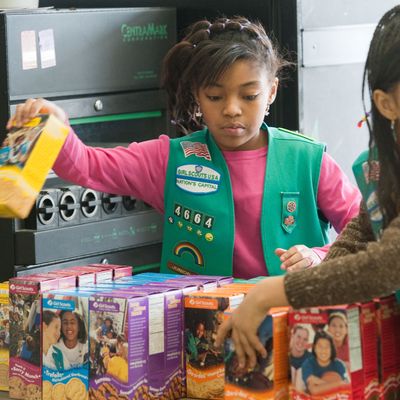 A Girl Scout of America selling cookies last year.
Photo: Sarah L. Voisin/The Washington Post via Getty Images
Assisted by her mother, an enterprising Girl Scout set up shop on Monday outside a San Francisco medical-marijuana clinic and did some mighty brisk business: 117 boxes in two hours, or roughly one box of Thin Mints or Tagalongs per minute. (By comparison, Mashable reports that 13-year-old Danielle Lei was only able to move 37 boxes the following day outside the local Safeway in the same amount of time.)
"We're not telling people where they can and can't go if it's a legitimate business," the organization's director of marketing and communications says, which is cool, though we're going to guess that the inflammatory Colorado pastor who claimed Girl Scout cookies bred communists and lesbians isn't going to be too happy about this one.
A Savvy Girl Scout Is Selling Cookies at a Cannabis Clinic in San Francisco [Mashable]
Earlier: Pastor Says Girl Scout Cookies Promote Lesbianism, Communists