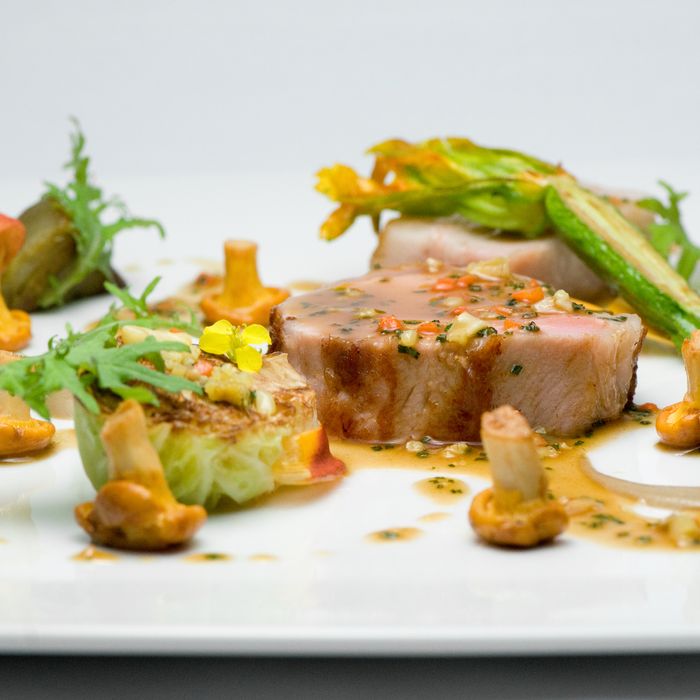 It's very photogenic, though: Blue Hill at Stone Barns' pork plate.
Photo: Antoinette Bruno
Turns out that the continued appearance of smartphones at the dinner table — always, purportedly, just there to capture an exquisitely plated foie gras torchon, for example — is really pissing off French chefs. Alexandre Gauthier, the chef of La Grenouillère, a critically acclaimed restaurant in northern France, has taken drastic measures by affixing the unsightly image of a camera with a line through it next to items on his menu, just to drive the point home, the Guardian reports. Meanwhile, Gauthier's peer Gilles Goujon is trying to figure out how to similarly tell guests at L'Auberge du Vieux Puits to please put their phones away, with limited success.
"It takes away the surprise," the chef told France 24 last week. "It's difficult to forbid it. I'm looking for a sentence to write but I haven't yet found the right words that won't be too shocking."
These chefs — two of many, many more like-minded professionals — are not necessarily working together toward a smartphone-free future of dining rooms, and Gauthier denies being "among a band of grumpy chefs who had the huff over diners sharing pictures of food on social networks because it infringed their copyright." Both, however, run Michelin-rated outfits where it is crucial for them to keep an eye on dining-room guests to pick up on various cues that in turn determine pace — after all, these places only work as well-oiled machines. Additional preening of plates, angling of candles, and tweaking of filter add an unwanted element of Sears Portrait Studio to the realm of fine dining.
"They used to come and take pictures of themselves and their family, their grandmother, whoever, as a souvenir. Now they take pictures of the food, they put it on Facebook or Twitter, they comment. And then food is cold," Gauthier tells the Guardian.
In other words, a future of increased tableside food photography may spell the end of restaurants and dining as we know it.
The persistence of smartphones at the dinner table for the purpose of immortalizing a pretty plate has become such a cliché and divisive thing that it's spawned its own official guides and various auto-focus-related addenda. Once-simple spoofs of Instagram-happy diners have spun off into Tumblrs dedicated to meta concerns such as pictures of hipsters taking pictures of food, as well as scientific studies indicating that stylized food photos ruin meals and may be a warning sign of serious medical issues. And let's never forget the cautionary tale of Martha Stewart, that longtime icon of infallible good taste, who more recently became an online martyr of unfortunate dinnertime smartphone photo choices.
Now the chefs trying to feed you are also fed up, and what once may have been a gentle warning about disrupting service with smartphone flashes is now a full-blown admonishment about "living in the moment." So, Instagram enthusiasts, let's nip this in the bud and heed them while these restaurants are still at the putting-no-camera-icons-on-menus stage. After all, responses are only going to grow proportional with advancements in annoying technology, so if we don't stop taking so many gratuitous food photos now, chefs are going to be reaching for the air horns by the time Google Glass reaches the masses.
French chef Alexandre Gauthier attempts to put an end to food selfies [Guardian]
Earlier: Psychiatrist Says People Who Post Pictures of Meals Online May Have Medical Issues