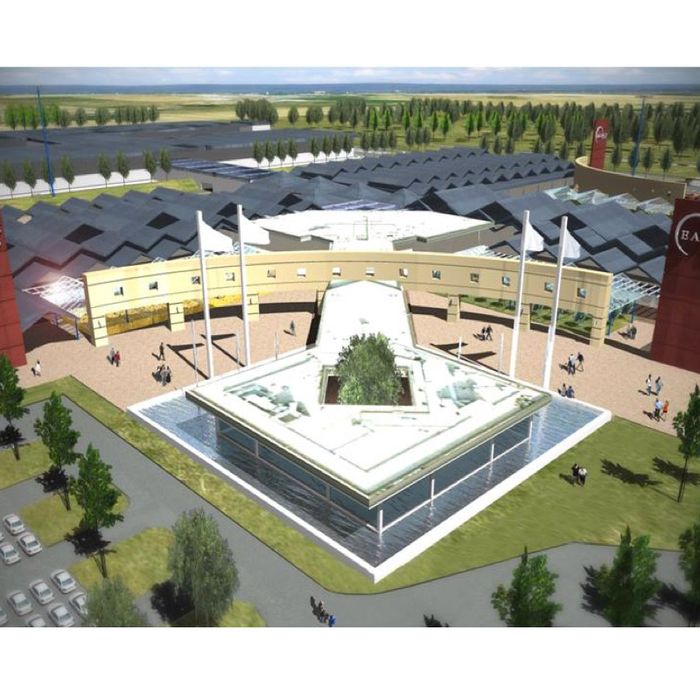 It's about three times bigger than the Spice Girls' "Spice World."
Photo: Caab SpA
Those amused by the never-ending aisles of cheese and grissini and barrel-aged vinegar at Eataly will no doubt want to sit down now and avoid choking on their strozzapreti: The slow-food mega-grocer is planning a $54.9 million theme park called Fico Eataly World, which, at its planned 20-acre site in the municipality of Bologna, will be larger than a dozen or more Eatalys put together.
Bologna's Centro Agroalimentare has put up more than 86,000 square feet of land toward the project, which the Wall Street Journal reports will contain "restaurants, grocery stores, food labs and an aquarium," not to mention what we imagine will be Extra Virgin Olive Oil Slip 'N' Slides, rock-climbing arenas with heirloom salumi ropes, and a ride that simulates the journey through a food mill as seen from the perspective of a San Marzano tomato seed.
The attraction has a planned opening date of November 1, 2015, which isn't soon enough. The chief executive of the fund-management company backing the project says Eataly World should be generating the equivalent of $118 million in revenue by 2019, which means we can definitely expect to have Eataly-branded spumoni water-skiing in Tampa by 2025.
Italian Fund Plans 'Disneyland of Food' [Wall Street Journal]