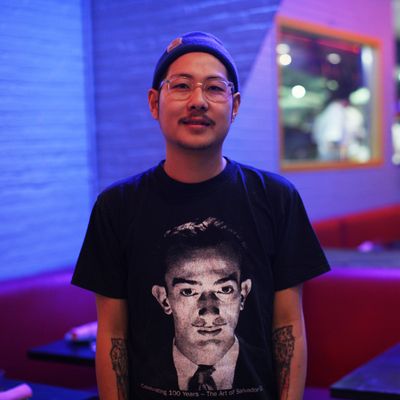 "Burritos are what got me through me being a broke 21-year-old."
Photo: Melissa Hom
Right before Danny Bowien opened Mission Cantina in November, he held a one-day-only event where he sold a few hundred burritos. People had high praise for them, but then, mysteriously, they vanished. Bowien didn't include them on Cantina's menu, and he only broke them out again during a clandestine Super Bowl pop-up — but this time they didn't disappear. Instead, Bowien finally introduced seven burrito varieties to the Cantina menu, available only on a to-go basis. A taste test confirms that the burritos do indeed live up to the hype: juicy but not at all mushy; crispy but pliant; heavy, but not to the point that you need to pass out immediately afterwards. In short, people are going to get hooked on these things. So we called Bowien up to talk burrito-eating etiquette, his all-time favorite versions in California, and his plans to open a stand-alone Mission Burrito shop in New York.
You first introduced Mission Cantina as a burrito pop-up. Has this been your endgame all along?
In the beginning, we wanted to open a casual concept down the street that you could go to while waiting in line for Mission Chinese Food. And then we said, let's open a restaurant, because it's a pretty big place. I'm from California, so I wanted to make Californian Mexican food, but there were already fuck-loads of places doing that, like Dos Toros. There's nothing wrong with that type of food, but it's fast food. Not to say that making burritos is phoning it in, but we wanted to push ourselves.
Eventually, we want to open a Mission Burrito. That's been a plan of ours since the beginning, but first, we wanted to do our version of real, weird Mexican food. Tacos don't travel very well — it's not like Chinese food, which is the most forgiving of all the delivery food. I thought a to-go burrito would be a good segue.
When did you first become interested in making burritos?
Burritos are what got me through being a broke 21-year-old. If you get a burrito, you eat half of it, and save the other half of it for later. When I was 21, a friend of mine named Brandon Hoy, who now owns part of Roberta's, used to work at this bar called Odessa. At the time, I was working for literally nothing and making $300 a week. I'd meet my friends there after work and we all talked about how we wanted to open a burrito shop so badly, because there wasn't really a place like that here in New York at the time.
San Francisco's not as great as New York at having things that are open insanely early or insanely late, and the only place I could eat at those times was this taqueria up the street from Mission Chinese called Taqueria Cancún. When I moved to New York, I missed that. I was still making Chinese food, but it was muscle memory.
So what exactly goes into yours?
The first and most important part is getting awesome tortillas. Ours come from Mi Barrio Tortilleria in Bushwick, and the guy makes them for us fresh every morning. A lot of places steam their tortillas. It's fast when they heat it up in a flash steamer. But I hate that. The way you digest a steamed piece of flour versus something that'd been griddled and crisped is different. It sits in your stomach differently. If it's a vegetarian burrito, we griddle it in a bit of olive oil, but if it's a meat one, we griddle them in chicken fat, which gives it a nice texture and flavor.
We toast them on each side, and then we put some of our smoked queso Oaxaca in there, and some shredded fresh mozzarella. We add a bit of cilantro and chopped-up onion, Rancho Gordo pinto beans that are cooked in bay leaves and onions, and avocado. I don't like re-fried beans: A lot of times they're cooked in fat, and they're a lot heavier. Another thing I hate is when people put guacamole on burritos. It's nice to have a little contrast and not have all the ingredients get soft. Slices of avocado taste a lot cleaner and hold a lot better. We also add crema, which we're about to start making in house with buttermilk. And salsa fresco with onions, tomatoes, jalapeño peppers, and salt.
We roll it all up and it goes back onto the griddle. It's griddled on all four sides, Dorado-style. Nice and crispy. It's fun to make burritos. I like our version because it's a lot lighter than you would think, in a weird way. It's the version that I like to eat.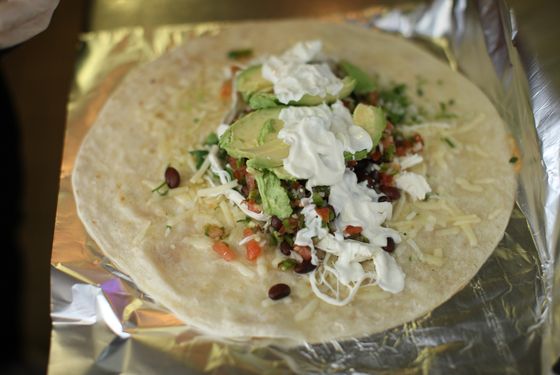 Right before it hits the griddle.Photo: Melissa Hom
What's your go-to filling?
The fish burrito with skate is really good. I like the lamb burrito because I've never had that kind of burrito before. And I like the vegetarian one, too. It's so much food anyway; you don't really need the protein in there. It just has more cheese than the others. We don't add any additional vegetables. What's the point?
How'd you settle on a price point?
I don't want to make anyone mad, but someone in San Francisco was complaining that I'm selling burritos for $9 or $10. I called a bunch of taquerias in San Francisco and asked about the prices there. My favorite place to go is La Taqueria, and a meat burrito with everything on it cost $9.71. And chips and salsa are extra! They don't even make their own chips. Considering the price of rent in New York, I think it's a good deal.
Any burrito-eating etiquette tips?
The way you eat a burrito is very important. You've got to peel the foil down as you eat it. If you take the foil down, it's really messy. And I don't think you should reheat them. I like them room-temperature or cold. It's like reheating a piece of pizza. Is it absolutely necessary? When you get it, the only things that are hot are the meat and the beans, anyways.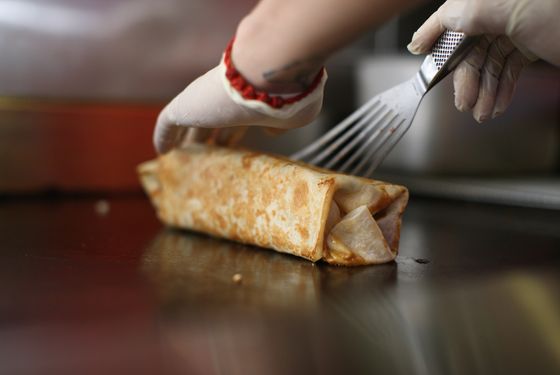 "Nice and crispy."Photo: Melissa Hom
Do you plan on ever serving them inside the restaurant?
We're going to start offering delivery through Caviar. And I haven't been that busy later in the evening, so if you come in around 11:30 p.m., you might be able to finagle your way into eating a burrito at the bar. We may start staying open later on the weekends. It depends on if we want a lot of drunk people in the restaurant. We'll see.
But it doesn't really make sense for people to sit down and share a $10 burrito. It's like putting a hamburger on your menu. At most restaurants, that's what everyone just wants to order. There's a place in Atlanta called Holeman & Finch that has an amazing burger, but they only offer it for an hour, from 11 to 12 a.m. Otherwise, all they'd sell are hamburgers. It's pretty funny. But in New York, you can't say, "No, you can't have this." People will get pissed off!
Do you have an idea of when you'll open Mission Burrito?
As soon as we can! I think there's a lot of opportunity to do something like this. It's just a matter of when we're ready. Of course we want to do it right now, but we need to make sure that we have a good infrastructure at Mission Cantina. It's a pretty solid foundation, but we're only four months old. We're still learning how to run a restaurant. It's still a challenge.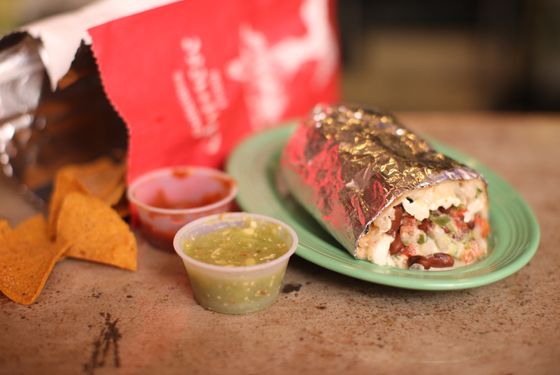 The final masterpiece.Photo: Melissa Hom

Related: Mission Cantina Now Delivers Burritos Everywhere Below 60th Street