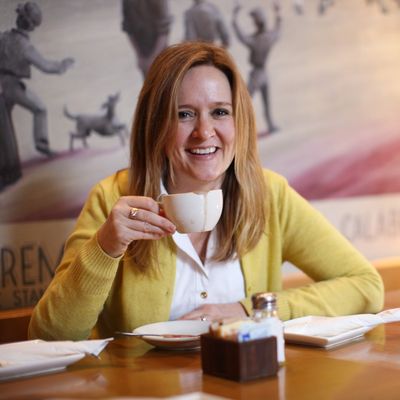 "I eat breakfast like I'm about to go work an 18-hour shift on an oil rig."
Photo: Melissa Hom
Samantha Bee is best known as Jon Stewart's longest-serving correspondent on The Daily Show, but reading through her Grub Street Diet it becomes clear she might also be the world's most accomplished home cook. That's mostly because she loves to make food for her family, even if her kids aren't the most appreciative audience: "I think they sort of like it," she says, "but they feel like they have to pretend that they hate it." (When you read about her made-from-scratch banana muffins and burgers with aged Cheddar and homemade pizza, you will wonder how anyone could pretend to not like these things.) Of course, she also finds time to hit restaurants like the Smith, Bouchon Bakery, and, owing to extenuating circumstances, the "shit-show" that is Chili's. Read it all, straight ahead.

Friday, February 14
For breakfast, I ate an enormous frittata with broccoli, red onion, and goat cheese, and made Intelligentsia espresso from my well-worn stovetop espresso-maker. It's not exactly a petite espresso. It's more like an ass-load of espresso served in an oversize coffee barrel. I eat breakfast like I'm about to go work an 18-hour shift on an oil rig.
Right after my breakfast, I had three bites of a homemade banana-chocolate-chip muffin that I make for my son, who's 5. I bake them on Sundays and keep them in the freezer. They are unbelievably delicious and the only reason to ever buy bananas. I tell him that when he gets married, he's going to go, "My mom made me homemade breakfast muffins when she was really tired. And she froze those fucking bananas! And baked into the night!"
I had to do some radio stuff midday, which took me over to the east side. I know nothing about the east side, or where to get food, so I planned my walking trajectory to take me past the Bouchon Bakery in Rockefeller Center. I had half a ham-and-cheese sandwich on baguette and a citrus fruit salad for lunch, and then two Poco Dolce chocolate-chile tiles with salt.
Later, I had a tiny bowl of salt-and-pepper Kettle Chips. My death-row meal would be just all different kinds of potato chips, and that is why I hardly ever eat them. I could Goldfish-out on them, as in: eat them until my body explodes internally.
It was Valentine's Day, but we had no plans to go out. I made homemade pizzas in this pizza oven I got for Christmas, which is excellent. So, homemade pizza with red onions, red peppers, and lots of chile flakes. Six gallons of Perrier.
Saturday, February 15
I worked out in the morning, and all Saturday workouts are followed by trips to the bagel store, thereby negating everything good I have just done for my body. I had coffee, a big glass of water, a small freshly squeezed orange juice, a piece of the same frittata, and half a bagel toasted with butter and orange marmalade that tasted like sunshine.
I took my 8-year-old daughter to the Smith for lunch, and it was really loud and boisterous and she did not love it. As for myself, I had the Maine lobster salad, which was surprisingly chock-full of lobster and all the things I was hoping for: avocado, haricots verts, squished tomatoes. It was good. When I got home, I had two of those chocolate-chili tiles with dark chocolate, salt chunks, and spicy chilies. They're perfect.
For dinner, I had a big chunk of red-pepper leftover pizza from the night before. Then, I made a kind of rice pilaf and some sautéed kale with lots of garlic and chiles. It's my go-to dinner when I'm just cooking for myself. Oh, and I also ate half a chicken finger, for no reason at all. And a clementine.
Sunday, February 16
Breakfast was the other half of yesterday's frittata, coffee, water, and a chicken-and-feta sausage. But Sunday was not so great in terms of lunch. I'm not one of those people who says things like, "I forgot to eat lunch, so I just grabbed a handful of almonds and a coconut water." But lunch today was a scattering of pita chips, spicy hummus, and two of those chocolate tiles. Not enough food, and bonus points: eaten while hunched over the kitchen counter like a troll. Frowny face.
Obviously, I was ravenous by four o'clock, so I made homemade scalloped potatoes with onions, aged Cheddar, and Dijon. I made delicious-looking hamburgers for my kids, and I realized that I had to have one, too. So I had a hamburger on a toasted challah bun with red onion, Dijon, and aged Cheddar, along with a bunch of scalloped potatoes and steamed broccoli with butter. All was right with the world.
Monday, February 17
I made toasted steel-cut oats. I sautéed them in butter, and then cooked them with a diced apples, a bunch of cinnamon, and some sea salt. When it was done, I ate oats with even more diced apples, some blueberries, slivered almonds, and plain almond milk. Also, coffee and a water.
I was out of town in the Catskills, and I knew I wouldn't be able to get any good food, so I baked myself a cherry scone for the car. I make the dough in advance, and then freeze it so that I can bake one when necessary. Of course, I ate it within five seconds after I got in the car because it looked delicious, and whenever I eat oatmeal for breakfast, I'm hungry again by 10 a.m.
Five hours later, my husband [fellow Daily Show cast member Jason Jones] and I ate a second lunch at a Chili's because we were starving and it was the only place in town. Obviously, lunch was a shit-show. I ordered the shrimp tacos, and they tasted like they came out of a hospital vending machine. Upon reflection, I think I used the word yucky numerous times while eating. Did you know that you can swipe your credit card at your table at Chili's now? This enhances the feeling that you are eating from the lunch counter at a carwash. I think my (nonexistent) lucrative Chili's endorsement deal just went down the tubes.
For dinner, I ate sautéed kale and leftover rice pilaf from the day before — plus lots of Sriracha — to erase the mistakes that were made at lunch. Also, five spoonfuls of leftover scalloped potatoes.
Tuesday, February 18
Breakfast was the same as the day before: steel-cut oats, but with the added bonus of some pepitas, because why not? Coffee, but I forgot to drink water.
For lunch, I picked up chana masala from Whole Foods, and ate it with some undercooked cauliflower and brown rice. Regardless, I powered through the cauliflower. I also had water, two chocolate tiles, and a cup or two of raspberry-leaf tea that I bought from the Stone Barns Center. I make my family go there a lot. I buy ten jars of jam and whatever else I can get.
I made a warm farro salad with roasted mushrooms, roasted green beans, almonds, feta, and a balsamic vinaigrette for dinner. I could eat this forever. It is ridiculously delicious. I invite you to take a bath in it.
Wednesday, February 19
This morning, I had a coffee, Vitamin C pills, and the frittata I made with broccoli, onion, and goat cheese. A little bit later, I had half of a Blueprint juice — I was really starving — and some vegetable sushi from Whole Foods. I grabbed those brown-rice rolls with avocado, and ate a few pieces.
Then I went to La Bergamote, which is close to the studio. I had maybe a quarter of a cappuccino because I didn't need a whole coffee, and a croque monsieur. It was very delicious, but I did pick half the cheese off. The cheese was getting crazy.
Now I'm having a cup of raspberry-leaf tea. For dinner tonight, I have a couple of rib-eye steaks in the fridge. I might make those and homemade French fries.
It's been a hobby since I was maybe 10 years old to consume cookbooks. I just sit and read recipes for things I'm not currently eating. When we moved to New York, we had a year when we ordered takeout food constantly. And now, we just don't do that. I thought, Why am I eating in my apartment while watching Law and Order? It's stinky and not super healthy, and it's easier to make things myself. But I hope this doesn't appear effortless in any way! It takes a tremendous amount of work and thought to gather groceries. You have to be a little obsessive about it, but I like it.