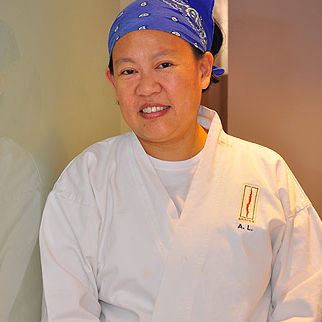 Congrats!
Photo: Courtesy of Annisa
Adam Platt awarded Carroll Gardens restaurant Dover two stars this week for its "accomplished cooking" and incredibly "successful" baked Alaska — Daniel S. Meyer was even more impressed by the restaurant and awarded it four stars. Pete Wells feasted on soup dumplings at the elegant Annisa, while Joshua David Stein ate a ton of meat at M. Wells Steakhouse. Read it all, straight ahead.
Pete Wells awarded Anita Lo's fourteen-year-old restaurant, Annisa, three stars this week (upgrading it from two). What he finds most remarkable about her food is not "the absence of borders but the ease with which she crosses them." Example: the "stunner" of a Spanish mackerel dish reflects the cuisines of Japan, Hong Kong, and Korea seamlessly on one plate. Other must-orders: Lo's famed foie-gras soup dumplings, the hearts-of-palm salad topped with a Sichuan-inspired sauce, an "impressive" beef tartare ("the opposite of mushy") with cinnamon and steamed bulgur, roasted rabbit loin stuffed with pistachios, and any of the desserts, all of which she devises herself. While he cannot define what Lo's style is, "it is hers, and hers alone, and the city is a more exciting place for it."
Daniel S. Meyer visited Dover this week, and awarded it four out of five stars. He found that the restaurant, the sophomore effort from Walker Stern and Joseph Ogrodnek, danced "the high-low jig particularly well." Some hits: "crisp" cauliflower florets with Italian anchovy sauce and raisins, "lusty" grilled lamb ribs with "tender" eggplant, confited pork belly that is both "sweet and tart," and "silky" lobster with roe. What he admires most is that, in an "ingredient-crazed era," Stern and Ogrodnek "have figured out how to give proper attention to both farm and table."
Amelia Lester of The New Yorker wasn't impressed by the new iteration of Saul that recently opened at the Brooklyn Museum. The space is "massive," industrial," and has a "generic, business-class quality" to it, which she finds strange considering the restaurant's "uneasy status as a pioneer" of the rustic and farm-fresh "movement." The meat dishes, such as the venison loin with a "rich" red-wine jus, and the pork special with quince and cabbage, were "reliably good," but not enough so to help the restaurant return to the status it once held.
Joshua David Stein filed on the oft-reviewed M. Wells Steakhouse, but chose to write it as a fictional "open letter" from Hugue Dufour's point of view. Stein, along with many other critics, found the restaurant to serve "many wonderful dishes but absolutely terrible steaks," such as the "tasteless" and "chewy" Kansas City strip and a T-bone that is "better suited to a Denny's." Dishes such as the "stellar" pretzel rolls, "irresistible" stack of grilled pork chops, "clever" shrimp-on-shrimp appetizer with a homemade cocktail sauce, and a "grand" uni-and-lobster custard are all must-orders. The gonzo proportions and out-of-the-box menu ensure one thing: "if you come to M. Wells Steakhouse, you'll leave hating either M. Wells or steakhouses."
Michael Kaminer filed a review on the Shanghai cuisine at China Blue, which he found to be "insipid" and "triple what you'd pay in Chinatown for 10 times the quality." The hot and sour soup was "neither hot nor sour," a dish of marinated duck tasted "of plastic," the fish in vinegar sauce was "grayish" and doused in a "gluey bath of saccharine sauce," and a plate of braised tofu with shrimp resembled "a mashup of mac-and-cheese and brains." The only must-order: the "luscious" and "meaty" shrimp shumai, which were still "costlier than [at] equally good dim sum joints." Overall, the "slapdash, amateurish, and even apathetic operation" is a "tragedy for Tribeca." Zero stars.
Steve Cuozzo did not file a review this week, instead choosing to expound upon his hopes that two of his "old restaurant flames" — Gallaghers Steakhouse and Tavern on the Green" — both of which were slated to reopen this week, would soon actually do so.