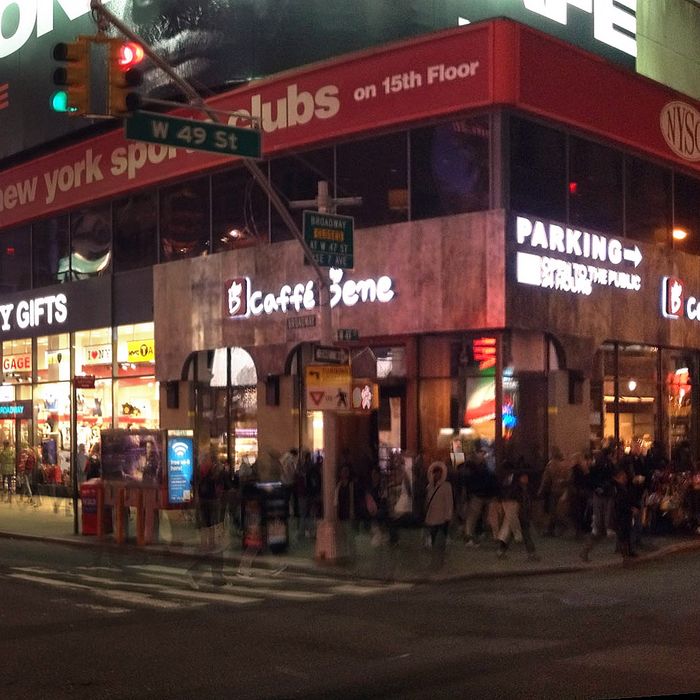 Times Square was just the beginning.
Photo: Caffé Bene
The U.S. franchise development manager for the so-called "Starbucks of South Korea" tells the Real Deal that more than 80 agreements for Caffé Bene outlets have been signed for new locations throughout the five boroughs. To that end, there are currently four pages of placeholder tags live on the chain's website, listing every place from Rector Street to "St. Mark's 1" to Washington Heights as future Caffé Bene sites. If this is a bluff, it's certainly a fun one.
The chain, which has more than 1,200 stores globally, opened its first New York location, in Times Square, in 2012, with 250 seats and its trademark menu of pastries and Belgian waffles. Coffee writer Oliver Strand gave it a mostly favorable review. "Better to keep it simple," he wrote in the Times, admiring its twin Marzocco GB5s. "Get a waffle and a misugaru latte, or an Americano ($2.25), the order of choice in Seoul." An FIT outlet and an immense Sunnyside branch opened after that.
Midtown Lunch noticed one more Caffé Bene branch was opening at 36th Street and Seventh Avenue, so that's basically one down, 79 to go. "Opening in New York, in Manhattan, is the best way to make people know our brand," says company executive Min Hong. He doesn't seem to be kidding.
"Starbucks of South Korea" plans huge city expansion [Real Deal]