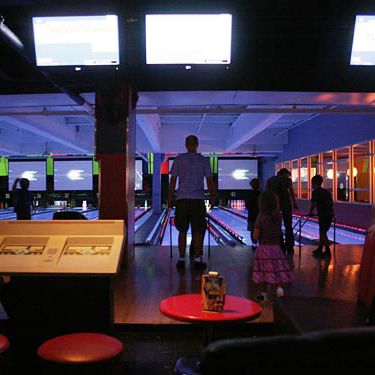 Strike.
Photo: Shanna Ravindra
Blogger EV Grieve hears from a source that the West Village Bowlmor Lanes, which is the city's longest continuously running bowling alley, will be "cleared out in the months ahead," along with the adjoining parking garage on University Place. Exact plans for the site have not yet been announced, but Billy Macklowe, the real-estate investor who owns the property, is expected to erect a brand-new building filled with luxury condos. Reached today by phone, a representative of Bowlmor Lanes said she "could not comment" on the potential closure.

It turns out that Steve Cuozzo of the New York Post covered the development first, on January 6, in his real-estate column. "[W]e've learned from brokers that leases for Bowlmor and a garage at the site expire imminently as does a garage lease — and that demolition for a new building will likely start this summer," he wrote.
Both Bowlmor Lanes, and its Times Square counterpart are operated by AMF Bowling Worldwide, Inc., which has Bowlmor franchises in cities across the country. The sprawling interior — two full bars, food stations, and 44 lanes downtown — may today seem mundane, loud, and touristy, but the copious Day-Glo looming inside the University Place Bowlmor Lanes belies a more complex, raucous history. Sure, Nixon was a frequent visitor here during the fifties. But some thirtysomething years ago, Bowlmor underwent a kind of disco-fied growth spurt bridging its ancient, old league days, and became something resembling an all-out scene.
Keith Richards legendarily threw a bowling ball across several lanes. A 1981 New York writer spotted Christopher Reeve with a gaggle of models. At that time, gruff old leagues still called the shots and paid no mind to celebrity interlopers. "I don't know," said Edie Vonnegut, fresh off a set. "Is this really going to become the next thing?"
The answer is that is was, at least for a short while. "There is a doorman at the door," then co-owner Len LoCricchio told New York, the following year, "and there is a selection process. We prefer the wilder-dressed and the well-known."
Building that houses Bowlmor Lanes will convert to condos, like everything else around here [EV Grieve]