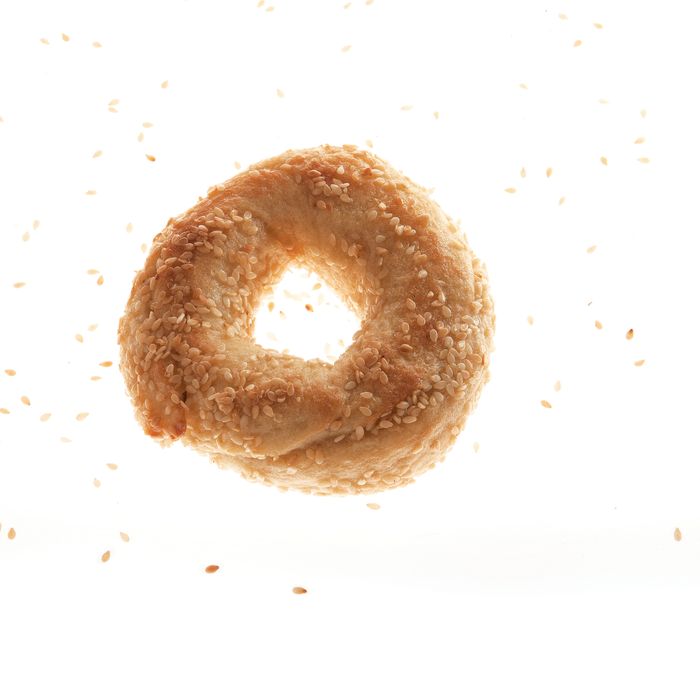 Black Seed's bagels will be a cross between Mile End's Montreal-style, pictured, and an old-fashioned NYC specimen.
Photo: Mete Ozeren/New York Magazine
Are bagels the new cronuts? No, of course they're not. Traditionally made bagels are tough and chewy little hockey pucks, while cronuts are their complete opposite. But even so, you may soon find yourself rising at dawn and waiting in line for a bagel while a Japanese television crew videotapes the action. Nostalgists have been bemoaning the endangered-species status of the true bagel for years now, and if all goes according to plan, Mile End's Noah Bernamoff and the Smile's Matt Kliegman will unveil Black Seed, a full-fledged old-school bagel shop at170 Elizabeth Street in Nolita, by the end of next month.
Black seed is Montreal-speak for poppy seed, but don't get the wrong idea: These will not be the egg-and-honey-enhanced Montreal-style bagels Bernamoff was just starting to churn out in his Red Hook commissary before Hurricane Sandy put an end to the operation. "I'm a Montrealer, Matt's a New Yorker, and we both love a good bagel," says Bernamoff. "We think there are benefits to each city's bagel-making process and are trying to capture that."
Actually, Hurricane Sandy had a hand in bringing these bagel mavens together: "Matt was one of the first to reach out to help following the storm," says Bernamoff. "Soon enough, evening beers lamenting the storm's damage turned to morning coffees lamenting the lack of good bagels in New York, and from there, Black Seed was born."
Black Seed bagels will be hand-rolled, poached in a kettle of alkalized water, then baked in a wood-burning oven, the whole laborious process unfolding in full view of the 11-seat bagel-eating area, as if it were some vestigial, long-forgotten culinary ritual brought back to life (which it kind of is).
In addition to bagels, there will be sandwiches and salads and house-made cream cheese. Even as we type, schmear R&D; is underway, according to Bernamoff, who says that they'll be using the cream cheese as a base for a variety of smoked fish and vegetable spreads.
Perhaps it's something in the water, but for those of you keeping score, Black Seed is not the only old-school bagel shop in the works: As Eater reported earlier this week, Rubirosa general manager Bari Musacchio is teaming up with Barney Greengrass alum David Heffernan on their own 35-seat spot on the fringe of Chinatown, Baz Bagel and Restaurant, which will also offer comfort-food classics like latkes and matzo-ball soup. And even though Mario Carbone, Rich Torrisi, and Jeff Zalaznick have yet to divulge the location of their forthcoming bagel bakery, we hear that head chef Melissa Weller has been hard at work fine-tuning her blintzes and whitefish salad.
Yes, these are exciting times not only for the long-suffering, much-maligned bagel, but for the realm of Jewish appetizing in general. Russ & Daughters, the standard-bearer of smoked salmon and all its myriad accoutrements, will expand this spring with a satellite café of its own, on the historically apt Orchard Street, where the business was born a century ago. Suddenly, it's a veritable old-fashioned-bagel arms race out there.
Related: For Old-Fashioned-Bagel Fans, Things Are Looking Up