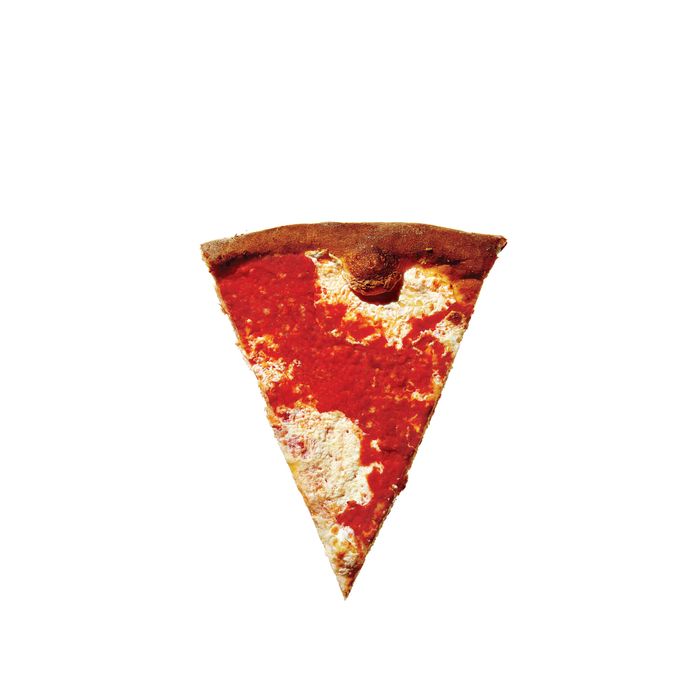 Totonno's Ur-pizza.
Photo: Bobby Doherty/New York Magazine
Ever since Gennaro Lombardi sold what's reported to be New York's—and America's—first pie in 1905, our hometown pizza legacy has been inextricably linked with coal, the heating and baking fuel of the day. Other than burning hotter, coal offers little more than a nostalgic advantage (after all, it's largely nostalgia that draws those long lines) over wood, which might seem to have surpassed its antecedent in these days of pizza-napoletana obsession. In fact, coal-fired pizza is on the upswing, thanks to new, gas-assisted oven models and cleaner-burning coal. Despite conventional wisdom that coal-fueled ovens have been outlawed, the DEP's proposed revisions to air-pollution codes call these chambers "previously unregulated sources of particulate matter" and only require that new ones employ control technology. "I wanted to do something unique," says Thomas Cucco, who installed a Wood Stone coal-fired oven at the year-and-a-half-old Table 87 in Brooklyn Heights, where he sells what he claims to be Brooklyn's only coal-oven pizza by the slice. (He plans to open a second location in Gowanus in April.) In addition to the Founding Four (Lombardi's, John's, Patsy's, and Totonno's), which are all still going strong, here's where to find today's coal-oven pies.
Angelo's Pizza, 117 W. 57th St., at Sixth Ave.; 212-333-4333
Arturo's, 106 W. Houston St., at Thompson St.; 212-677-3820
Bella Via, 47-46 Vernon Blvd., Long Island City; 718-361-7510
Grimaldi's, 1 Front St., at Old Fulton St., Fulton Ferry, 718-858-4300;
242-02 61st Ave., at 245th Pl., Douglaston, 718-819-2133;
656 Sixth Ave., at 20th St., 646-484-5665
John's of Bleecker Street, 278 Bleecker St., at Seventh Ave.; 212-243-1680
John's Pizzeria Arthur Avenue, 2376 Arthur Ave., at 187th St., the Bronx; 718-220-0000
John's Pizzeria Times Square, 260 W. 44th St., at Eighth Ave.; 212-391-7560
Juliana's, 19 Old Fulton St., at Front St., Fulton Ferry; 718-596-6700
Lombardi's, 32 Spring St., at Mott St.; 212-941-7994
Luzzo's, 211-213 First Ave., at 13th St.; 212-473-7447
Patsy's, 2287 First Ave., at 118th St.; 212-534-9783
Sac's Place, 25-41 Broadway, nr. Crescent St., Astoria; 718-204-5002
Table 87, 87 Atlantic Ave., at Hicks St., Brooklyn Heights; 718-797-9300
Totonno's Pizza Napolitano, 1524 Neptune Ave., at 15th St., Coney Island; 718-372-8606
Verde, 254 Irving Ave., at Bleecker St., Bushwick; 718-381-8800
*This article originally appeared in the February 10, 2014 issue of New York Magazine.