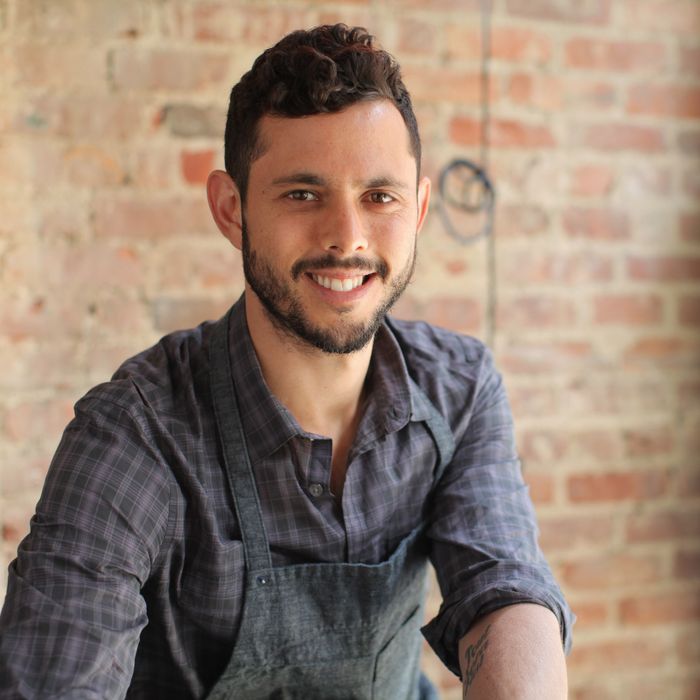 Taymor, at Contra.
Photo: Melissa Hom
Ari Taymor — the 27-year-old chef behind Los Angeles restaurant Alma (which GQ and Bon Appétit, among others, consider to be one of the best new spots in the country) — hit New York this week to see what was happening outside of L.A. "I needed a change," he says. "You get into this rut when your head's down and you're pushing every single day, and you don't pay attention to how much fun the life that you chose is." Taymor certainly had a good time in New York: He ate basically everything on Estela's menu, tested out the "intense" wine pairings at Contra (where he also cooked this week), and hit up Minetta Tavern for dessert. Read it all in this week's Grub Street Diet.
Friday, February 21
Friday was half a workday, so I woke up in L.A. and went to the farmers' market and ate miscellaneous things there: a bunch of grapefruit, a shot of wheatgrass, about twelve coconut dates, some dried apple, and a green smoothie. The rest of the day was prep, when I stick my spoon into my cooks' food. Every night at 5 p.m., right before service, we taste everything that they've made that day — sauces, purees, vegetables.
I was leaving that night for New York, so I went out to eat because I didn't want to get in the way during service. I went to Night + Market and ate some Thai food. It's my favorite restaurant in L.A.: It's the kind of food I want to eat when I'm not working — really spicy and bright, and doesn't make you feel like shit. I ordered a crispy rice salad with fermented pork and fish sauce, beef penang with roti, Chinese broccoli, chicken wings, and sticky rice. And then I took the red-eye to New York and passed out on the airplane.
Saturday, February 22
I woke up and met my sister at Liquiteria and drank a green smoothie. I usually eat one meal a day when I'm working, which is staff meal. I need to pack all of the nutrients into the smallest package possible, and usually it's pureed kale with some fruit.
I was kind of jet-lagged and felt weird, so I didn't eat during the day. I went to see my sister's play, My Daughter Keeps Our Hammer, which was amazing. Afterwards, I went out with her and her cast at South's. I had a shot of house whiskey and a beer on an empty stomach — rough start.
I got to Contra and had the tasting menu: tartare with mussels, potatoes and pickled button mushrooms; monkfish with broccoli; half of a lamb's head that they roasted with the brains and some toast; some roasted lamb with the heart; and chicken with seaweed and rutabaga. The pairings were intense: Some dishes came with two wines. I was borderline blackout by the end of the meal. Then, they served us a few desserts: beets with yogurt, the olive-oil mousse with pistachio and tangerine, and a goat milk thing that I don't remember. I stumbled home in a haze.
I like dessert a lot. I feel like people don't love dessert enough anymore. People give these weird interviews where they say they don't want to make it, and lots of my friends who are starting to run their own restaurants don't really give a shit about dessert. But I think it's the most important bite of the whole meal.
Sunday, February 23
I got another green smoothie and went to see a photography exhibit at the Met. I grabbed pita and hummus from Whole Foods and ate it on the Met's steps. Then I stopped at the Stumptown inside the Ace Hotel for an espresso.
I went to yoga class, drank coconut water, and headed to Roberta's for dinner.
One of the chefs, Nick Barker, is a good friend of mine from California, and we used to work together. He sent us everything on the menu except for two pizzas. And there were four of us. It was all the meats, the stracciatella, the leeks, and then, the tuna head. We were first presented with the raw head, and then ate it roasted with artichokes. At the end of the meal, we got the cheeks barely cooked and dressed very simply. We had the Cheesus Christ pizza, with six different types of cheese. For dessert, chocolate with Kaffir lime. We were going to go out, but by the time the meal ended, everyone was retired for the evening.
Monday, February 24
More green smoothies. It was a prep day, and I tried some of the beef to see if it was fine. I spent the day making pastries and ate a lot of sugar.
For dinner, I went to Estela and ate most of everything on the menu: beef tartare, delicious mussels, that great celery salad, ricotta dumplings, lamb ribs, burrata, and quail. I drank two different oxidized wines. And then I went to Minetta Tavern for Scotch and a chocolate souffle.
Tuesday, February 25
I woke up, worked out, drank a green smoothie, got into Contra around 10:30 a.m., and prepped all throughout the day. When I prep, I have no ability to focus on anything outside from what I'm doing. There's no eating. I just run around like a crazy person.
For staff meal, they made chicken curry with rice and salad, which was really good. Then, I ate all of the leftover bread after service. Two beers, all of the bread, and all of the truffle butter that we made.
Afterwards, I went to Pearl & Ash for their one-year-anniversary party. I drank some wine and ate half of a piece of pizza.
Wednesday, February 26
Today, I've had a green smoothie and a coffee at Stumptown. I'm going to go work at Contra, eat some of the staff meal, and afterwards, eat that burger at Minetta. It has to happen.
Here, it's easier to eat at more restaurants because it's packed tighter. Everyone in the industry is a lot closer here: You'll go to a place with somebody, and they'll know at least one person in another restaurant. The community seems tight and supportive. But food-wise, New York has no produce, which is challenging. I brought everything from California. The only crisis was finding liquid nitrogen, but Dave Arnold brought us some.