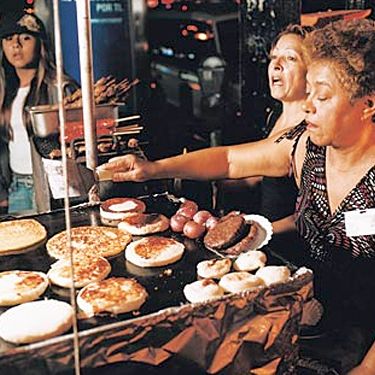 Finally this arepa has happened to me, right in front of my face and I just cannot hide it.
Photo: Ben Stechschulte
Serious Eats reports that Maria Piedad Cano, better known as the Sainted Arepa Lady of Jackson Heights, is planning to open a brick-and-mortar restaurant at 77-02AA Roosevelt Avenue. Doing so, the site notes, will allow Cano and her family to expand her base of operations beyond her longtime vending spot, which was made famous by Chowhound founder Jim Leff in the site's earliest days of life-changing food discoveries.
The street-vending legend's new spot will be a tiny 300 square feet, but room for more kitchen equipment means a more elaborate menu, including "new meat and vegetable toppings for the arepas." Cano's family tells Serious Eats that the permanent spot will be likely be open this spring.
The Sainted Arepa Lady is Opening a Restaurant in Jackson Heights [Serious Eats]
Related: How to Make the Arepa Lady's Arepas, Care of the Forthcoming Food Trucks Cookbook