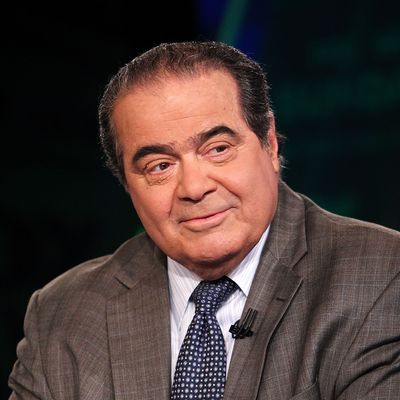 The verdict is in.
Photo: Paul Morigi/Getty Images
Upholding his earlier decision, Supreme Court Justice Antonin Scalia reiterated that despite its name, deep-dish pizza does not qualify as the real deal. The specialty "shouldn't be called pizza," he told the crowd at the Union League Club of Chicago on Friday, adding "It's very tasty, but it's not pizza."

This, of course, isn't the first time in recent memory that an authority has weighed in on deep-dish: Jon Stewart compared Chicago-style pie with "sex with a corpse made of sandpaper" last fall, then distanced himself from his funny and controversial comments with funnier and more controversial ones. At the very least, Scalia did call deep-dish "tasty." It remains unclear where he, along with the other justices, might rate stuffed-crust monstrosities on the spectrum of pizza legitimacy.
Scalia criticizes education — and Chicago pizza [Chicago Sun-Times]
Earlier: Watch Jon Stewart Call a Truce in the War on Deep-Dish Pizza