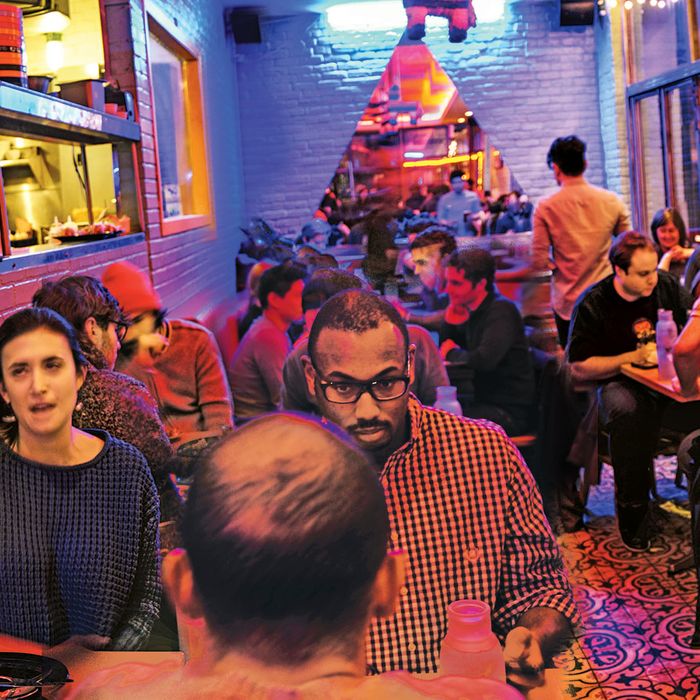 Photo: Sarah Silberg/New York Magazine
Even those of us churls who haven't been entirely enamored with Danny Bowien's aggressive, two-fisted brand of cooking have to admit that the San Francisco chef has a gift for imbuing his restaurants with a cockeyed party spirit. Before Mission Chinese was shuttered by city authorities for a list of infractions (too many mice being the main one), the lines outside the ramshackle room spread, famously, down the block. At Bowien's latest Orchard Street venture, Mission Cantina, the lines aren't as long, but chances are you'll encounter an enthusiastic scrum of eaters by the door, waiting for tables to clear. Like the other Mission space, this one is decorated with festive cultural artifacts (piñatas, fluttering hand-cut squares of paper). The music is infectiously loud; the lighting has a kaleidoscopic, pastel quality to it; and the tables are nudged close together, like in a popular nightclub.
But unlike the Mission operation down the street (which may reopen in a different location), Bowien's new, Mexican-themed establishment has a refreshing air of permanence about it. The room occupies a prominent corner space on Stanton and Orchard and features tall, sturdy glass windows on two sides. The state-of-the-art kitchen is aboveground, and partially covered with glass, so you can watch cooks stamp out their yellow-corn masa tacos the way you'd watch a DJ spin records. Unlike the settled, intricate canon of Sichuan cuisine, the casual, taco-heavy menu seems to lend itself more naturally to the kind of hefty nose-to-tail experiments Bowien and his cooks specialize in, and almost everything on it looks like it might be really good to eat.
Like at Mission Chinese, the dish that sets the tone for the proceedings is a simple plate of chicken wings. Instead of being bombed into oblivion with a one-note blizzard of tingly hot pepper, however, these wings are tossed in an elegant mix of cumin and cinnamon, among other spices, and dripped with a well-­balanced combination of crema, tangy housemade chile vinegar, and cotija cheese. You can enjoy them with bowls of fresh guacamole (to be scooped with curling squares of chicharrónes, or crinkly, lobster-colored shrimp chips) and a selection of cooling, elegantly composed ceviches, which the kitchen might make with shrimp and butterfish; squares of arctic char spritzed with lime, coconut milk, and salmon roe; or fat, spicy-sweet scallops folded, in classic Bowien fashion, with green olives and a delicate chopping of raw beef heart.
Beef hearts don't make an appearance on Mission Cantina's impressive taco roster (I counted 14), although beef tongue does (with an interesting topping of pickled tomatoes and fried peanuts), and so does beef tripe (paired, less interestingly, with shrimp). Neither of these combinations was quite as successful as the lamb shoulder, which is sweetened with smoked prunes, or the skate wing I ordered one evening, encased in tempura batter and paired with soft slices of avocado. Not surprisingly, however, the most successful dishes of all at this boisterous establishment tend to be the large, party-size platters, in particular the lamb ribs (steamed by the rack in banana leaves), and Bowien's fried chicken, which is encrusted in a lightly crisp batter, drizzled with chile vinegar and spoonfuls of honey, and served with a stack of hot tortillas on the side.
Contra, which also opened late last year, on a relatively untraveled stretch of Orchard Street, looks at first like an advertisement for every annoyingly precious utilitarian dining trend that has swept through the New York restaurant world in the past decade or so. The signage out front is so small that you might walk by the nondescript storefront once or twice before you figure out that there's a restaurant inside. The narrow railroad dining space features a small table hewn from a gnarled log and a long aqua-green banquette that looks (and feels) like something you'd sit on while feeding pigeons in the park. The walls are (mostly) red brick; the floors are poured with concrete in the chic, nouveau-bunker style; and the only dining option (save for the à la carte bar menu) is a lean, runically labeled tasting menu served by waiters sporting intricately colored sleeve tattoos.
Unlike other precious tasting menus around town, however, this one costs a relatively modest $55. Your five-course dinner might include a tasty risotto made with wheat berries, uni, and fresh clams, and a chunk of seared monkfish, which the young chefs Jeremiah Stone and Fabian von Hauske finish, not unpleasantly, with a pale smoked-fish emulsion and a pinch of powdered genmaicha tea. My tepid "slow roasted" pork collar appeared not to have been roasted enough, but my bits of roast chicken leg were more or less perfect, and if the waiter offers you a taste of the house pigeon (honey-colored, like Peking duck, and with the claw still attached) you should order it on the spot. The desserts are less arresting, as a rule, although I'm happy to report that the one constructed with yogurt sorbet and gianduja crémeux works quite well once you remove the desiccated beet chips from its top.

Mission Cantina
172 Orchard St., at Stanton St.; 212-254-2233; missioncantinanyc.com
Hours: Daily noon to 3 p.m. and 5:30 p.m. to midnight.
Prices: Appetizers, $5 to $11; tacos and large plates, $5.50 to $32.50.
Ideal Meal: Chicken wings, house ceviches, lamb with smoked prune and/or skate-wing tacos, fried chicken (to share).
Note: The restaurant serves a Super Burrito to go, with an impressive choice of
fillings.
Scratchpad: One star for the tacos and another star for everything else on the robust, compulsively edible menu.

Contra
138 Orchard St., nr. Rivington St.; 212-466-4633; contranyc.com
Hours: Dinner Tuesday through Friday 6 to 11 p.m., Saturday until midnight.
Prices: Tasting menu, $55.
Ideal Meal: Pay special attention to the poultry dishes, like chicken and roast pigeon.
Note: The dessert cheese plate, from Saxelby Cheesemongers around the corner, is well worth the extra $8 investment.
Scratchpad: One star for the advanced cooking techniques and another for overall value.
*This article appears in the February 24, 2014 issue of New York Magazine.
Related: Danny Bowien on Going Full Burrito at Mission Cantina