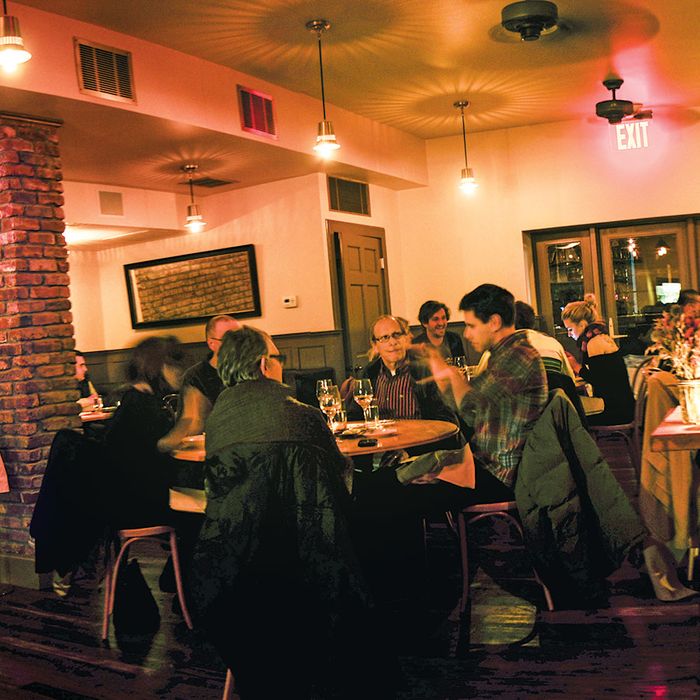 Photo: Sarah Silberg/New York Magazine
Walker Stern and Joseph Ogrodnek's new storefront restaurant on Court Street, called Dover, is not spacious by Manhattan or even Brooklyn standards. But if you've spent any time trying to push your way into the chefs' original, pint-size establishment, Battersby, which has been mobbed by local gastronauts ever since it opened its tiny doors on Smith Street over two years ago, you may feel like you're dining on an ocean liner. Unlike the three-person galley kitchen on Smith Street, the cooking space here is filled with a scrum of bustling chefs and enclosed in an actual room of its own. There are 50 seats in the somewhat sparsely decorated dining room (compared with 28 at Battersby), along with an outdoor patio for alfresco dining during the warmer months and a bar where you can sip your archly named cocktail (BeGinnings, A Passionate Tart) without being elbowed in the nose.
This kind of supersize expansion does not come without its costs. Devotees of the original Battersby will miss the clubby little room, with its worn brick walls and stamped-tin ceiling, and the sense that the two veteran gourmet chefs, in their open galley kitchen, are cooking you an intricate and memorable dinner all by themselves. The new space may be more accessible, but it's also less intimate. The brick walls are mostly devoid of decoration ("This looks like a conference room in Buffalo," someone at the table said), and the tables and blond café chairs scattered around the dining room appear to have been lifted from the castoff bin of some distant, suburban Ikea.
Once dinner arrives at Dover, however, my guess is that the carping of the old Battersby faithful will quickly subside. On my first visit, there were thimblefuls of vegetable-root purée to start, followed by a helping of marble-size gougères that tasted like they'd been beamed in from the kitchen of one of the last gougère-centric cafés in Paris. These were followed by a caviar "pie" over crushed eggs, which was almost worth its $35 price tag, presented with toast points and warm buckwheat blinis folded in a linen napkin. The oysters (on one visit from Hurricane Harbor on Prince Edward Island) are hand-picked for size and flavor and daintily arranged on beds of rock salt, and you can get them dressed with teaspoons of crushed apple and horseradish, or baked under caps of gently browned Choron sauce, which, as any Brooklyn gourmet will tell you, is a Béarnaise-like substance touched with the faint essence of tomatoes.
This kind of rigorous, classically minded cuisine rarely turns up in new restaurants across the river anymore, but thanks to the well-publicized wave of refugees from grand Manhattan kitchens (Ogrodnek and Stern, César Ramirez at Brooklyn Fare, Paul Liebrandt at the Elm), it's becoming a hallmark of the next era of Brooklyn cooking. At this modest Court Street establishment, $16 buys a tangle of dark, housemade squid-ink spaghetti folded with preserved chile, peekytoe crab, and a dousing of Meyer lemon. You can complement this dish with a serving of lemony, crunchy cauliflower (tossed with raisins and hazelnuts, among other things), or a rose-colored lamb tartare (with cucumber sauce and a puffy, house-baked pita), or lobster meat, which the highly trained cooks blanch separately, reconstruct in the shell, and then bake in a coating of "butter" made from lobster roe, mustard, and tarragon.
There were a few dishes I wasn't mad about at Dover, in particular the sweet, almost treacly rendition of pork belly (with chestnuts and baked winter vegetables), and the wet, denatured cut of rib eye, which is muffled in an overwhelming combination of Bordelaise sauce and shallot marmalade. The gourmet chicken for two, however, is more or less an exact facsimile of Daniel Humm's famous dish at NoMad, complete with the carefully carved, crackly skinned chicken breasts, the bundles of fresh herbs on the side, and the omnipresent taste of truffles (although at $65, it costs roughly 20 percent less than that well-publicized bird). If you're in the market for a slightly less lavish poultry dish, try the seared duck breast (over sunchokes and buckwheat) or the soft, melting lamb ribs, which are paired with an equally melting serving of eggplant and flavored, in the Southeast Asian style, with crushed peanuts, coriander, and sprigs of fresh mint.
At Battersby, the kitchen bakes all the bread, and at Dover the artisanal bread
of choice is a loaf of Italian stecca, served warm, on a butcher board, with two dipping sauces and an impressive architectural arrangement of fennel crackers. The desserts tend to be similarly elevated, somewhat fussy renditions of old comfort-food favorites, like a twee version of the famous Brooklyn blackout cake, which is possibly as rich in chocolate as the original but not half as large or as satisfying (it comes with a palatable ­serving of beet-flavored ice cream). The slice of gourmet banana-cream pie I ordered one eve­­ning worked better than that (the disks of banana are brûléed and served with jasmine ice cream), al­­though neither of these studied confections is quite as successful as the baked Alaska, which has a soft lemon-sorbet center, a wavy meringue top, and the crumbly, densely sugary crust of fine Brooklyn cheesecake.

Dover
412 Court St., nr. First Pl., Carroll Gardens; 347-987-3545; doverbrooklyn.com
Hours: Dinner Monday through Saturday 5:30 to 11 p.m., Sunday to 10:30 p.m.
Prices: Appetizers, $3 to $16; entrées, $27 to $39.
Ideal Meal: Oysters with Choron sauce, lobster or squid-ink spaghetti, lamb ribs or chicken for two, baked Alaska.
Note: A seven-course tasting menu is available for the Manhattan price of $95.
Scratchpad: Three stars for the accomplished cooking, but minus a star because we miss the focus and intimacy of the mother ship.
*This article originally appeared in the February 10, 2014 issue of New York Magazine.