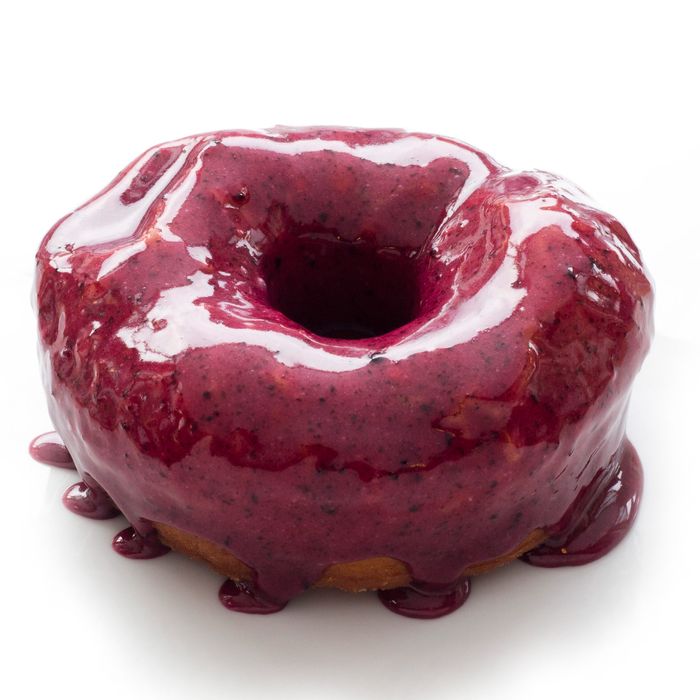 Let the French have their croissants. The real morning-pastry action is in doughnuts, and even if Americans can't claim sole ownership over something as simple as frying dough, the United States can certainly stake a claim on doughnut shops, those beautiful, Technicolor gut-bomb oases that dot this great land of ours.
It's not like doughnut shops ever went out of fashion (and a particular chain on which America supposedly "runs" has spent the last few decades squeezing franchises into any nook or cranny where they'll fit), but doughnuts have been susceptible to the same recent culinary gentrification that raised the profile of burgers and pizza. Why? Because a plain doughnut is an essentially perfect canvas on which forward-thinking up-and-comers can apply their own distinct culinary sensibilities, a beloved foodstuff that is begging to be ennobled.
Happy to do just that are new-school doughnut shops like Glazed in Charleston, Top Pot in Seattle, or the much-celebrated Federal Donuts in Philly. And yet, the gleaming counters of old-school shops will never go out of fashion, either.
And so, when Grub Street set out to survey the current doughnut situation in America, we didn't favor new over old. Instead, we looked for shops of all ages with street cred, spots that feel as immune to trends as doughnuts themselves. So this list is not the 101 best shops, per se, or even the buzziest; it is instead a guide to the places and people that we think are doing their damnedest to pay proper respect to one of our country's greatest culinary traditions.
If you just want to see the list, just check it out straight ahead (it's unranked, organized geographically). Then, to read about why each shop warrants inclusion — and to see all the requisite doughnut porn — click the slideshow link under the list. Lastly, head to the nearest spot and get a dozen for yourself and whoever else you think deserves a doughnut today.
1. Dough, New York City
2. The Cinnamon Snail, New York City
3. Peter Pan Donut & Pastry Shop, New York City
4. Carpe Donut, New York City
5. Dough Loco , New York City
6. Leske's, New York City
7. Doughnut Plant, New York City
8. Beach Donut Shop, Clinton, CT
9. The Orangeside on Temple, New Haven, CT
10. Speedy Doughnuts, Norwalk, CT
11. Atkins Farms, Amherst, MA
12. Kane's, Saugus, MA
13. Union Square Donuts, Somerville, MA
14. Lyndell's Bakery, Somerville, MA
15. Allie's Donuts, North Kingstown, RI
16. The Holy Donut, Portland, ME
17. Willow Bake Shoppe, Rockland, ME
18. Congdon's, Wells, ME
19. Beiler's Donuts and Salads, Philadelphia, PA
20. Federal Donuts, Philadelphia, PA
21. Undrgrnd Donuts, Philadelphia, PA
22. Oram's Donut Shop, Beaver Falls, PA
23. Shore Good Doughnuts, Ship Bottom, NJ
24. Ob-Co's, Toms River, NJ
25. Uncle Dood's Donuts, Toms River, NJ
26. Astro Doughnuts & Fried Chicken, Washington, DC
27. Golden Brown Delicious, Washington, DC
28. Heller's Bakery, Washington, DC
29. Fractured Prune, Ocean City, MD
30. Donut King, Huntersville, NC
31. Glazed Gourmet Doughnuts, Charleston, SC
32. Sublime Doughnuts, Atlanta, GA
33. Dutch Monkey Doughnuts, Atlanta, GA
34. Gibson's Donuts, Memphis, TN
35. The Heavenly Donut Co, Birmingham, AL
36. DoughWorks, Nashville, TN
37. Fox's Donut Den, Nashville, TN
38. Monroe's, Jackson, MS
39. Sweet Cheeks Donut & Sammich Shop, Fulton, MS
40. Grampa's Bakery, Dania Beach, FL
41. Bennett's Fresh Roast, Fort Meyers, FL
42. The Dandee Donut Factory, Pampano Beach, FL
43. Upper Nine Doughnut Company, New Orleans, LA
44. Blue Dot Donuts, New Orleans, LA
45. Freret Street Po-boys & Donuts, New Orleans, LA
46. Nord's Bakery, Louisville, KY
47. Hi-Five Doughnuts, Louisville, KY
48. Polar Donuts, Oklahoma City, OK
49. Donut Stop, St. Louis, MO
50. World's Fair Donuts, St. Louis, MO
51. Strange Donuts, St. Louis, MO
52. Bonomini Bakery, Cincinnati, OH
53. Presti's Bakery, Cleveland, OH
54. Hotlman's, Loveland, OH
55. LaMar's, 27 shops across six states
56. Doughnut Vault, Chicago, IL
57. Firecakes, Chicago, IL
58. Do-Rite Donuts & Coffee, Chicago, IL
59. Dutch Girl Doughnuts, Detroit, MI
60. New Palace Bakery, Detroit, MI
61. Friske Orchards, Ellsworth, MI
62. Glam Doll, Minneapolis, MN
63. Bogart Doughnut Co, Minneapolis, MN
64. A Baker's Wife, Minneapolis, MN
65. YoYo Donuts, Minnetonka, MN
66. Top Pot, Seattle, WA
67. FROST Doughnuts, Mill Creek, WA
68. Blue Star Doughnuts, Portland, OR
69. Voodoo Doughnut, Portland, OR
70. Helen Bernhad Bakery, Portland, OR
71. Dream Fluff Donuts, Berkeley, CA
72. Doughnut Hut, Burbank, CA
73. Peterson's Donut Corner, Escondido, CA
74. The Donut Man, Glendora, CA
75. The Donut Wheel, Livermore, CA
76. Stan's Donuts, Los Angeles, CA
77. Donut Friend, Los Angeles, CA
78. Boon Fly Cafe, Napa, CA
79. Doughnut Dolly, Oakland, CA
80. Donut Savant, Oakland, CA
81. Swiss Donut, Palm Springs, CA
82. Marie's Donuts, Sacramento, CA
83. Doughbot, Sacramento, CA
84. Donut Bar, San Diego, CA
85. Bob's Donuts, San Franciso, CA
86. Dynamo Donut, San Francisco, CA
87. Heartbaker, San Francisco, CA
88. Maple Leaf Donuts, San Jose, CA
89. Ferrell's Donuts, Santa Cruz, CA
90. DK's Donuts, Tustin, CA
91. Scotty's Donuts, Visalia, CA
92. Pink Box Doughnuts, Las Vegas, NV
93. Ronald's Donuts, Las Vegas, NV
94. Rebel Donut, Albuquerque, NM
95. Vovomeena, Phoenix, AZ
96. Gourdough Specialty Doughnuts, Austin, TX
97. laV, Austin, TX
98. Mustang Donuts, Dallas, TX
99. Hypnotic Donuts, Dallas, TX
100. Original Donut Shop, San Antonio, TX
101. Leonard's Bakery, Honolulu, HI