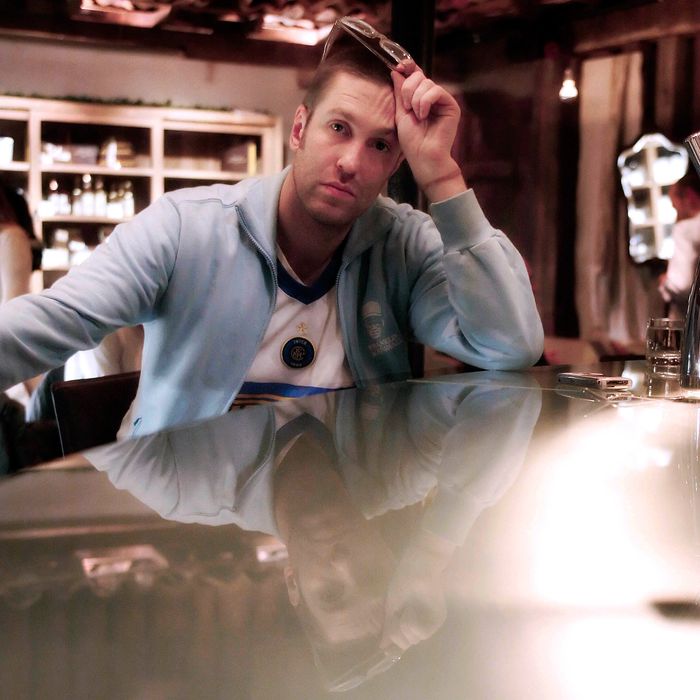 Goldfarb.
Photo: Chris Goodney/Bloomberg via Getty Images
In a WSJ. magazine profile, Howie Kahn provides a sort of postscript to one of the restaurant community's most enduringly enigmatic figures, that of pastry chef Will Goldfarb, who blazed a trail of culinary eccentricity and blatant quirk at places like Papillon and Room 4 Dessert around a decade back, before suddenly moving to Bali with his family in 2008. Goldfarb had already been planning to move, WSJ. reports, when he was diagnosed with a malignant tumor in his leg. Recovery, including radiation and surgery, took five months.
After a unorthodox start in Indonesia, living with his wife and daughter in a bamboo building with no toilets or walls, Goldfarb — of whom Albert Adrià says, "He has good hands but an even better mind" — plotted the next phase of his career. He is now the chef at a "tasting kitchen and laboratory" called Mejekawi, a 24-seat, glass-walled establishment filled with cutting-edge equipment on the second floor of Ku De Ta, a local restaurant, where he turns out things like salak tarte Tatin, pandan leaf panna cotta, and kalamansi meringue with steamed milk cake. Goldfarb teaches pastry, conducts special dinners, and, fittingly, has all kinds of crazy-sounding plans for the techniques he's been working on.
"My resolve has always been strong in general," he tells Kahn, "but now it's stratospheric. You go through trials by fire in kitchens, then you go through trials by fire in a hospital. I used to say it as a joke, but now you would literally have to kill me to derail what I want to do, which is to have the best restaurant, whatever that means. Maybe it's the best restaurant I can do. Maybe it's the best restaurant anyone can do."

Chef Will Goldfarb's Dessert Laboratory in Bali [WSJ.]