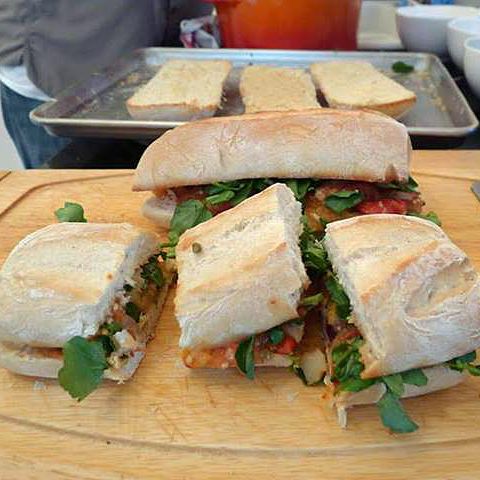 Chicken tinga with queso fresco, pickled onions, cilantro, and sliced radishes, too.
Photo: Untamed Sandwiches
R.L. King, former sous chef at Il Buco and current McKittrick Hotel chef, has teamed up with Andy Jacobi, a former financial-industry guy who had a restaurant epiphany after working for a South Dakota company that sells grass-fed buffalo: Jacobi realized that while there were plenty of farm-to-table places around town, no one was really doing quick-service sandwiches piled with sustainable meats cooked low and slow. Untamed Sandwiches, which opens next week in midtown west, will serve goat, chicken, brisket, and pork sandwiches, the last of which consists of cider-braised shoulder, aged Cheddar, broccoli rabe, red-pepper jelly, and mustard.
The pared-down menu will feature two vegetarian options, too, including a sandwich layered with charred broccoli, fried almonds, pickled raisins, and cress. Jacobi says all sandwiches, which are assembled on a standard Grandaisy Bakery six-inch ciabatta, will hover around the $11 price point. Otherwise, the side dishes are seasonal, and cold Narragansett and Sixpoint tall boys are on offer. Jacobi says he and King have been working around the clock to perfect their house style of slow but ultimately convenient food. As such, all meats are braised eight hours in a double chicken stock that's first been simmered for two days. Actually assembling the sandwiches? "We've got that down to just under a minute," he says.
Untamed Sandwiches, 43 W. 39th St., nr Sixth Ave.; 646-669-9397