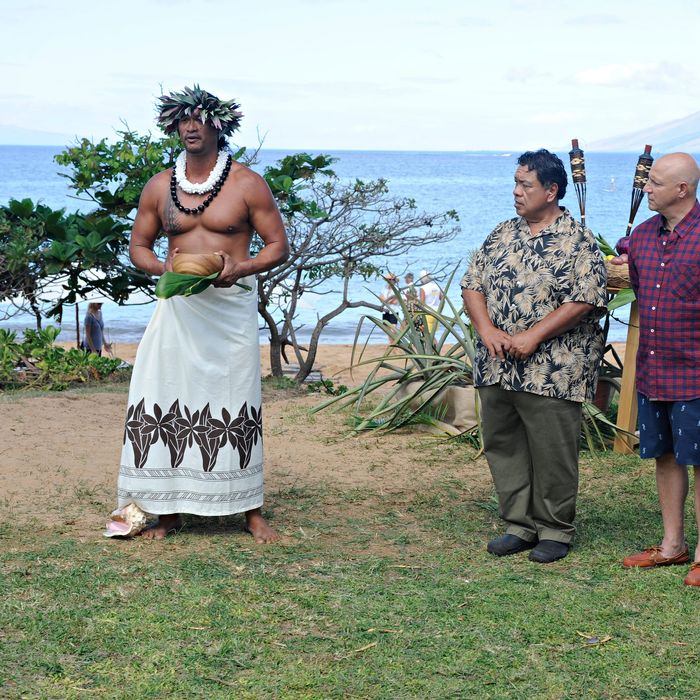 The beach beats Bourbon Street.
Photo: David Moir/Bravo
And then there were three (and then briefly four, and then eventually two). It's been a wild ride, as our nineteen cheftestants have been raked over the New Orleans coals. But now it's time to choose a winner, so tonight, we celebrate Cajun culture by getting the hell out of the bayou and heading to Maui. I guess a bunch of chefs can only pretend to tolerate crawfish for so long.
Before we dive into the final Quickfire Challenge, we must reveal the winner of Last Chance Kitchen, who will join the three remaining contestants in the finale. And it turns out Nina, Nick, and Shirley have picked the winner themselves by judging the final LCK in a blind taste-test, and their choice is … Louis! Now, given Carlos's fondness for Mexican spices, it's possible the final three knew exactly whose dish was whose, but let's not think about it. Louis won himself eight challenges in a row, so he shows up with the taste of blood in his mouth. (And, one suspects, some new strategies, as Last Chance Kitchen is basically a series of Quickfires.)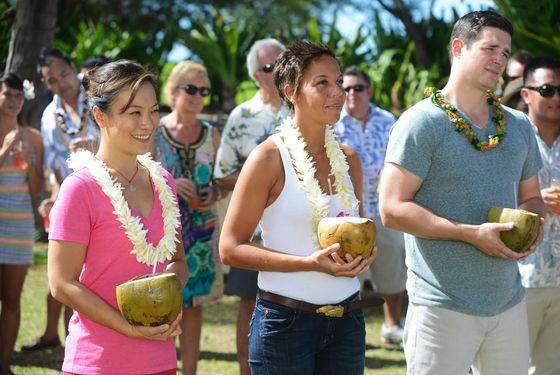 Nick sort of looks like a young Nathan Lane here, right?Photo: David Moir/Bravo
And the final Quickfire is to prepare a meal highlighting … Spam. Hawaii boasts the country's highest per-capita Spam consumption, as it turns out, so this isn't as out-of-the-blue a marketing opportunity as it seems on first glance. It'll be judged by Hawaiian culinary legend Sam Choi. Top Chef is like a vogue ball in Paris Is Burning: Everyone is legendary.
The final four grab their tiny tins of mystery meat and start cooking al fresco, with an audience of curious locals. Everyone's full of the aloha spirit, asking all kinds of questions, and Louis is immediately over it. We're getting more Louis tonight than we ever did when he was on the show, and he speaks in the sleepy monotone of the guys in that "Inside SoCal" sketch from last weekend's SNL.
Here's how the Quickspam Challenge plays out:
Shirley: Deconstructed spam musubi with Spam-infused rice, nori, and cucumber slaw. A "Spam Musubi" is basically Spam sushi, and it's something of a Maui delicacy. So Shirley takes it apart and reduces it to its core elements. The judges dig it, and a local guy says he likes the crunch.
Louis: Spam mousse with garlic, chives, scallions, snap peas, beech mushrooms, and togarishi. Louis's major challenge is chilling his mousse, because this is all taking place outside on a 95-degree Maui day. But he manages. Tom finds it very smooth and silky, while Sam feels it could have had more Spam flavor. (I'm pretty sure the implication is that "more Spam flavor" would have been a good thing.)
Nick: Spam broth with ponzu, pancetta, seaweed, dried shrimp, clam juice, and quail egg. Nick has had some time off to reconnect with his family, and he has shown up in Maui ready to win. He has heard the judges' complaints about his timidity with seasoning, and he is here to fuck you up with some flavor. The crowd loves it, the judges call it unique, and — brace yourselves — flavorful.
Nina: Breadfruit and teriyaki Spam croquette with sour-orange and mango slaw, with a little basil and Sriracha on top. It's here that I start to wonder whether Nina doesn't have a bit of an unfair advantage in the finale; the seafood and island flavors of Saloosha are not dissimilar to what she'll be asked to cook in Maui. But the judges aren't overthinking it; they praise her croquette for having a dozen flavors in one bite.
The decision is up to Sam, and the person who did Spam the way he's never seen before is Nick, who wins the challenge and $10,000. Padma says "It's nice to see you smile, Nick," and she's right.
Oh, but there is no time to bask in the warmth of our villain's grin, because we go right into the Double Elimination Challenge, which is to cook a meal using "canoe crops," or the produce and herbs of ancient Polynesia (your coconuts, your sugar canes, your taros and kukuis and turmerics). Again, Nina knows her way around a breadfruit, so we can expect her to do well here. Just about everyone chooses to cook fish, except for Shirley, who goes pork.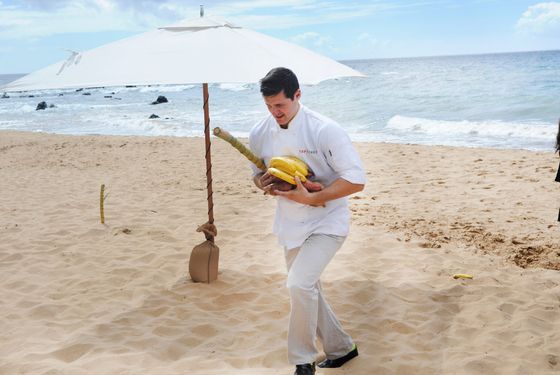 It's like an outtake from Cast Away.Photo: David Moir/Bravo
And then it rains. Now, it is not unreasonable to expect rain in Hawaii, but every chef is caught off guard. Shirley's sweet-potato and turmeric mash gets rained on, so she's forced to discard some. The wetness and wind play hell with Louis's grill, which is a problem, because his chosen fish, opah, can overcook easily. Nina and Nick aren't bothered; the wind is at their back, and ain't nothing gonna break-a their stride.
Here's what happens:
Louis: Grilled opah with sweet-and-sour sweet-potato and coconut sauce. Louis is confident after his unprecedented Last Chance Kitchen winning streak: "Flavorwise, I won this." Opah is a bold move, not just because it's such a delicate fish, but because guest judge Sam Choi was the chef who put it on the map. Sam likes Louis's interpretation, but there is inconsistency in how the fillets are cooked; Padma's is way overdone, and you know how she gets.
Nina: Grilled opah with taro-root and coconut puree. Two opahs will necessarily be pit against each other, and going head-to-head with Nina is unwise. Nina's certainly looks better than Louis's; there's a lot of color and texture variety. Tom finds the sauce too spicy, but everyone else is like: yum.
Nick: Opakapaka steamed in tea leaf with jalapeño and crispy chicken-skin in a pork sauce. That's right, you guys: jalapeño. It's like Nick said: "Oh, you don't think I bring flavor? Here's a thin slice of a mildly hot pepper — How you like me now?" The judges like him now just fine. One of the local chefs thinks it's a little too flavorful, but everyone else loves it. It is a bold dish for Nick, but Tom thinks it works.
Shirley: Maui honey-glazed pork with sweet-potato and turmeric puree. Shirley worries her dish is too sweet, and her fears are well founded; the rain has forced her to make a little puree go a long way, and she'd been counting on the turmeric to balance the pork's sweetness. Indeed, although the judges like the dish, they all find it just a tiny bit too sweet.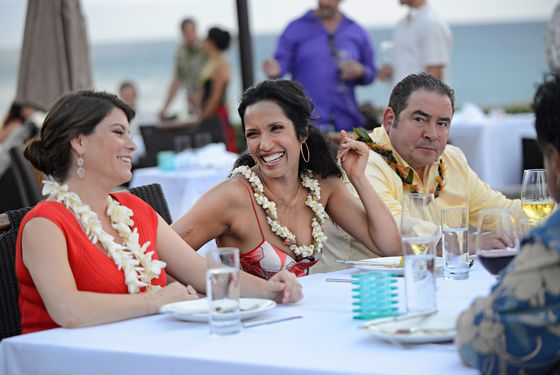 Emeril is not feeling Padma's joke.Photo: David Moir/Bravo
At the judges table, Padma says, "We're sending 50 percent of the chefs home tonight." I crunched the numbers, and she's absolutely correct.
It's going to come down to little details, and when the TV gets switched on in the waiting patio, every little detail gets a lot of attention. The judges say some of Louis's opah was overcooked, but Gail thought the purple sweet-potato "looked great on his plate." (I guess it's nice when something looks good on a plate, and I'm no expert, but I think it should also taste good and be cooked well.) Nick's dish was well executed, but some of the judges find the jalapeño "a little too assertive." Nina layered her flavors well, but the spice in the sauce may have overpowered the opah. Shirley's was perfectly cooked, everyone comments on the sweetness. I hate what is happening here.
And the winner is … Nicholas! Again, every show needs a heel, and I know they're trying hard to make Nick into one, but I see a hard-working chef who's actually growing and learning and, okay, fine, sometimes having some camera-friendly tantrums. But I'm not mad at this outcome.
Unsurprisingly, Louis is sent to pack his knives, so it's down to Shirley and Nina. I like them both, but I can't help but think that Nina's road to the finale has been too smooth. Shirley's been an underdog, a fast learner, and a kind soul, but it's not enough to keep her safe. She's out. The finale is Nick and Nina.
Next week: the beginning of the middle of the end! Everyone comes back! Nick freaks out! Nina tells someone to eat a dick! And we crown our Top Chef! I'll see you there.