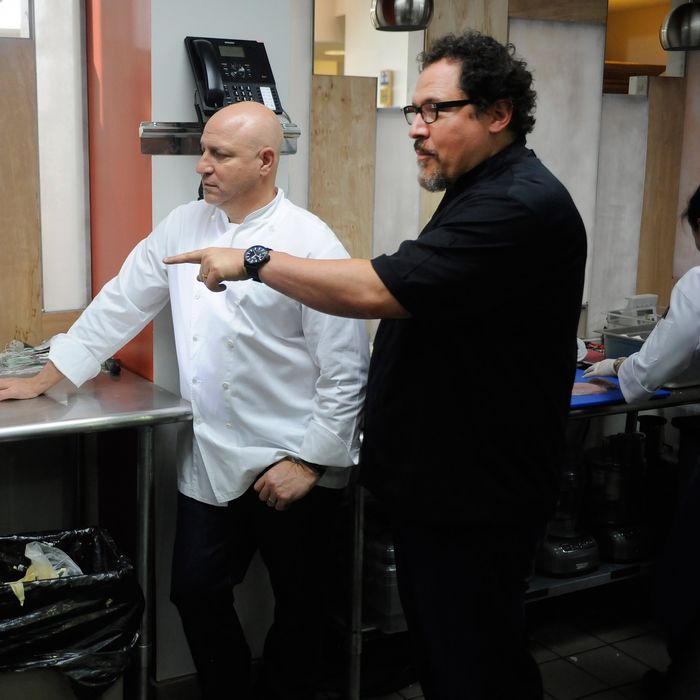 And Jon Favreau is here to plug his new movie.
Photo: David Moir/Bravo
Ooh-wee, people. We are down to the wire on Top Chef. Only five chefs remain, and they're all talented and confident. But listen, I have read your comments about Nicholas's petulance, and you're not wrong. He does seem to have a hair-trigger temper, and that thing he said about being the only one who didn't get to keep his job when his restaurant changed owners is kind of a red flag. But here's the deal: He's handsome and a little bit tortured, and he can obviously cook (I mean, I think he can cook; I've only been looking at pictures of his food), and that's all it takes for me. I'm willing to believe the producers are making him out to be the heel. This is why I'm a nightmare on a jury.
This week, Kogi Truck founder Roy Choi and his colorful children's clothing are here to supervise the Quickfire Challenge, and Padma is dressed like a tassel you hang on a mortarboard when you graduate college. Future generations will judge this moment in fashion history harshly. Anyway, the Quickfire calls for the five chefs to come up with their own take on the New Orleans classic po'boy. We're only getting to this now, and the winner gets immunity, and both of these facts are bananas.
Shirley isn't too psyched about po'boying it up. Her cooking is heavy on the technique, while a sandwich is all about flavor. Nick's is a gamble because it will involve fried shrimp, which is already a staple of a New Orleans po'boy. Nina aims to put the great taste of Saloosha between two halves of a massive roll, Carlos is going to translate an al pastor taco into a sandwich format. And Brian fears that his Korean-inspired po'boy (Ko'boy?) will be so down the middle of Roy Choi's strike zone that he'll be judged harshly. Overall, there is a lot of fretting about a sandwich that literally nobody has ever eaten sober.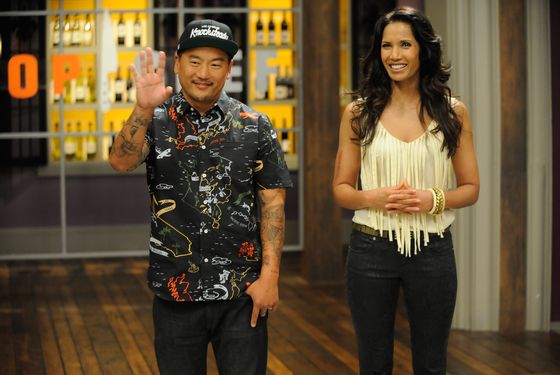 See what we mean about the tassel thing?Photo: David Moir/Bravo
The po'boy lineup goes a little like this:
Nick: fried shrimp with Sriracha mayo, fennel, and pancetta. It's spilling over with fillings, which makes Shirley worry that hers will be too bread-heavy. Roy eats it with a poker face, Padma takes a bite right out of the middle, the way a cartoon dog would a bone.
Shirley: Sauteed catfish with mirin, ginger, garlic glaze, and cabbage slaw. Shirley says it reflects her Chinese heritage, because of the black vinegar. Roy dissects his like it's a lab frog. (Fitting, because he is dressed like a high-school burnout.)
Nina: Fried mahi mahi with mojo aioli and pickled onions. I don't know what "mojo aioli" is, but finding and eating it is now high on my to-do list. Roy wants to know where the crunch is, and Nina claims it comes from the pickled onions. Nina is not going to win this challenge; don't even step to Roy Choi with that shit.
Brian: Asian-inspired lobster with gochujang aioli and yuzu with pickled cabbage. It looks colorful, but it gets nothing from Roy and a noncommittal "okay" from Padma.
Carlos: Po'boy al pastor with guajillo chilies, pineapple, onions, and roasted garlic. Roy eats this one with great consideration; because he runs a fancy taco truck, he's "very particular about al pastor." Carlos responds (to the camera): "Well, I'm from Mexico." The point goes to Carlos.
Ultimately, Roy thinks they all missed the mark, overthinking the technique and forgetting to focus on the flavor, the essential sandwichness of the whole thing. He concludes: "Yo, you fucked this shit up." Brian says, "I guess he just wanted flavor in the face." Of course he did. Look at Roy Choi. He is Poochie incarnate. He wants everything in the face.
(Okay, I will get off Roy Choi's case. But real talk, guys: In about 30 years, retirement communities are going to be filled with old Roys. Elderly folks with sleeve tattoos, hockey jerseys, and streaked hair, talking to their nurses and grandchildren like they're quoting Limp Bizkit lyrics. I just hope I'm lucid enough to make fun of it all.)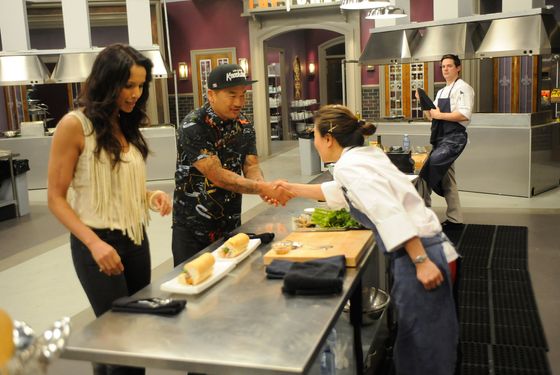 "Roy didn't shake my hand," Nick thinks to himself.Photo: David Moir/Bravo
In the end, even though Roy found her shit a little pedestrian, Shirley wins.
Off we go to our Elimination Challenge, which will be guest-judged by Jon Favreau, whom Bravo has teased all season. And of course, the one quote they've teased us with ("You'll be cooking a meal made only of things you find in dumpsters on Bourbon Street") is a joke. Phooey! Instead it's all a big marketing thing for Favreau's upcoming movie Chef, about a chef who loses his culinary voice and travels the country in a food truck trying to get it back. So that's it: This week, the chefs must create a dish that represents their turning point and the moment they found their voice as a chef. It would be kind of a bummer to get this far and then lose just because you've been awesome since the beginning, wouldn't it?
We won't need to worry about that. Brian found his culinary voice after getting a DUI and losing everything, then starting from scratch with a new chef. Shirley found hers earlier this season in that Emeril shrimp challenge with the Vietnamese old folks. How convenient! Nick found his by furrowing his brow and yelling at it until it came to him.
Nina chooses to do a simple island-inspired pasta dish: agnilloti dal plin. Nick is going to chart his progression from classical to modern French by preparing six different kinds of carrot. Nina says he overthinks things and has a short fuse, both of which are demonstrably true, and then she says something that is also accurate despite obviously having been stitched together in an edit bay: "Those…TWO THINGS …together…it can be … BIG TROUBLE…in … the kitchen."
Immediately, it is indeed big trouble in the kitchen. Nick slams his pots down, bellowing that nobody better move his pots, which is an open invitation to move the dude's pots. Carlos takes the bait, Nick hollers "DO NOT FUCKING MOVE MY POTS," and …that's pretty much that. I'd wager it wasn't a big deal in the moment, but in the context of this episode, it looks huge.
Nina's attempt to make fresh agnolotti is thwarted by the heat in the kitchen, so she switches to fettuccine, which you know is going to be flawless. Shirley gives it her all despite having immunity — no cold Carrie broccoli for her — and her crustacean broth looks awesome. Nick goes to dehydrate some quinoa to give his dish some texture; he puts it in an oven at 275, but when he returns, the oven is at 500 and the quinoa is burnt. (Good riddance to bad quinoa, as far as I'm concerned.) Brian builds his dish around boneless, skinless chicken breast, which is a huge mistake; you serve me chicken breast, that shit better have some skin on it. Shirley says this out loud just as I'm thinking it.
The meal is served at Emeril's Cafe Reconcile, a restaurant staffed by at-risk kids from New Orleans, so it's heartwarming no matter what happens.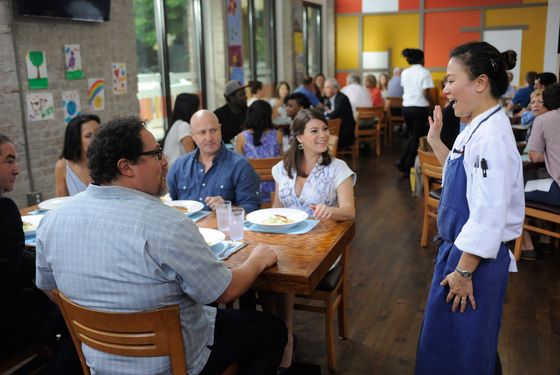 Emeril's restaurant answers the question: What would it be like to eat dinner in a Kindergarten class?Photo: David Moir/Bravo
But here's what happens:
Shirley: Seared snapper with crustacean broth, silken tofu and Napa cabbage, fennel and leeks. It's the most colorful of the bunch, and it makes me want to dip bread into my television. The judges, the crowd, and the kids all love it.
Nina: Fettuccine with charred calamari, pine-nut gremolata, and crab meat. Her dish reflects the moment when she realized it didn't need to be about a million flavors, and that she can just focus on simple things and make them great. Tom says "This is the level everyone should be cooking at right now."
Brian: Chicken anticucho, confited and then fried, with twice-cooked potatoes and feta-walnut pesto with feta sauce. Emeril finds it tasty, but shrugs and says "It's chicken breast." Tom echoes my concern that boneless, skinless chicken is destined to be dry and boring. Plus Emeril's potato is somehow both twice-cooked and uncooked. Uh-oh.
Carlos: Braised pork belly with sweet potato puree and chipotle tamarind glaze. Jon says it's like Babe Ruth pointing to right field and hitting a home run. Emeril says "You can taste every single element, and everything has a purpose."
Nick: Yellowfin tuna and several preparations of carrot, covered with fennel pollen. If you were to ask me to come up with a list of appetizing names for a dish, "several preparations of carrot" would be near the bottom. Nick mentions the burnt quinoa, which he shouldn't. The judges are lukewarm, and the kids aren't feeling it; one server holds a piece of the fish near her face, tentatively, and says: "I mean, it's not nasty or nothing, but…" And in that ellipsis, Nick's problem comes into focus. The guy needs to loosen up and learn to cook for the people. And stop yelling. The editors have your number, Nick.
So our top three are Shirley, Nina, and Carlos. Shirley wins! And she didn't even need to! Could she take this whole thing? Has she quietly become our front-runner? And can a person who never stops talking be said to have "quietly" done anything?
Since the producers have spent this entire episode doing everything short of making Nick tie a damsel to railroad tracks, it's obvious they're going to pull the rug out at the last minute and send Brian home. And indeed, that's what happens. So let this be a lesson: When you make it to the top five in Top Chef, remember that potatoes are things that need to be cooked. And I hate to tell you: He doesn't make it through Last Chance Kitchen; Louis is on a roll over there and might just surprise us all.
See you next week.