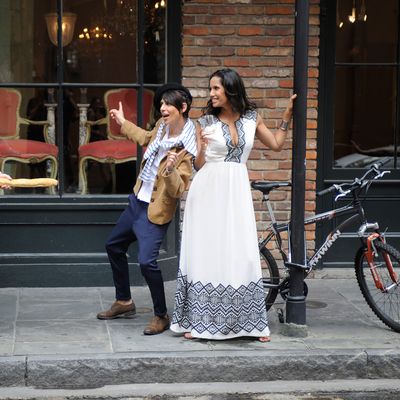 This photo proves there's such a thing as being too good a sport.
Photo: David Moir/Bravo
Happy New Year, everyone! Have you fully reacclimated to real life after what must have been the longest holiday season on record? I have not. I spent last week in Napa, where I ate the best burger of my life at Goose & Gander (extra bone marrow on top? Yes, please), and then ate it again, and then ate it again. Since my return, I have been doubling up on spin classes and trying to remember how to read.
Oh, but this is not about me; this is about Top Chef: New Orleans and its final six cheftestants. This is where the cuts really start to sting. Aside from Carlos, who still hasn't managed to stand out in any meaningful way, each of the remaining players (Nina, Nick, Brian, Stephanie, and Shirley) has worked his or her way into my heart (through my stomach, via my eyes).
This season has been a little bit short on actual drama, so the producers are wringing every last drop of drama broth from this Carlos and Nick situation. Last week, if you were in bed by 9 p.m. on New Year's Day like I wish I had been and missed the show, Carlos borrowed Nick's sushi knife and failed to clean it properly, and now we're meant to believe that they're at each other's throats. But so far, there's barely been a raised voice.
Tonight's Quickfire involves renowned chef and hilarious French stereotype Jacques Pépin, who challenges the top six to replicate his signature dish, Dover sole with artichokes, asparagus, and cherry tomatoes. First, he cooks it himself and lets the chefs (and us) watch. And for the first time this season, the show gets a little service-y. If there isn't going to be nonstop reality-TV drama, the least the producers can do is teach us some French cooking secrets, and here they almost do. I learn that making a rose out of butter and cutting up an artichoke can both be done with ease; all you have to do is have decades of experience as a super-famous French chef.
After watching and tasting Pépin's handiwork, the six have 35 minutes to make their own. And the kitchen is almost completely silent, so total is the chef's focus. Carlos immediately feels that he's at a disadvantage, because this is a technique challenge and he is totally self-taught. (But he is a huge fan of Pépin. How huge? "I follow him on Facebook." This guy.) Stephanie has issues skinning her sole filet, but she's not worried about the cooking time she's losing, because it's so easy to overcook sole and dry it out. Taking this lesson perhaps too much to heart is Nina, who straight up forgets to turn her stove burners on until just before hands up.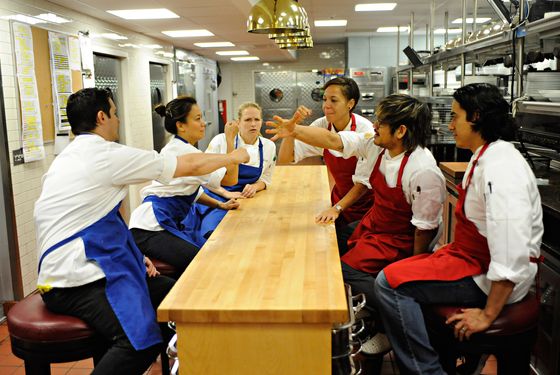 This only works if everyone makes a fist, Brian.Photo: David Moir/Bravo

The challenge is to replicate this dish, presentation and all, and almost nobody pulls it off. Carlos's plate is a mess (and the sauce is watery and there's no tomato), Brian's is like a Picasso still-life of the real thing (with no sauce at all), and Nina's is just piles of food. Steph, Nick, and Shirley come closest, though Steph's fish is undercooked. Ultimately, Jacques likes the extra kick of tarragon that Nick put in his sauce, so he gets his first Quickfire victory, and immunity — which may become important later, so don't forget.
Spanish and French chefs Julian Serrano and Dominique Crenn stop by to help with the Elimination Challenge, which is to cook a five-course meal in either a Spanish or a French style, using five staples of both disciplines: olives, almonds, mussels, chicken, and chocolate. Cooking with Madame Crenn for the French team are Shirley, Nick, and Steph. Carlos, Brian, and Nina join Señor Serrano to rep the Spanish. And this Dominique is a real pip, let me tell you. She is, of course, impossibly beautiful and filled with life and wisdom, flitting about the Whole Foods and conceptualizing an avant-garde French meal like it ain't no thing. Julian pokes around the store as though he hasn't a care, but he's a martinet in the kitchen, overseeing every last cut of every piece of food. Also both of their accents are like something out of a lesser Pink Panther movie.
Nick and Shirley are both classically trained French chefs, so Steph feels a little out of her element. But it is important to remember that she is The Girl Who Cried "I'm Out Of My Element." Nina is confident in her abilities' and who wouldn't be? But she worries that Team Spanish's dishes might be too safe.
For the first course, Shirley leaps out of the gate with a snapper ceviche and liquid-nitrogen olive-oil ice cream, while Nina serves up an ensaladilla rusa with green olives and Gulf shrimp (a.k.a. potato salad). Tom likes Shirley's fish and the ice cream, but not together. Everyone praises the freshness of the snapper, which is not really a thing the team had anything to do with. Jacques Pépin likes the potato salad, saying what sounds exactly like "I am a fucker for potato salad." (The word is sucker, but just barely.)
The second course is Stephanie's pickled and poached mussels with "crustacean jus" and tomato and Nina's ajo blanco with almonds, crab, and cherries. Tom loves the mix of old and new in Steph's dish, and someone (I honestly don't know who, so uniformly batshit are these accents) complains of a little grit in one of the mussels. (This is the very definition of a too-fine criticism.) Everyone loves Nina's dish, except Dominique, who feels that the taste of the crab was lost.
Course three for the French is Shirley and Stephanie's chicken-liver mousse with roast-chicken bouillon and mushrooms, and for the Spanish, it's Carlos's mussels à la romesco with crispy leeks. Everyone agrees that Carlos' sauce overpowers the rest of the dish, but they all love the consommé aspect of Shirley and Steph's dish. (Julian says: "I like-a the birth," which is subtitled as "I like the broth." It's one magical accent this guy has.)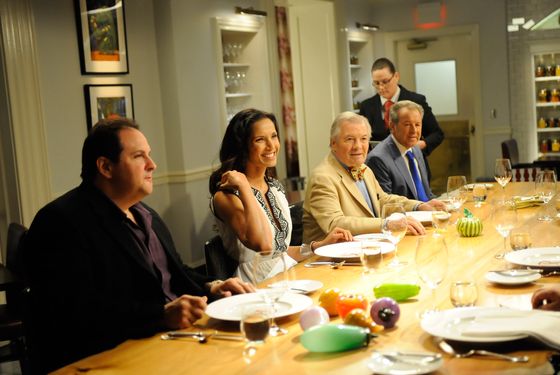 Pépin gets points for the bow tie.Photo: David Moir/Bravo

So here's where we run into trouble: The fourth French course is Nick's, and it's this weird Cornish game hen with spiced chocolate bark and corn puree in a corn-silk bird's nest, and you can go ahead and reread that but I guarantee it won't sound any better the second time around. Worse, the corn silk doesn't really look appetizing, but Nick — who I will remind you has immunity — won't hear about leaving it off the plate. Dude's got a vision, see. Stephanie says, "If it doesn't go over well, it's my ass," and you should probably keep that in your mind as we move forward, too. The Spanish team serves Carlos and Brian's simple pollo con arroz, which gets yums and raves from the table, while the chocolate game hen gets the biggest gas face of the season. Jacques says: "Eet ees exactly what I no like in the nyew coo-king," and Dominique replies "Eet ees amportant to ombrace what people ees doing rah now." And then Inspector Clouseau crashes through the ceiling with Britt Ekland or whatever.
The dessert course concludes the simple Spanish and/or funky French theme of the evening on the flan tip, with Brian bringing out a basic chocolate one and Nick doing a tricky almond number with plum and dark cocoa nibs, finished with fresh licorice. Neither one goes over particularly well, but Brian's gets the edge.
The Spanish team wins, which isn't much of a surprise, and Nina takes home the individual trophy, which you knew before I even told you. Tom raises an eyebrow at Brian's final flan, saying it looked like something someone would serve in the sixties. Tom, if someone puts a chocolate anything in front of anyone, even today, they eat it. Get over yourself.
So the French team must lose a member, and since Nick has immunity, it can only be Shirley or Stephanie. Jacques asks Nick whether his team should be penalized for what were his mistakes, or whether he would like to resign — which I did not even know was a thing — but after a pause, he says: "No, I think I did enough yesterday to deserve immunity."
And here's the deal: I know stepping aside to keep his teammates safe would be the gentlemanly thing to do here, but fuck that. Our guy Nick has plenty of integrity, he's played the game right, and even though I will never be interested in eating a chocolatey game hen (unless it's like a chocolate bunny at Easter), I respect his choice. His handsomeness may be a factor, but nobody said life was going to be fair.
So it falls to this table of pretentious chefs on their ninth bottle of Chardonnay to decide who goes home, and it's a tough choice. Everyone loved Steph's mussels and Shirley's snapper, so it comes down to the third course. And since Shirley was primarily responsible for the consommé element, it is Stephanie who finally goes home after weeks of openly anticipating it. I guess negative visualization really does work.
Fear not, though! Stephanie is a spunky and engaging personality with obvious culinary talent, who will go far in this world of celebrity chefs should she so choose. Go get 'em, you big weirdo!
That's it for this week. Now get back to work. You'll start to remember how by next Thursday at the latest.