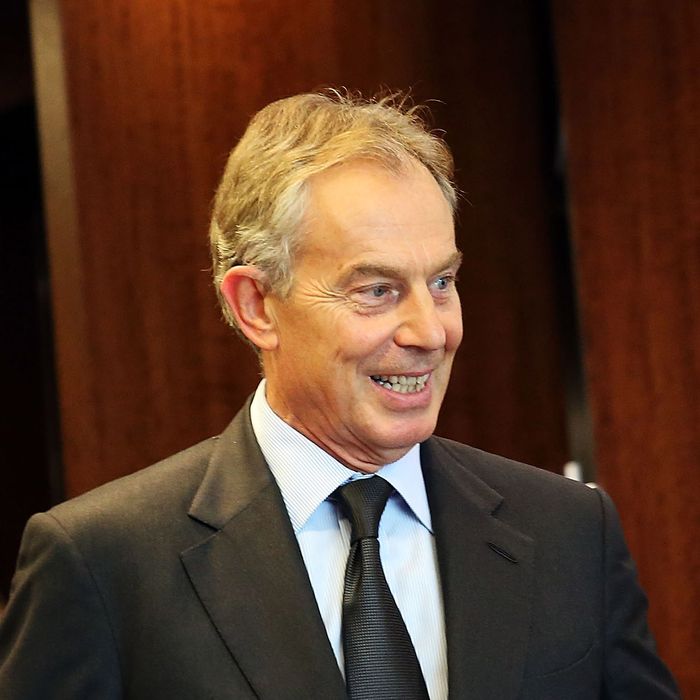 Tony Blair knows debate-team-style kung fu.
Photo: Spencer Platt/Getty Images
A "DJ and aspiring producer" named Twiggy Garcia who happened to be working as a bartender at the upscale Tramshed restaurant in Shoreditch last Friday seized the opportunity to citizen's arrest former Prime Minister Tony Blair. Or at least try. "[I]t's something I have wanted to do for a few years," Garcia tells Vice, explaining that he — like others — wants people like Blair and former President George W. Bush to be tried for war crimes against the Iraqi people. So, he explains, the politician and his family were working through drinks and entrées on Friday night when Garcia got all intrepid and tapped Blair on the shoulder. "Mr. Blair, this is a citizen's arrest for a crime against peace, namely your decision to launch an unprovoked war against Iraq. I am inviting you to accompany me to a police station to answer the charge," he said. "No," Blair responded, apparently without missing a beat or budging. "Shouldn't you be worried about Syria?" he asked, and, well … awkward!
After Garcia explained that he preferred to take his geopolitical concerns one country at a time, Blair asked Garcia if he considered Saddam Hussein to have been a brutal dictator, then talked about "how lots of people died in the 1980s." After responding something-something-illegal-war-something, Garcia says Blair changed tact. "I think you should be more concerned about Syria, to be honest," he said.
Security reportedly showed up by the time Garcia decided he didn't want to talk about Syria, and it's not really clear whether Blair and his party got desserts, just or otherwise. Today, however, his office issued this statement regarding the "great time" he had at Tramshed:
There is nothing to report here apart from fact that Mr Blair did offer to discuss the issue - that offer was declined and the individual walked off. Nothing else happened. Everyone is fine and they had a great time at the restaurant.
Meanwhile, the Independent reports, the webmaster of arrestblair.org, which offers a bounty for anyone who confronts the former Prime Minister, says that Garcia has already put in his claim for $3,500. In the meantime, Garcia says he quit his front-of-house job at Tramshed on the spot. "It all panned out pretty much how I thought it would," he tells Vice, "except that I didn't expect him to start debating with me."
My Boyfriend Just Tried to Citizen's Arrest Tony Blair [Vice]
Tony Blair subjected to humiliating citizen's arrest at Tramshed restaurant, Shoreditch [Independent UK]