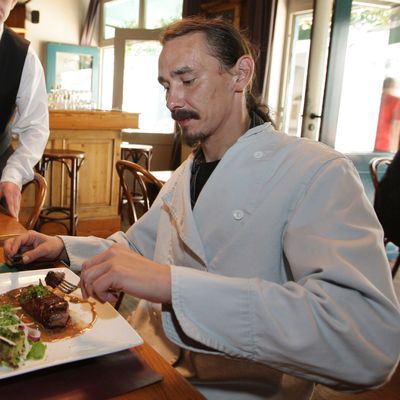 Titus Clarysse, in 2009, just after he passed the 50-restaurant mark.
Photo: Frederiek Vande Velde/AP/Corbis
Titus Clarysse, a Belgian man who claimed to have feasted at more than 100 restaurants over the last five years without ever paying the bill, was found dead in his apartment earlier this week. He was 35 years old. Ghent detectives initially said they weren't sure if the case was manslaughter or murder, but numerous outlets including De Standaard newspaper reported that Clarysse was stabbed to death, and yesterday, the circumstances of Clarysse's death were ruled "suspicious." Speculation, of course, is that Europe's most famous dine-and-dasher may have been killed by an unhappy chef or restaurateur.
Newspaper articles written about Clarysse during the last five years pegged him either as a kind low-life parasite or a nascent folk hero. Sometimes it was a little of both. Clarysse was a tall, thin man with a hardened face and stark cheekbones. He was dependent on government assistance and was often beaten up, De Redactie reports. He had a styled goatee and unruly mustache, and usually wore his hair in a ponytail. Apparently he didn't dress up or try to disguise his appearance to visit pricier restaurants, but he typically dined by himself; news reports say Clarysee "seemed to have the wrong kind of friends."
But the serial freeloader — or tafelschuimer as he was known, meaning a consummate moocher who leaves no morsel or table scrap behind — was also described as a "happy-go-lucky" guy who loved more than anything to eat meals priced well beyond his €40-a-week welfare check. His methods were straightforward: After an elaborate meal, Clarysse would simply explain that he had no money. Sometimes, according to reports, he would present a bank card to the waiter, which bore his name but had no money on it, knowing full well he'd be approached by management. On some occasions, proprietors would let him walk; other times, police were called. Clarysse would be questioned and sometimes put in a cell overnight, which he said didn't faze him because at least he'd gotten a nice dinner out of the ordeal.
Clarysse, who said he'd eaten at more than 100 restaurants without paying, openly resented the rich, but seemed not to have animosity toward the restaurants he fleeced, or the restaurateurs who were his casualties. Up until this week, his career-to-date exploits seemed on the verge of eclipsing that of his most famous European counterpart, Berlin's so-called "Schnitzel Stephan," a 350-pound, schnitzel- and fried-pork-knuckle-loving man who was convicted of 64 counts of fraud in 2007 and sentenced to jail time.
Flemish newspaper De Standaard first crossed paths with Clarysse in 2009. At the time he boasted of dining and dashing at 49 restaurants, and had just been arrested — and roughed up a little — after a successful visit to Saigon Vietnamese restaurant. "I was craving Oriental," he explained.
That year, he was fined €1,650 and was sentenced to jail for six to eight months. After his release, Clarysse returned to dining rooms across the university town and ordered ribs and prawns, meatballs, pizzas, and kebabs. He ordered elaborate lobster dinners by himself and sipped on after-dinner Calvados, whiskey, and Irish coffees. He frequently lingered after the table was cleared and reset just so he could order a second digestif.
Here are some of things Clarysse's victims said about him:
• "In the end, we knew his face, but you know, on a busy terrace in summer, full of people, he knew how to blend in."

• "The man was dressed classy and when I heard his order, I thought I had a good customer. A port, an appetizer with shrimp, ribs, a nice bottle of wine, two expensive whiskies."

• "He did it all, the grand restaurants, the terraces. He really tried them all."

• "He would sit and wait after the meal — another beer, a brandy."
Here he is, from 2009, talking (in Flemish) about his techniques and impending jail time.
Clarysse reportedly called his father on Monday night to say he wasn't feeling well and that he was running a temperature. His father visited his Ghent apartment on Tuesday morning and discovered his body. Police announced yesterday that they were regarding Titus Clarysse's death as "suspicious."
Titus Clarysse: Belgian man who skipped 100 restaurant bills is killed [Independent]
Belgian police probe death of famed freeloader [AP/Buffalo Press]