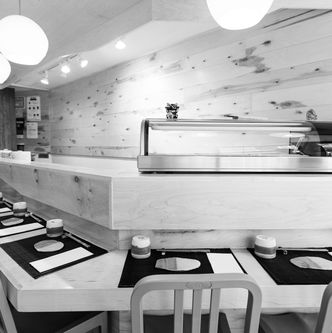 TKO at Sushi Ko.
Photo: Elk Studios/Courtesy of NY Sushi Ko
Gruff and "inventive" Lower East Side omakase joint New York Sushi Ko has brought on new beverage director Davis Anderson, who previously poured at Eleven Madison Park and opened the Tribeca wine bar Maslow 6. Anderson has debuted three options: The first accompanies the $75 "Sushi Mono" menu, for a total $125; the second, dubbed "Tokubetsu," pairs with the $150 omakase menu, for $220 in all; the "Medatsu" also pairs with the omakase menu, for $320. (Tokubetsu means special, and medatsu is standout.) The pairings consist of a mix of beer, wine, and/or sake.
Anderson explains that he first tries to cater to each guest based on individual preferences. The format for the Sushi Mono menu typically consists of two beers and two sakes. For omakase menus, Anderson says he often serves wine with the first five courses, nothing for the sixth (miso soup) course, and then a mix of beer and sake tailored to accompany the rest of the menu. He says wines like a Red Hook Winery Seneca Lake Riesling 2010 or Scholium Project Midan Al-Tahrir 2010 might accompany a Tokubetsu menu, while a wine like Maison Nicholas Perrin Condrieu Rhone 2010 might turn up with the Medatsu menu. Beers that might be poured include Yukidoke IPA and Coedo Red Sweet Potato Malt; sakes Tedorigawa Yamahai Daiginjo, Kamoizumi Nigori Ginjo, and Jizake Tenzan may be on offer. Reps for the restaurant emphasize that the lineup changes all the time, like its selection of fish. "We're always looking to deliver a unique experience," Anderson says.
Related: Sushi Goes Tuna-Belly Up [New York]