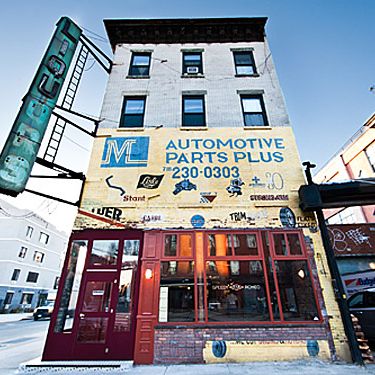 Add the Brooklyn pizza parlor to the Girls restaurant tour.
Photo: Courtesy of Speedy Romeo
Eagle-eyed and/or pizza-obsessed viewers of last night's Girls premiere (available to view — but unavailable to embed — right here) may have ID'd Brooklyn's Speedy Romeo standing in as a new, fictitious location of Cafe Grumpy. Per Speedy co-owner Todd Feldman, that fleeting scene won't be the only cameo his restaurant makes this year: He says producers shot several episodes and could return for more next season. So how did Feldman hook up a starring role for his restaurant? "It's actually funny. I used to work in casting at HBO," he says. Feldman was talking to a former colleague — still at HBO — when the subject of the restaurant came up. "He was like, 'Oh, I didn't know you opened a restaurant,' and I said, 'Yeah, if you ever need a location to shoot in, let me know.' I was kind of joking, but then a month later they needed a place." So, Grub pressed during the call, any horror stories from the shoot? Any gossip we could pass along to our pals at Vulture? Alas, no, promises Feldman. "It was all smooth and great … We were lucky because they would come early in the morning and shoot during lunch so we never really had to close for dinner." So there you have it. Lena Dunham: Polarizing TV star, incredibly considerate director.