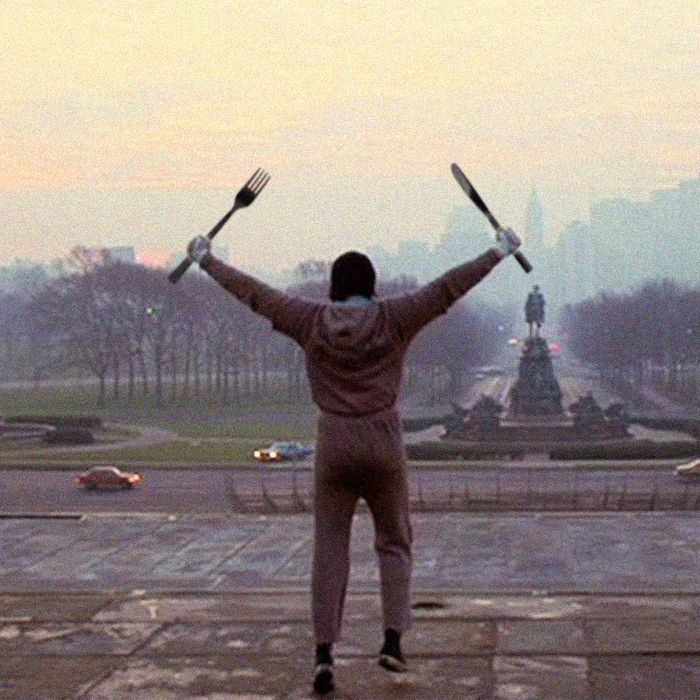 Everybody has that friend who's departed New York for more spacious, cheaper environs — the same friend who looks very happy in their Facebook updates from Portland or Chicago or Austin or wherever. Chefs are no different, often on the hunt for restaurant locations that afford plenty of space for less money and less hassle than what's available in New York. There are substantial trade-offs for people who open restaurants outside of Manhattan or Brooklyn, of course (things like fewer customers and decreased media exposure), but a small group of chefs has found what they say is a best-of-both-worlds situation 90 miles away from New York, in Philadelphia.
It's easy to think that people who leave New York couldn't hack it in the city's cutthroat restaurant environment. But recently, chefs are relocating just as they're poised to make it big here, opting for the comfort of Philly over potential celebrity in New York. Peter Serpico left his justly celebrated role within the Momofuku empire to open Serpico on South Street in June. Meanwhile, after two years working at Torrisi Italian Specialties, Eli Kulp was poised to become the executive chef and partner of a little restaurant called Carbone (perhaps you've heard of it?). Instead, Kulp teamed up with Ellen Yin's sixteen-year-old Philly restaurant, Fork, launched a spinoff called High Street on Market, and, most recently, got named the Philadelphia Inquirer's "Chef of the Year." So, what's the draw?
First, the obvious: It's much cheaper to lease a restaurant in Philly. "It's a bang for your buck down here, real-estate wise," Kulp says. "For a retail property in Old City compared to the Lower East Side, it's about 50 to 60 percent less to operate in Philly when it comes to square footage." Naturally, this means operators can afford bigger spaces. Take Fette Sau: The Philly outpost, which Joe Carroll opened in partnership with Stephen Starr in October 2012, is 7,000 square feet. The Brooklyn location is 1,200.
But the chefs say the comparison isn't so simple. "Philly looks more affordable on paper, but it's not apples to apples," Kulp says. "You might have less square footage in New York … but the sheer number of people almost gives you an advantage there. There's a pocket of foodie types down here, but percentage wise, it doesn't even come close to New York … I had to recalculate my perception of what volume is. In Philly, outside of Friday and Saturday nights, it's a challenge to fill up."
Serpico agrees that the customers aren't nearly as dense as they are in New York — and all the chefs agree that Philly customers are also less susceptible to hype and buzz than New Yorkers, which can lead to unpredictable traffic. "Our weekdays are really mad," says Serpico. "It's so sporadic: We'll have 25 [covers] on the books and end up doing 45 … and we get everyone at 7 p.m." Kulp says that while High Street maxes out on weekends, he often won't turn his tables on weekday nights.
Philly customers also tend not to spend as much money. "You don't have the expendable income that you see in New York, so you have to be more creative in how you present your menu," Kulp says. High Street's menu focuses on $10-or-so sandwiches (duck meatballs and house-cured pastrami on bread made by a Sullivan Street Bakery alum), and dinner dishes include $21 black-seaweed bucatini with lobster bottarga.
Serpico agrees that Philly chefs can't list menu items the same way you would in New York. "When we first opened, we did lamb ribs for two for $60," he says. "And we were judged solely on that. Now, we offer lamb ribs for one for $29, and our menu is between $8 and $29. I think that's extremely affordable."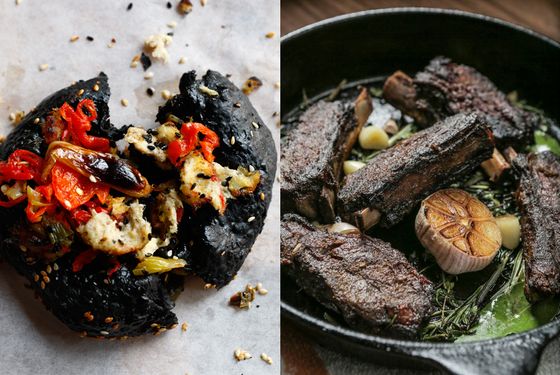 High Street's squid-ink bialy with smoked whitefish; Serpico's lamb ribs.Photo: Jason Varney; courtesy of Serpico
Lower menu prices are possible, though, because ingredients — from the many farms in nearby South Jersey, Lancaster, and Buck's County — cost less than comparable products would in New York: "If you're shopping in Union Square, you might pay $16 per pound for petite greens, young kale, or sprouting broccoli rabe," Kulp says. "Those might be $5 per pound coming from the farms to us in Philly, and there are more products to choose from here. Not to mention, we call the farmers, they pick the vegetables, and they bring them to us. I'm not schlepping on the subway."
Still, Pennsylvania's arcane liquor laws pose a challenge for Philly chefs. The state controls all of its wine and beer stores, and profits off of them. (Pennsylvania's actually the largest purchaser of alcohol in the country.) Philly restaurateurs can't buy booze at wholesale rates; they pay retail like every other customer. As a result, restaurants are limited in how much they can mark up bottles. "As an operator, it's a deterrent," Kulp says. "If you're coming from another state, you think rent's cheap. And then — wait a second — you realize you can only make 75 percent margins on wine, compared to 200 or 300 percent … It's almost controlled prohibition." But for Serpico, one benefit of these archaic, confusing laws is that he sells more cocktails.
All told, even though Philly is a short drive from Manhattan, doing business there can feel like a very different experience. That's why chefs like Serpico and Fette Sau's Joe Carroll partnered with Stephen Starr on their restaurants in Philly. "I didn't want to come in here blindly," Serpico says. "I wanted to open with someone who knew the market, and he's pretty successful."
For any new restaurant in Philly, Kulp says the trick is creating "something that isn't going to intimidate people or make them feel like they're risking their money because it's so out of touch with what they might anticipate."
But he says there's still a bigger mental divide between New York and Philadelphia than there is an actual geographical divide: "People in New York just don't go to Philadelphia," he says. "But if it didn't work out down here, I figure I'd take the hour-and-fifteen-minute train ride. Once I realized how close Philadelphia is, it's not like you can never go back."