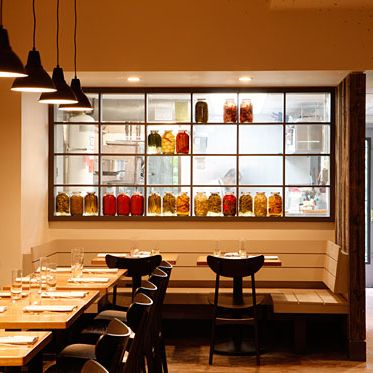 No more breakfast, but get ready for Seersucker Mondays.
Photo: Hannah Whitaker/New York Magazine
Small but significant changes are afoot at Kerry Diamond and Rob Newton's Seersucker in Carroll Gardens: The contemporary Southern restaurant will no longer open for breakfast on weekdays, but instead will launch a Monday-night guest-chef series, which commences February 24 with a special appearance from Raleigh's prolific Ashley Christensen. Dinners with Vivian Howard, who recently made her PBS debut, and Richmond's Jason Alley are also in the works.
Diamond says reservations will be available through Seersucker's OpenTable page, but adds that they'll endeavor to leave a few seats open at the bar for walk-ins. In general, says Newton, the idea is to introduce regulars to talent from around the country. He'll be in the kitchen on Seersucker Mondays working alongside the guest chef. Much like the restaurant's Southern-style ramen — which combines pork confit, noodles, peanut "miso" broth, and powdered country ham — the goal is to be equal parts casual and mind-blowing, with diners getting to try all kinds of dishes they've never had. "We'll limit the number of seats available each Monday," Newton says, "so folks can really hang out, talk to the guest chefs, and linger over a bourbon afterwards."