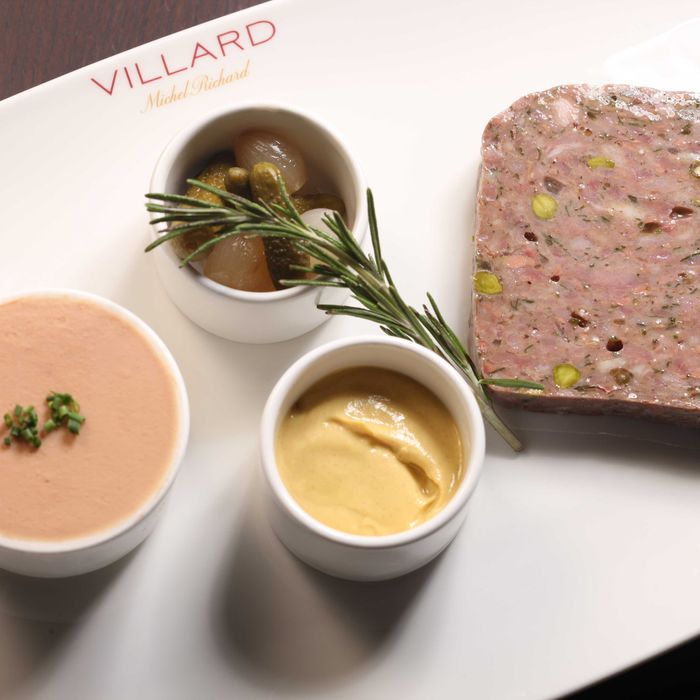 "If Villard Michel Richard doesn't make it as a restaurant, it could reopen as the Museum of Unappetizing Brown Sauces."
Photo: Melissa Hom
This week, Adam Platt awarded two stars to Villard Michel Richard for its "technically sophisticated cooking," but he wasn't a fan of the "uneven food at the Bistro and its hefty prices." Pete Wells definitely didn't like the Bistro, giving it a rare zero-star review. Elsewhere in New York, Daniel S. Meyer enjoyed the menu at M. Wells Steakhouse and Shauna Lyon loved the Persian plates at Cafe Nadery. Read it all, straight ahead.
Pete Wells slayed Michel Richard's Bistro at Villard Michel Richard. The menu is essentially filled with overpriced misses (check out nine of his most brutal zingers here): The seafood pasta is "a direct quote from the 1980s, when doughy, gluey, overcooked fresh pasta and washed out bits of seafood drooped in flavorless pink sauces," the chicken-liver mousse is "mediocre," and the frisée salad contains "stale" croutons and "limp" bacon. Desserts are "all too good to be a joke," but when coupled with shaky service, it's still nothing more than an "awful hotel restaurant."
Alan Richman made the trip to review Zak Pelaccio's Fish & Game in Hudson. On his first visit, Richman could only find a seat at the bar, where he found the food underwhelming. A salad supposedly crafted from 14 to 31 ingredients is "mostly a pile of leaves, plus a few yellow flowers," and the river salmon was "fatally overcooked." The tasting-menu-only dining room offers "random compilations of ingredients" that also result in plenty of misses: Raw fluke is "crudely sliced," a plate of steamed egg with grilled calamari is extremely "undercooked," and one dessert turns out to be "a kind of non-communal, intolerable fondue." Rye pasta with bacon is "the tastiest and most appealing dish," but "the staff — except for that [one] bartender — isn't professional enough." One star.
Shauna Lyon of The New Yorker explored the Persian food at Cafe Nadery in Greenwich Village. While the restaurant, owned by a collective of Iranian-Americans, "doesn't look like much," it churns out a "vegetarian-forward" menu designed by cookbook author Louisa Shafia. Some must-orders: a "lovely" lemony kale salad, the "pleasantly sweet" beet burger, the "luscious" yogurt appetizer, and a Persian soup made with lentils and greens and garnished with fried onions and dried mint. The real standout dish is Nadery's take on "the ultimate Persian comfort food," ghormeh sabzi, made with stewed dark greens, beef, beans, and dried lemon.
Daniel S. Meyer filed a review on M. Wells Steakhouse, giving it three stars for its ability to seduce "both downtown rockers and Queens families." While the "fat-glistened" dry-aged Nebraska côte de boeuf is delicious, he was more impressed by the seafood options: the jarred clams are perfectly "firm and briny," while the fresh-killed poached trout served with brown-butter-soaked cabbage and potatoes is an example of the "madcap opulence" that makes the restaurant "so special." Meyer also recommends saving room for the "massive" foie-gras-stuffed gnocchi, so "firm and crisp" it is "less gnocchi than kingly knish."
Steve Cuozzo did not file a review this week, instead choosing to rant about a hot topic this week: babies in fine-dining restaurants. "I'm tempted to break out a ball gag at meals ruined by tantrum-throwing tots," he writes. It's pretty safe to guess which side of the debate he lands on.