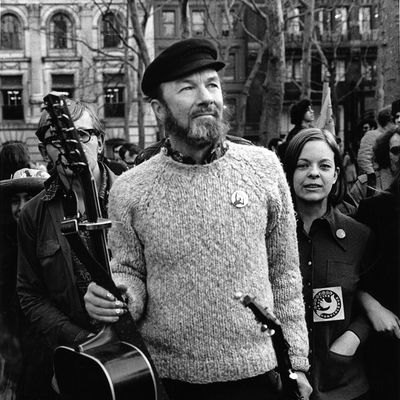 Seeger in 1970.
Photo: Robert Altman/Michael Ochs Archives/Getty Images
Singer and activist Pete Seeger, who died last night at the age of 94, was a tireless advocate for the Hudson River, which, by the sixties, had become saturated with PCBs and other toxic elements expended by the factories that lined the waterways. In 1966, the musician founded the Hudson River Sloop Clearwater, which positioned its namesake sailing vessel as a symbol of environmental restoration. Some of its first journeys consisted of runs from upstate farms to South Street Seaport in lower Manhattan, a route that was central to the New York City's earliest intimations of food culture, Seeger explained in Pumpkin Happy.
The slim, 54-page cookbook — out-of-print now, but copies are out there — was originally published in 1972. It is, you may have guessed, all about pumpkins. In his foreword, the legendary folk singer writes (in longhand) about valuing history. Seeger packaged the book not just as fund-raiser for Clearwater, but as an offbeat-sounding recruitment drive for his so-called "pumpkin project," an opportunity to champion simple recipes over processed meals, and seasonal vegetables grown on small farms. Recipes include those for pumpkin wine, steamed-pumpkin pudding, creamed-pumpkin amandine, pumpkin icing, and then some.
Through activism, Pete Seeger's influence on contemporary food culture was significant in that it recognized that the state of dinner should not be considered before the overall health of food systems. Mario Batali, who lamented Seeger's passing on Twitter this morning, is among the chefs who have more recently spoken out against the invasive gas-drilling technique known as fracking. This is an extension the Seeger's work toward environmental preservation.
The final paragraph of the Pumpkin Happy foreword is telling: Seeger writes that while he hopes readers find the book useful, hopefully we won't also "forget the fun of creating our own pumpkin masterpieces." With that send-off, he's reminding readers that food, like music, works best as an act of collaboration, and always as one of subversion.

In ancient China, people on a mostly vegetarian diet valued pumpkins and squashes as important foods. Pumpkins were a symbol of longevity.

When Europeans first landed at Plymouth Rock, Indians taught the pilgrims how to plant them and how to eat them. When 17th Century blue laws decreed that male New Englanders had to have their hair cut rounds, they sometimes used half of a pumpkin shell instead of a bowl, to cut the edges.

Cliff dwelling Indians used dried pumpkins for bottles and receptacles to hold feathers and cotton down for spinning. Stems were preserved and used for stoppers.

Organic healthman Rodale advises middle-aged males lots of pumpkin seeds. Good for the prostate gland, says he.

To heck with all this. Pumpkin pie, pumpkin bread, pumpkin wine — did you ever know there were so many ways to cook this queen of vegetables? Test and taste these recipes, and you will find yourself part of what we call our "pumpkin project."

You see, the pumpkin cookbook was originally designed to help the Hudson River Sloop Clearwater on her first Pumpkin Sail. The Clearwater spends most of the year as an educational tool in the struggle to clean up the polluted Hudson River environment. But in late October her huge sails waft her one hundred miles to the Catskill Mountain region. There our farmer friends and local sloop members load the deck high with a thousand fine fat pumpkins. Down past Storm King, past Indian Point, under the George Washington Bridge she sails, to South Street Seaport in lower Manhattan, with her cargo of pumpkins for New York children to make Halloween jack-o-lanterns.

One environmental lesson we will all learn in the modern world, is to stop waste and re-cycle resources. A day afterwards, these same jack-o-lanterns can make fine eating. This little book can show you how, in many surprising and stomach-pleasing ways. The pumpkin is an international vegetable; its unique qualities are being appreciated by peoples of many languages, religions, and shades of skin. The editor and his friends have drawn on many sources to present this collection to us. If we were to thank all of the cooks who originally experimented, and developed these recipes, we would be sending letters thousands of miles in all directions, and many countries back into history

Since it has all been a labor of love, we also thank the sloop Clearwater, and South Street Seaport, that remarkable corner of lower Manhattan, and we hope there will be many future pumpkin sales. Since we are all cooperating in the project, it is important that you, the user of these recipes, also help out; send criticisms and suggestions so that future editions can be even better. Do you prefer less sugar or more? Have you tried substituting honey for sugar? After a thousand inventive, creative cooks have used this book, it shall come out in a second edition with more recipes, more variations, more clarity. Write to us!

Thanks to technology, these pages can be printed inexpensively and mailed to all corners of the world. But if we want to preserve our own humanity, in the face of all this technology, we will never forget the fun of creating our own pumpkin masterpieces.

Pete Seeger
Beacon, N.Y.
October, 1972

P.S. From the Foxfire Book — "Mrs. Tom Kelly said, 'This is a recipe that was used in most families in olden times Yo slice the pumpkin around in circles, take th' seeds out, peel it, and hang it on a stick crosswise of the joints of th' house. Let it hang there until it dries, Then store it in sacks. It took a long time to cook, and you have to cook it several hours, and they season it with meat and grease.'"
Pete Seeger, Legendary Folk Musician and Activist, Dies at 94 [Vulture]