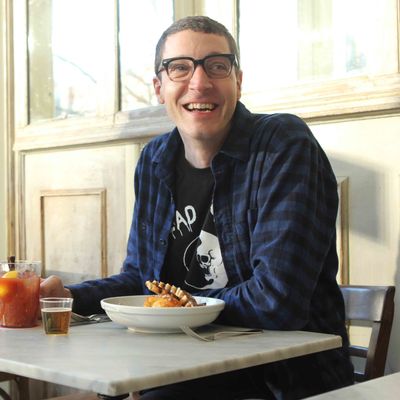 "I always say I'll just drink a little bit, but it never goes down like that."
Photo: Melissa Hom
"I pretty much spend all my money on eating and drinking," says Patrick Cappiello, the managing partner and wine director of Pearl & Ash, who managed to hit All'onda, Contra, and Mission Cantina this week — among many other restaurants. "If you look in my refrigerator," he says, "there's only a jar of mayonnaise and a six-pack of Modelos." In addition to a general lack of interest in cooking at home, Cappiello also dines out more often than most people since restaurant meals all qualify as "research." Read all about it — and about the midday wine tastings — in this week's Grub Street Diet.
Friday, January 17
Breakfast for me is always the same thing: a glass of grapefruit juice, a cup of coffee, and a multi-vitamin. I wake up around 10 a.m., and I usually just jump right into lunch.
I live a few blocks away from Il Buco Alimentari. Branden McRill, my business partner, and I will often meet there to catch up. I ordered the winter-lettuce salad and the porchetta sandwich. We had some sparkling water, too.
I was supposed to go to the friends-and-family dinner at John Fraser's restaurant at the East Village Standard Hotel. But they mixed up my reservation, and logistics got in the way. So after service at Pearl & Ash, Brandon and I went to Contra with a group. We got there at 10:30 p.m. and did the five-course menu. If we're going to get out to eat, late night's our only option. Linda Milagros Violago has put together a great natural wine list: We had a Prosecco by a producer called Ca' dei Zago, which is one of my favorite natural-winemakers in northern Italy. And then we had a rosé from Tavel by a producer called L'Anglore. Very small amounts come into the U.S.; it's mainly consumed by the Parisians, but it has a huge cult following.
Around 1 a.m., we went to Pouring Ribbons, and I had one cocktail. As we were walking back, Manitoba's was open, and it was punk-rock night there. I'm a big fan of punk rock, so I stopped and had a PBR. And then it was four in the morning, and I stumbled home.
Saturday, January 18
There are three places I go to for brunch: Great Jones Café, Prune, and Clinton Street Baking Co. Great Jones Café's Bloody Marys are the best — and you can sit at the bar and enjoy great music. I had the Crescent City smothered eggs — sausage, gravy, and scrambled eggs on biscuits with grits on the side — and the Cajun Bloody Mary. That's the move there. I think I might have had two.
I went home and took a nap, because I had the day off. Then, I went to All'onda for date night with my girlfriend. We stuck with the fish and pastas — the spaghetti with clams and the duck rigatoni with chocolate. The food there was really great, especially the sardine and hamachi dishes. They brought me this great northern Italian red wine, which I'd never had before. Sometimes I don't even want to look at a wine list.
Sunday, January 19
I've been going to Prune for eight years. Everybody has to wait, but I have an advantage because I live a block and a half away. I'll put my name in and go home for an hour and a half to take a shower or play on my Playstation. You just have to plan your hunger accordingly.
I sat down with my girlfriend and had the Green Lake Bloody Mary, which I always get there. It's the one with beef jerky. And the steak and eggs — medium-rare and sunny-side up.
Justin Bogle, who's now cooking at Avance in Philly, was in town to get tattooed, and we met up for a drink. We went to Sophie's, my favorite dive-bar in my neighborhood. It's a secret that they have great Bloody Marys there. We had a few drinks, stopped by Pearl & Ash to drink a bottle of Champagne, and went over to Mission Cantina. We had almost all the tacos, as well as the rotisserie chicken. It's so juicy. Mission Cantina's chicken is the closest I've tasted to Zuni Café's, which is legendary. I have a strange attachment to Mexican beers, and I drank a few.
Monday, January 20
A friend of mine brought me a really rare bottle of wine, and we decided we'd put together a lunch with other vintages of the same wine together. It's from a little estate in Loire Valley called Clos Rougeard, and it's very hard to get the wines. A bunch of collector friends and a couple of industry people pieced four vintages of white and four reds together.
Maysville was kind enough to let us bring the wines into the restaurant, and we were there for probably four hours. I ate oysters, this delicious whitefish terrine, and a kale salad, which is not normally what I'd order, but it came with fried chicken. They tricked me: I pushed the kale away, but it was pretty much a kale salad.
We go to DBGB a lot because they're our neighbors. We wait until they're just about to close, and then we'll run over. After service, Brandon and I ran over and I had my favorite pork-sausage Beaujolaise with lentils.
Tuesday, January 21
E&S; is an upscale bodega that's known for its juices: Before juice bars happened, you were lucky if you lived near that market. It's on my walk to work. I had a bacon-egg-and-cheese on a roll with hot sauce, and a tonic juice with parsley, carrots, and tomatoes. I try to trick myself every now and then into thinking I have something healthy in my body.
I worked really late, and I couldn't make it in time to Blue Ribbon Fried Chicken. It was 1:20 a.m., so I went to the deli and grabbed salt-and-vinegar potato chips, Ben & Jerry's New York Super Fudge Chunk, and a Modelo. There's limited food available when you're out that late — especially in a blizzard.
Wednesday, January 22
At noon, I had lunch at Charlie Bird. It was an industry lunch, which happens from time to time. It's not always easy to start your day when the first thing you're putting in your mouth is wine. I always say I'll just drink a little bit, but it never goes down like that. After you finish all the wine, all you want to do is grab a beer. And then a beer turns into two beers. And then it turns into a shot, and another beer. The next thing you know, you show up to the restaurant pie-eyed.
But it turned out to be a pretty tame afternoon with a bunch of sommeliers. They threw out a lot of the stuff on the table: razor clams, roast chicken, and scallops.
I worked service at Pearl & Ash, and as I was leaving, I called Hot Kitchen and ordered delivery. I caught them right before they closed! I ate sesame chicken, Chinese broccoli, and hot-and-sour soup.
If you're working in this industry, I feel it's important to know what's going on at other restaurants. And the only way to do that is to go out to dinner. I encourage my staff to go out to eat as much as possible.