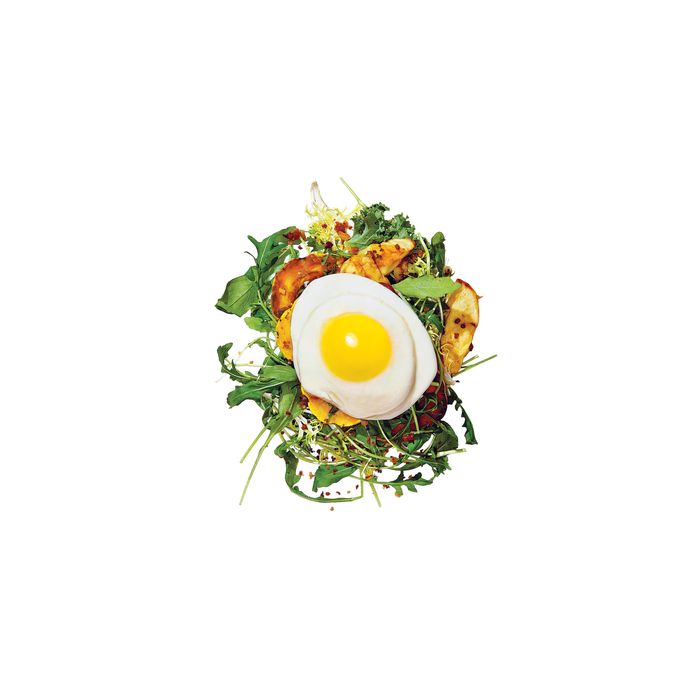 Little Chef's egg bowl.
Photo: Bobby Doherty/New York Magazine
In these juice-cleansed, kale-strewn, gluten-free times, "health food" has shrugged off its musty, bulk-aisle image and gone seriously slick. Part of the rebranding involves a change in terminology: Most purveyors prefer "whole food" or "real food," phrases that evoke movement godhead Michael ("Eat food. Not too much. Mostly plants.") Pollan rather than the cranky clerk at the health-food co-op. And the pantry has evolved as well, encompassing not only flax and quinoa but sustainably raised meats, eggs, and dairy—even dessert. You can identify members of this burgeoning category by their inspirational slogans, their glossy graphic design, their elaborate, multitiered waste-disposal stations, and especially their penchant for "bowls," be they bean, grain, or açaí. This new style of cooking and eating downplays dieting; venerates local sourcing and seasonality; and can be found in such varying milieus as juice bars, salad bars, and even, in the case of Gowanus's Pickle Shack, bar bars. Today's version of health food is vegetable-centric but not necessarily vegetarian, fast-casual, quick-serve, and expansion-minded. Here, the newest practitioners
Creative Juice
Various locations creativejuiceco.com
Plant pusher: Danny Meyer, closet health-food addict and David Kirsch disciple. Consider this enterprise penance for Shake Shack.
Setup: Housed within Equinox gyms (but open to the public), designed for grab-and-go and assorted cleanses.
Meal plan: "Grain bowls" equipped with bison meatballs, pulled chicken, and carbs like freekeh and wheat berries ($9.95), and smoothies like the black-pepper-spiked cashew-and-banana Hot Date ($7.50), that, at 445 calories for a small, veers boldly into dessert territory.
Little Chef
At Gotham West Market, 600 Eleventh Ave., nr. 45th St.; 212-582-7944
Plant pusher: Caroline Fidanza of Williamsburg's excellent sandwich shop Saltie.
Setup: Long, sparkling, black-marble-topped dining counter—the sleeper star of the new Hell's Kitchen food court.
Meal plan: Like the devious mother who spikes her little tot's ice cream with medicine, Fidanza serves healthy food without drawing attention to it. In addition to radicchio, frisée, celery, radishes, parsley, and Pecorino, there are crunchy batons of kohlrabi in the ever-changing antipasto salad ($12). The egg bowl comes fully loaded with roasted parsnips and delicata squash ($12). And neighbor Ivan Ramen Slurp Shop's porky ramen has nothing on the prune-strewn cock-a-leekie soup ($13).
Dimes
143 Division St., at Canal St.; 212-240-9410
Plant pushers: Alissa Wagner and Sabrina De Sousa, who, between them, have what amounts to a Ph.D. in stylishly cool-and-healthy restaurant management, having studied at the Smile, Northern Spy, and Five Leaves.
Setup: Twenty-seat nook with an adobelike interior, an artsy-skateboarder clientele, and full-service breakfast and lunch; dinner launches this week.
Meal plan: Artfully arranged bowls of fruits, grains, and vegetables like the bean bowl (flageolets, roasted sweet potato, Brussels sprouts, wilted greens, pickled carrots, and kale-hazelnut pesto; $12). In the not overtly healthy category: a stellar pulled-chicken-mushroom-and Taleggio sandwich ($11), and a world-class egg-on-a-roll ($6.50).
Feel Food
496 Sixth Ave., nr. 12th St.; 212-229-2221
Plant pushers: Latin American expats Gaeleen Quinn and O Cafe's Fernando Aciar, who's worked with Argentine superchef Francis Mallmann.
Setup: Part retail shop, part juice bar, and part hot-and-cold-food canteen, with seating in the back.
Meal plan: Everything from the Cold Buster (an invigorating hot toddy of sorts minus the whiskey; $5.50) to the arroz con leche ($4.80) is great. But the star of the show is the "sprouted wrap": a shrunken, unusually pliant dosa you can stuff with things like hummus and roasted eggplant ($8.75). It's the antidote to the insipid wheat-flour tortilla wrap, the bane of all true sandwich lovers.
Pickle Shack
256 Fourth Ave., nr. Carroll St., Gowanus 347-763-2127
Plant pushers: Locavore pickler Shamus Jones of Brooklyn Brine and chef Neal Harden, who cooked at Maimonides of Brooklyn and Pure Food and Wine.
Setup: A vegetarian snack shop disguised as a craft-beer bar with
a thing for pickles and Dogfish Head brews.
Meal plan: Your shoulder angel recommends the Jacob's cattle-bean soup with wheat berries ($10), the smoked-tofu bánh mì ($11), the grilled veggie burger ($13), and the house-cultured cashew "cheese" sandwich ($9)—all terrific. Shoulder devils steer you toward the fried Hop-Pickles ($6) and thrice-cooked fries ($4).
Sweetgreen
1164 Broadway, nr. 28th St.; 646-449-8884
Plant pushers: Three dudes who met at Georgetown University and bonded unashamedly over their inability to find a sprightly salad; they've gone on to open 22 locations.
Setup: Perky cafeteria-style service in a snazzy, ecofriendly mess hall that doubles as a performance space—in a word, a fast-casual salad chain with a soul.
Meal plan: Customize from a selection of shockingly fresh and pristine ingredients, or choose one of eight core salads, including a kale-chicken Caesar that will change the way you think about kale-chicken Caesars ($8.85).
Nourish Kitchen + Table
95 Greenwich Ave., nr. W. 12th St.; 212-242-6115
Plant pusher: Registered dietitian Marissa Lippert, whose mission is to prove that health and flavor aren't mutually exclusive.
Setup: A sliver of a shop, with counter service and a smattering of seats.
Meal plan: A "meat and two"-type place, with mix-and-match combos of proteins, grains, and salads, many bearing a distinct Middle Eastern accent (lacquered roast chicken with date syrup and black garlic; brown basmati rice pilaf with cinnamon and fig). Of special note: the "Weekend Reviver" egg sandwich with pimento cheese ($10).
Ellary's Greens
33 Carmine St., nr. Bleecker St.; 212-920-5072
Plant pusher: Leith Hill, an erstwhile social worker who envisioned this flagship as the prototype for an airport chain.
Setup: A cozy, serene restaurant with table service and a juice bar.
Meal plan: Small plates geared to carnivores and vegans alike, from the requisite kale salad, with hummus vinaigrette ($14), to a house-smoked-bacon BLT ($10). The chocolate mousse ($8) is raw and vegan, but you'd never know it.
Bombay Sandwich Co.
48 W. 27th St., nr. Sixth Ave.; 646-781-9756
Plant pushers: Shiv Puri and Shikha Jain, who turned their vegetarian-Indian Smorgasburg start-up into a brick-and-mortar takeout shop.
Setup: A narrow aisle with limited counter seating overlooking a public plaza—handy for outdoor dining come spring.
Meal Plan: More concerned with health and cross-cultural variety than with strict authenticity, the cooks stuff a ciabatta roll with chana masala ($8.50), sweeten an almond smoothie with jaggery ($5.75), and garnish legume-and-rice bowls with kale-and-walnut pesto and apple-and-garlic pickle ($10.25).
Mulberry & Vine
73 Warren St., nr. W. Broadway; 212-791-6300
Plant pushers: Tribeca moms Genevieve Lynch and Michelle Gauthier, who fell under the local, seasonal, vegetable-inclined thrall of Michael Pollan.
Setup: Light and bright, minimal and modern, with -cafeteria-style service plus wine and beer.
Meal plan: All options are called "sides," whether hot or cold, and are sold in mix-and-match combos ($12 to $15). But beyond the carrot slaw and quinoa patties are ribstickers like a sweetish, saucy Korean braised beef, chicken enchiladas, and satisfying soups like creamless cream of broccoli.
Little Beet
135 W. 50th St., nr. Seventh Ave.; 212-459-2338
Plant pusher: Veteran chef Franklin Becker, late of Abe & Arthur's and Capitale, who was diagnosed with diabetes as an adult.
Setup: A somewhat generic-looking midtown feeding station rusticated with wall planters, barn-wood finishes, and hand-scrawled aphorisms from the disparate likes of Alice Waters and Anthony Bourdain.
Meal plan: Carefully cooked "proteins" like farmed salmon and marinated tofu seared on a grill, then finished in the oven, plated with greens or grains like "air-fried" kale chips or toasted buckwheat with mushrooms and hazelnuts vaguely reminiscent of kasha varnishkes ($13 for a protein and two sides).
*This article originally appeared in the January 20, 2014 issue of New York Magazine.