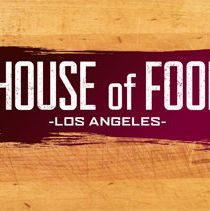 Not to be confused with IHOP.
Photo: MTV
We're slowly beginning to learn more about House of Food, MTV's forthcoming reality show that "sends a group of aspiring young chefs to a house in Los Angeles" and makes them go to culinary school. For now it seems like the educational component may be modeled on a Road Rules–style curriculum more than anything found at Johnson & Wales, but time will tell. The Television Critics Association press tour made a pit stop to MTV docudramaville today, and between the Wrap's panel recap and the network's landing page for the show, we at least have the first few clues about what may be lurking inside House of Food.
1. The show is rooted in the idea that teenagers are no strangers to food culture, which is apparently identical to the culture of fame.
"This demographic grew up with celebrity chefs," executive producer Mike Duffy said today, during the panel. "The fact that people get famous for cooking is part of the appeal."
2. So House of Food is like Top Chef meets Real World
So get ready to find out what happens when people stop being polite and start getting roulade.
3. As such, the show puts eight strangers in a house and makes them cook.
They are, at least, getting some adult supervision from three L.A.-based chefs: The self-taught Brooke Williamson of Hudson House and the Tripel, who herself appeared on Top Chef; Casey Lane of the Tasting Kitchen; and Brendan Collins of Waterloo & City and Larry's.
4. Like all reality-TV outcomes, there's only one winner.
The young chef who wins gets — you may have guessed by now — the "apprenticeship of a lifetime" at an as-yet-unnamed restaurant in Los Angeles. That means that if House of Food takes off, you can expect a new category of celebrity-chefs-in-training to emerge, culinary superstars who fall somewhere on the spectrum between the pint-sized rookies of MasterChef Junior and Top Chef's ubiquitous spokespersonalities.
5. This is all a prelude to more food programming on MTV.
"They socialize it," executive producer Jenny Daly said, explaining why the content will work. "It's some kind of a passion for them that they, too, can aspire to be, and it's a profession that has become a creative outlet," Snackdown, a competition show brought to you by Rob Dyrdek and Baohaus chef Eddie Huang, is also on its way. Expect Chrissy Teigen to make an appearance.

6. Don't worry, you'll probably like it even if you've never picked up a spatula.
"The proficiencies these contestants learn are accessible to those watching," says Duffy.
MTV's House of Food premieres March 31 at 10 p.m.
MTV Is Banking on Youth Foodie Culture for 'House of Food' [The Wrap]
MTV's House of Food [Official]
Earlier: Eddie Huang Headed to MTV's New Food-TV Lineup