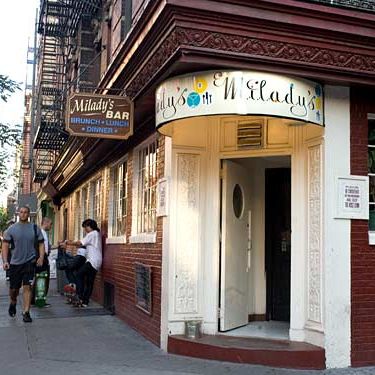 Have one last drink, and pour one out.
Photo: Konstantin Sergeyev
As if this week's shuttering of Gray's Papaya wasn't enough, numerous sources and blogs have reported that the venerable Prince Street bar Milady's will have its very last call tonight. EV Grieve reports the building is for sale, while an employee at the bar says "a lot of reasons" are to blame for the closure.
Decorated with dusty old pink neon and furnished with a classic felt-top pool table, a dozen spartan tables and some wooden chairs, Milady's came to life at 6 p.m. on weeknights, for decades, on the regular. The corner bar was perhaps one of the last places in New York City where office workers from the neighborhood rubbed shoulders with billionaire artists and the occasional supermodel — back in the day, Madonna and Sly Stallone were regulars — and everyone was served. Even Bruce Springsteen used to come in for a drink and small talk with the neighbors every now and then. "Bruce isn't hassled here," owner Frank Genovese told New York, in 1999. "He likes it like that."