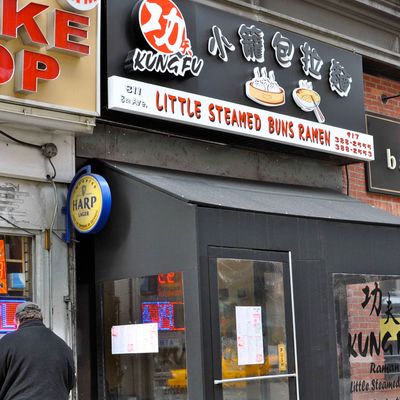 You can't miss it.
Photo: Hugh Merwin
Competition for foot traffic is particularly fierce along the corridor of restaurants on Eighth Avenue in Hell's Kitchen: One place touts Best $1 Pizza Slice in huge letters while another offers $5 Frozen Margaritas Anytime. But Kung Fu Little Steamed Buns Ramen, which actually opened late last year near the corner of West 49th Street, stands out, not just for the audacity of its name. The well-made "little steamed buns" here are actually xiaolongbao, or the soup-dumpling variety; the ramen isn't porktastic tonkotsu, or any of these late-night varieties for that matter. It's O.G. lamian, or hand-pulled noodles and hot broth in a variety of flavors, including duck and shrimp. More interesting than all this, however, is that it turns out Kung Fu Little Steamed Buns Ramen's chef Peter Song is sort of famous in China.
Prior to moving to Flushing, Song was an actor and comedian who performed on huge, nationally broadcast variety shows in China. He even co-starred in a movie whose name translates to Don't Talk to Me About Tall, Rich, and Handsome Guys. In New York, however, he ended up working at Lanzhou Handmade Noodle in Flushing's Golden Mall Food Court, where his talent for noodles won him praise. He says he considers hand-pulling a form of performance. Narratively covered Song's unlikely career path in depth last year; his dough is used for the scallion pancakes, which are rolled with beef tendon, fried, and served with black vinegar on the side. Each bowl of ramen ($8.75) comes with a heap of his noodles.
Here's five minutes and 29 seconds of some of the most intense fancy footwork and simultaneous gluten-smacking you'd ever want to see. It's like Flashdance with dough.
Here's the Narratively video that tells Song's story, in which he says he can't break through to Broadway or Hollywood roles because his English isn't strong enough. His short film, which combines noodle-making and nunchucks, is apparently still in the works. We'd definitely watch it.
Kung Fu Little Steamed Buns Ramen, 811 Eighth Ave., nr. 49th St.; 917-388-2555