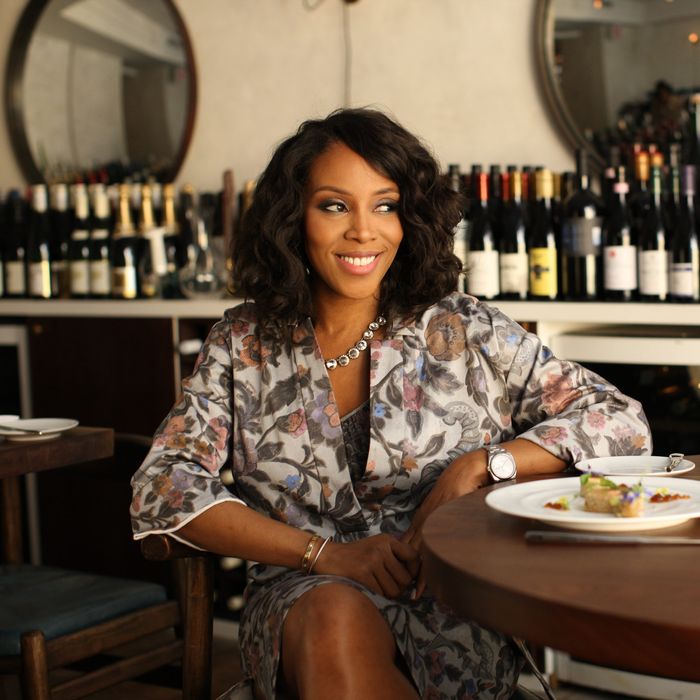 "I prefer fresh bread because I know it hasn't been fondled."
Photo: Melissa Hom
Celebrity stylist extraordinaire June Ambrose has a lot on her plate: two tween kids, some very high-profile clients — most notably Jay Z, whom she styled for the Grammys — and several collaborations (including HSN and Selima Optique). But despite her hectic schedule, she still found time to try new restaurants like the Monarch Room and Wayfarer, and sit down for the tasting menu at one of her favorites, the Musket Room, this week. And even though Ambrose is trying to eat healthily in anticipation of Fashion Week, she knows better than to turn down fresh-baked bread. Read all about it, straight ahead.
Friday, January 24
I woke up and made yogurt parfaits, Nutella crepes, and smoothies for my kids. They're twelve and nine, and they're foodies with very sophisticated palates. But I didn't eat the Nutella, because Fashion Week is coming up. I just had the smoothie: a mix of berries and acai berries.
I had a split-pea soup for lunch that I picked up Ze Café, which is in my neighborhood. It's a new farm-to-table spot. Super-fresh. Then, I had a KIND bar as a snack. I always keep those in my bag.
I went to the Monarch Room in the meatpacking district with my husband and business colleague for dinner. It's about to open, and they did a tasting. We had warm, freshly baked smoked-gouda bread to start. If you do fresh bread, you have me at a hello. I prefer fresh bread because I know it hasn't been fondled. And if I'm going to eat a carb, I'd rather it be fresh.
Next, I ate fresh oysters served on the half-shell — perfectly chilled, and I'm very particular about my oysters — grilled octopus, and a great kale salad. We also shared pasta with short ribs, black sea bass, crispy cauliflower, and chocolate cake for two. The way they built the restaurant, it feels like a private club.
I've never had a drink in my life, so I'm always the girl who gets super-cool, creative mocktails. The bartender created a palate-cleansing one with grapefruit, mint, ginger, and lime. When it gets late, people think I'm drunk anyway because I get loopy.
Saturday, January 25
I missed breakfast Saturday morning, and then I headed to a meeting at the Ritz on Central Park, and brought my daughter with me. I had a fresh glass of orange juice and some fresh fruit, and then they brought crudité, which I noshed on.
As soon as I was done, we went downstairs and had high tea, scones, clotted cream, jam, and petite sandwiches. We love to do this together.
My son had a playdate at the Standard to go ice skating, and my kids and I sat down to eat burgers at the Standard Grill. I only ordered a cup of tea, but I had a couple of their fries and picked at their burgers. And then we had hot cocoa and doughnuts at the hut by the hotel.
Sunday, January 26
I slept in on Sunday, and then my family did brunch at Ze Café. I ordered the most amazing banana-stuffed mascarpone French toast. It was heavy, but I missed breakfast, so it was cool.
We came back home and it was Grammy night! I prepared dinner: a medley of vegetables — roasted cauliflower, sautéed cabbage, and apples — and lightly fried halibut steaks. I styled Jay Z for the Grammys, but we did all of our fittings in New York, so I didn't need to travel.
Monday, January 27
I ate two hard-boiled eggs and some turkey bacon at home, and then went to a meeting with my manufacturing company. For lunch, I had Le Pain brought over, and I ate the quinoa-chicken soup and the white-bean salad — but no prosciutto. I love Le Pain; I can always count on it.
That night, I dined at the Musket Room with my beau for date night. We did the tasting menu: broccoli soup with a pork-shoulder croquette, cold smoked scallops, salmon with vanilla oil, foie gras on brioche, cod, chicken, a brownie with vanilla ice cream, and petit fours — the pâte de fruit was like a haute Sour Patch Kid, and there was also a cookie-dough truffle. It seems like a lot, but the portions weren't very big. The food looks like fashion; it's so well-styled.
Tuesday, January 28
I headed down to Tribeca for a meeting that lasted from 9 a.m. to 6:30 p.m. We ordered breakfast and lunch from Bubby's, one of my favorites. I started with granola, fruit, oatmeal, and juice. And for lunch, we shared taco plates and a chicken burger. The lunch was so heavy that I didn't eat dinner that night.
We also ordered a sour-cherry pie, peanut-butter-chocolate pie, ice-cream cookies, and my favorite, the red-velvet cupcake. I brought some home for my kids.
Wednesday, January 29
I had a breakfast meeting at the Wayfarer, my new favorite midtown eatery. It just opened. I ordered the egg-white omelette with spinach, zucchini, and sunflower seeds, as well as avocado toast and orange juice. A healthy Fashion Week-friendly breakfast!
For lunch, I stopped by the Musket Room to have my photo taken, and I ate some foie gras. Why not?
Tonight, I have a fun night out with the girls at Skylark. I was naughty the last couple of days, and now it's time to get a little more focused. Fashion Week's going to be a marathon.