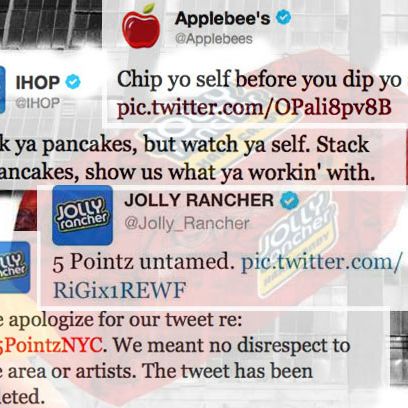 Can't wait for Denny's to weigh in on Iran and for Burger King to opine on Frank Langella's King Lear.
If you thought SpaghettiOs' sudden bout of extreme patriotism last month was the last word in misplaced corporate Twitter sentiment, you clearly haven't been eating enough riblets.
Maybe it was the blizzard, but it seems like three companies lost their way, if temporarily, over the weekend on social media. The spinach-artichoke dip at Applebee's is apparently on a mission to show the world how gangster it really is, super-bleachy chips riding shotgun and all:
IHOP also appropriated from Mystikal. (The rapper seems okay with this.)
Stack ya pancakes, but watch ya self. Stack ya pancakes, show us what ya workin' with.— IHOP (@IHOP) January 4, 2014

Finally, Jolly Rancher, for whatever reason, boldly positioned itself as an unlikely high-fructose-corn-syrup-laden champion of Long Island City's embattled graffiti mecca 5 Pointz, tweeting "5 Pointz Untamed" with a photo of the candy refracting an image of the now-whitewashed street art through its hard-candy interior, like a prism. Needless to say, that one was quickly taken down and replaced with an apology:
We apologize for our tweet re: @5PointzNYC. We meant no disrespect to the area or artists. The tweet has been deleted.— JOLLY RANCHER (@Jolly_Rancher) January 6, 2014

What a weekend. Of course, however random or misguided these tweets may be, they're lightning rods for attracting new followers — look what happened to Burger King when its account was hacked by an ardent Big Mac and Gucci Mane fan. All of this is to say, basically, it's your move, Tootsie Roll. You may have marked the anniversary of September 11 like any good candy company might, but you still only have 200-something followers. It may be about time for everyone to really see your product move to the left, the right, the front, and the back.
[Applebee's/Twitter via Rembert Browne, IHOP/Twitter, Save 5 Pointz/Facebook via Gothamist]