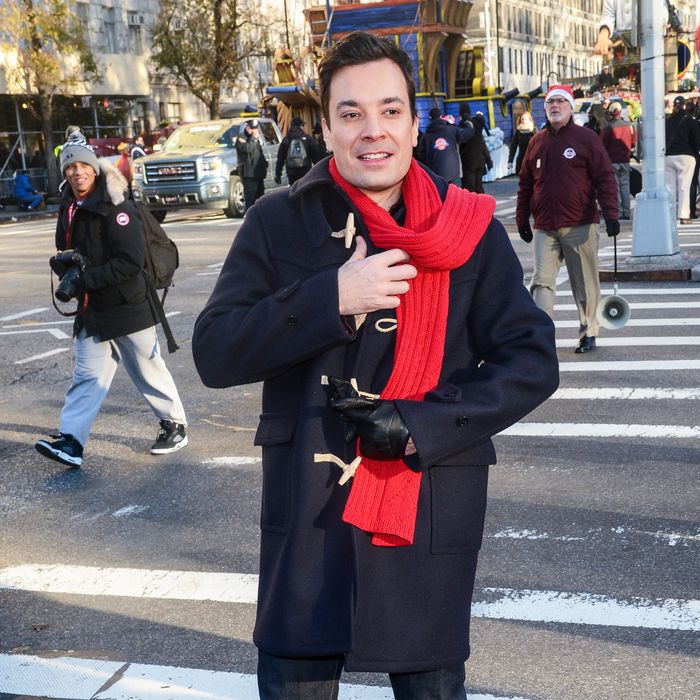 "Hey Jude" is his jam.
Photo: Ray Tamarra/Getty Images
With the Super Bowl just days away, football players from both the Broncos and the Seahawks hit the town to party at swanky bars across the city — and drink plenty of Champagne straight from the bottle. Meanwhile, Jessica Simpson feasted at Costata, and Chelsea Clinton and Simon Cowell dined with their significant others. Read it all, straight ahead.

Antica Pesa: Chelsea Clinton dined out with her husband in Brooklyn. [Page Six/NYP]
Arlington Club: Simon Cowell ate dinner here with his very pregnant girlfriend. [Page Six/NYP]
Avenue: Broncos players, including captain Wes Welker, drank bottles of Dom Perignon until 3 a.m at the Chelsea nightclub. [Page Six/NYP]
Bill's Food & Drink: Jimmy Fallon coaxed the crowd into singing "Hey Jude." [Page Six/NYP]
Bowlmor Union Square: Channing Tatum, Clive Owen, and Steven Soderbergh all attended the wrap party for Cinemax's The Knick. [Page Six/NYP]
The Box: Adrian Grenier and his entourage of pretty women partied at the famously wild hotspot. [Page Six/NYP]
Campagnola: Peyton Manning dined with fellow teammates at the Upper East Side eatery. [Page Six/NYP]
Catch: Players from both the Broncos and the Seahawks dined at the popular MePa joint. [Page Six/NYP] http://pagesix.com/2014/01/29/broncos-seahawks-hit-citys-party-scene-before-super-bowl/
Costata: Jessica Simpson and her group of ten gal pals feasted on steak, pasta, and "lots of veggies." [Grub Street]
The Diamond Horseshoe: Sting and Trudie Styler sampled a new vegan dish on the menu of "Queen of the Night." [Page Six/NYP]
Inn at Pound Ridge: Brian Williams, Tom Brokaw, Martha Stewart, and Richard Gere all dined (separately) at Jean-Georges Vongerichten's new restaurant upstate. [Page Six/NYP]
Junior's: Seattle Seahawks guard James Carpenter ate fried cod, shrimp, and cheesecake all by himself at the Times Square location. [Page Six/NYP]
Leave Rochelle Out of It: Adrian Grenier sipped on cocktails, while Madison Square Garden owner James Dolan stuck to Diet Coke at the LES bar. [Page Six/NYP]
PH-D at the Dream Downtown: 49ers quarterback Colin Kaepernick drank bottles of Ciroc while sporting a cap that said "Reckless" at the trendy bar. [Page Six/NYP]
Renaissance Times Square: Regis Philbin and Gayle King had lunch separately at Danny Meyer's Super Bowl pop-up, Forty Ate. [amNY]
The Smile: Scarlett Johansson dined at the Noho restaurant. [Page Six/NYP]
STK Downtown: Seattle Seahawks Mike Robinson, Ricardo Lockette, and Arceto Clark discussed the upcoming game over steak. [Page Six/NYP]
Swing 46: Keith Richards danced with friends in Hell's Kitchen. [Page Six/NYP]
Tokya: Members of the Broncos defensive lineup ate dinner at the midtown sushi restaurant, but then requested steak, which the restaurant had to send someone to purchase. [Page Six/NYP]
Toro: Eric Ripert, Tom Colicchio, Marcus Samuelsson, David Burke, Francois Payard, and Kerry Heffernan all toasted Geoffrey Zakarian's new role as chairman of City Harvest's Food Council. [Page Six/NYP]
Refinery Rooftop: Hugh Jackman celebrated Australia Day with his family at the bar atop the Refinery Hotel, where he gave a stirring speech about his Aussie pride. [Page Six/NYP]
VIP Room: Denver Broncos Jeremy Mincey, Malik Jackson, Kayvon Webster, Sylvester Williams, and Steven Johnson partied hard Sunday night, drinking Ace of Spades Champagne straight out of the bottle and throwing money in the air. Between the four of them, they spent around $10,000. [Page Six/NYP]