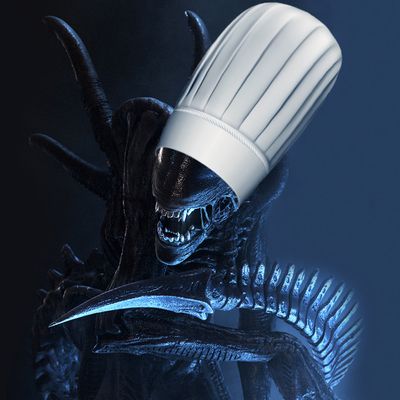 Hell breaks loose anytime he gets on the hibachi.
Photo: Konstantin Sergeyev; 20th Century Fox, Shutterstock
Part of entrepreneur Andy Davies's ambitious plan to open his so-called Sci-Fi Hotel — which is exactly what it sounds like — is to include a cocktail bar modeled on Switzerland's famed Giger Bar. The dark, modular real-life establishment is based on the techno-baroque designs of H.R. Giger, the Swiss artist whose iconic work pervades the Alien franchise and films like Dune. "Right now it's Seattle and New York, with San Francisco, New Orleans, and Chicago following closely behind," says Davies, who adds that he's also looking at the stratosphere-touristy Spaceport USA in New Mexico. (Of course he is.)
This sounds like one of the many thousand restaurant concepts that never actually open, but Davies is serious. Last week it was announced that Giger had signed on for the project, and aspects of original Giger Bar design and construction, including what are called "biomechanical ceiling arches," will be reproduced faithfully in the States. "The important thing for me is total authenticity," he says.
While New York has been historically unkind to theme restaurants, at least there's a historical precedent: In its Peter Gatien–era heyday, the famed Limelight had a Giger-approved VIP lounge. And, well, Malaysia's already getting an Alien vs. Predator–style restaurant, so perhaps its about time for East Coast fanboys to start an online petition. Those chest-burster burgers and face-hugger cocktails aren't going to make themselves happen, after all.
Cheers to the aliens: Sci-Fi Hotel, Giger Bar coming to US? [CNET via C.B. Cebulski/Twitter]
Earlier: Alien vs. Predator Restaurant Maybe Happening in Malaysia
Related: Ten Huge New York Restaurants That Almost Happened