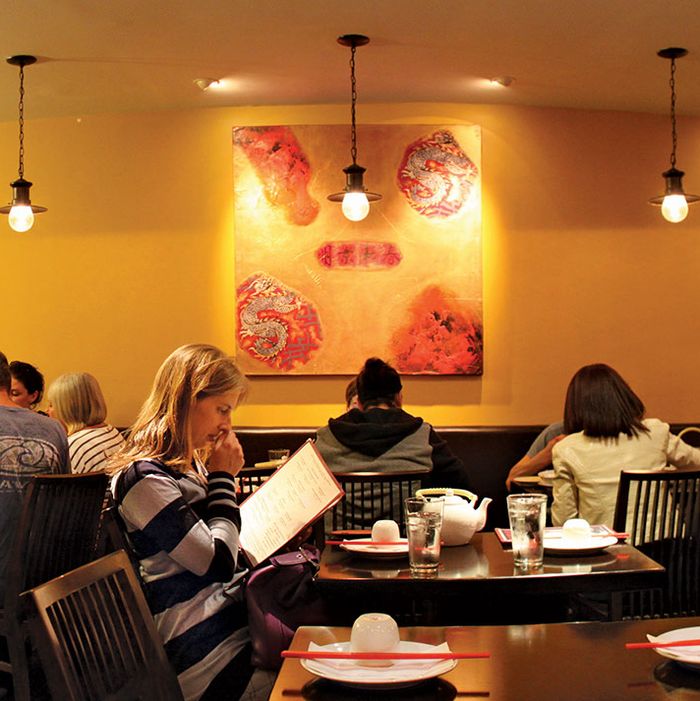 At least the wait time will be shorter now.
Photo: Jenny Westerhoff/New York Magazine
Pete Wells filed a double review this week, exploring new Sichuan and Japanese options in the city — and, shockingly, awarding Han Dynasty zero stars. Meanwhile, Amelia Lester feasted on stellar roasted chicken, and Steve Cuozzo only found one dish that he liked at Tao Downtown. Read it all, straight ahead.
Pete Wells wrote another zero-star review, this time for Philly import Han Dynasty. He finds himself "mystified" by those willing to wait "45 minutes or more" in line for mediocre cooking in a city where "there are far better Sichuan restaurants." Overall, the "main courses are heavy on sugar, bell peppers and especially MSG." But he awarded the "subtle" Japanese cooking at Hirohisa in Soho one star this week. Some hits: lobster in white miso and dashi, "lightly charred" sesame tofu with sea urchin and fresh wasabi, and grilled tile with a slab of foie gras. Best of all, it has no lines.
Steve Cuozzo visited the sprawling Tao Downtown, where he found the dining room was "filled with cliche decor and a lengthy, uninspired pan-Asian menu." Pretty much the entire overpriced menu is worth skipping, as many of the dishes "register as [a] soy, ginger, and sugar onslaught." The steamed chicken gyoza were "lumpy," $18 yakitori lamb chops "in their entirety would not fill a cavity," and the only part of the "sizzling soy chicken" that sizzled was the bowl. There is one redeeming plate — a solid Peking duck for two — but it isn't enough to counter a bill of misses. One-and-a-half stars.
Amelia Lester of The New Yorker is quite fond of the chicken at Rôtisserie Georgette, which has a "strikingly sophisticated space, with a clientele to match." While the Poule de Luxe made with slabs of seared foie gras and stuffed with wild mushrooms was delicious, she preferred the bird "in an unadorned state," served with a sauce of herbs de Provence and "enough garlic to kick a cold." An appetizer of "velvety" leeks, the stuffed potato, and the pepper steak with "a memorable crust" were also enjoyable. She recommends skipping the cocktails in favor of wine, for they tend to veer between "overwrought and watery."
Michael Kaminer filed a review on Onomea in Williamsburg — apparently NYC's "only true Hawaiian restaurant," where the "vibe is Jack Johnson surfer-cool, not Don Ho kitsch." He praises traditional staples such as Spam musubi (made with "mild meat and zingy rice"), a "tangy" ahi poke, and a "downright dreamy" Kalua Pig served with a "superb egg-fried rice." But it's the "lightly mayonnaised" macaroni salad that's "worth a visit just to get some." Other hits: the coconut flan, a Tahitian vanilla gelato, and the coffee. Three stars.
Daniel S. Meyer filed a review on Fung Tu, a "21st-century crack" at Chinese food from Per Se vet Jonathan Woo. The menu is a mixed bag of "assertive flavors" and "vexingly tasteless" plates. Some must orders: steamed whole sea bream with "pungent" fermented black beans, "springy" sweet-potato rice cakes that are "pure comfort," and duck-stuffed dates. The celtuce salad, the spaetzle topped with pork sauce ("meant to reference mapo tofu, but [recalls] overcooked Hamburger Helper"), and the broad-bean curd, which is similar to a "grainy hummus," are all worth skipping. Two stars.*
*This post has been updated to include Meyer's review of Fung Tu.