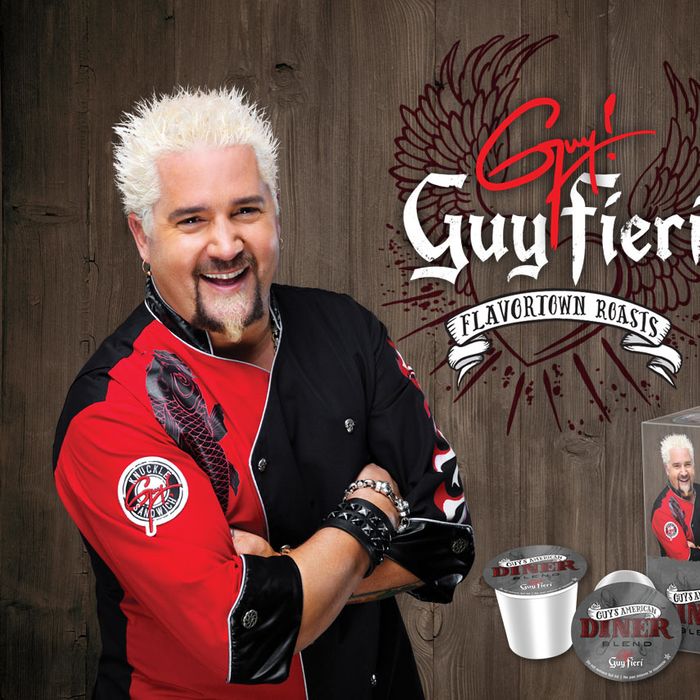 "Never stop brewin'! Never!"
Photo: Single Cup Coffee
The celebrity chef and jovial Super Bowl party host has branched out beyond things like steak sauces and Sonoma County–flavored chicken sausages and into the realm of Hot Fudge Brownie coffee. That's right, Guy Fieri's new line of Keurig-machine-compatible coffee comes in a too-kewl-for-skeewl box emblazoned with the TV personality's stamp and likeness, which doubles as a warning that you've just purchased a one-way bus fare to Flavortown.
Why is this happening, and why now? The project has actually been in the works for a long time, Guy says in a "prepared statement." It just takes a year of meticulous planning to elicit these "funky flavors."
"Really good coffee's always been super important to me. It's gotta be the real deal with big bold flavors […] Over the past year, I've been working with an awesome team of coffee nuts to create a killer line that's ready to rock! My fans are going to dig the huge taste, big aroma and funky flavors in my brand new collection."
A "hand-picked" sampler of sixteen K-cups will set you back $12.95 on Amazon, which puts the flavors — price-wise, anyhow — up there with some single-origin micro-roastery kinds of coffee. The "Redwood Roast" is "big, bold and strong like the mighty redwoods," but not actually made of trees, while the description accompanying the Caramel-Apple Bread Pudding flavor sounds as if drinking a cup may allow you to bend the rules of time and space. Take it away, Guy. Please.

Bananas Foster: Sweet banana, caramelized sugar and cinnamon flavors — brings me back to my days as a flambé captain!

Caramel Apple Bread Pudding: All the flavor from my righteous Caramel Apple Bread Pudding stuffed into your mug.

Chocolate Mint: The rich and creamy taste of chocolate and cool, fresh mint is perfect any time of year.

Guy's American Diner Blend: One thing you know about a diner is that they've got a great cup o' joe … so here you go!

Hazelnut Cinnamon Roll: Toasted hazelnut and big cinnamon flavors make this brew dessert in a mug.

Hot Fudge Brownie: My chocolate on chocolate Hot Fudge Brownie coffee comes to you straight from Flavortown!

Redwood Roast: Big, bold and strong like the mighty redwoods, this French roast will get your engine started.

Unleaded Decaf: Full of rich medium roast flavor, just packin' a little less horsepower.

Guy Fieri finally bestows Guy Fieri coffee upon America [Inside Scoop SF]
Earlier: Guy Fieri Is Having a Huge Super Bowl Party