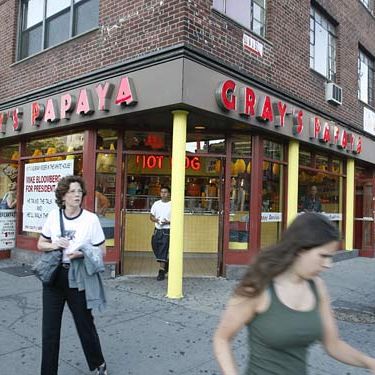 Gray's West Village corner operation was a neighborhood fixture.
Photo: Carmen E. Lopez and AJ Wilhelm
The famous, brightly lit hot-dog shop at one of the most trafficked corners of New York City has apparently closed for good: Gray's Papaya has been shuttered and dismantled in the West Village. "I heard we were closing for good, but I don't know the details," general manager Romy Villanueva tells Bedford + Bowery, adding that a recent rent hike is to blame.
Villanueva also says that owner Nicholas Gray is currently looking for a new location. For the moment, there's only one remaining Gray's Papaya in New York City, on the Upper West Side. A third location in Hell's Kitchen shuttered suddenly in 2011.
Update: The space will be turned into a Liquiteria juice bar.
What Is Happening to Gray's Papaya Right Now?! [Eater NY]
Doggone! Gray's Papaya Has Closed [Bedford + Bowery]
Related: Tropical Delights: A Guide to New York's Remaining Papaya Outposts