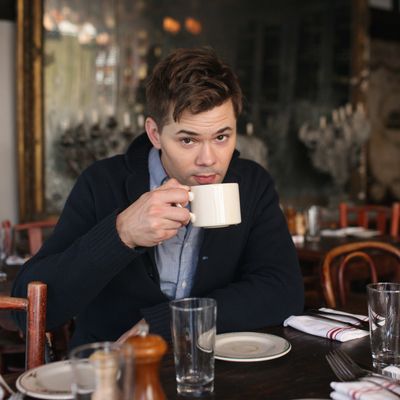 "It's so anorexic-y, and it was a drunken accident, but we only ate French fries."
Photo: Melissa Hom
Andrew Rannells — whom you probably recognize from his roles in The Book of Mormon's original cast, NBC's The New Normal, and as Elijah on Girls, as well as a recent guest stint on How I Met Your Mother — knows what he wants from a breakfast. "Even if a diner doesn't call that order 'the Lumberjack,'" he says, "I still order it as such." Of course, eggs and pancakes weren't the only foods that Rannells ate this week. He hit the Palm with his former Mormon castmates, grabbed a nightcap at Mermaid Inn, and celebrated Girls' return (the new season begins this Sunday on HBO) by making the most of the party's open bar. Read it all in this week's Grub Street diet.

Friday, January 3
Drinking several Manhattans the night before provided a rather slow start that day. But I didn't care. It was off to the deli on 9th Street and First Avenue for a turkey, egg, and cheddar wrap. I always choose a wrap because I feel like you get more egg. I know that's probably not true, but that's what I choose to believe.
I also had the first of many coffees. I start by making coffee at home, and then it usually spirals into Starbucks or the Bean, which sounds like something that would be on a sitcom, and not a real place.
I went to the gym, so I felt like I could eat whatever the fuck I wanted. I met my friend, Zuzanna Szadkowski, at Veselka. We met in high school, and we've been best friends ever since. I had the amazing turkey burger and fries. I also got a Stella because it still felt like the holidays.
I met some friends at one of my favorite East Village restaurants, Upstate. We had amazing oysters and a kick-ass cheese plate. And of course, a lot of beer. I really like the Radiant Pig IPA for its taste and its reference to Charlotte's Web. We continued on and had a sensible nightcap at the Mermaid Inn, another personal favorite in the East Village. A little bourbon before bed is never a bad idea.
Saturday, January 4
Breakfast was a very casual at-home affair: too much coffee and some yogurt and granola. Sometimes, I just don't have the energy for cooking in the morning.
I had sushi at Hasaki with my boyfriend. I love that place. It's very straightforward and delicious. I got the sushi combo: salmon, tuna, and yellowtail. And always a spicy tuna roll.
My boyfriend and I met up with some friends, and we all went to the Rocking Horse in Chelsea. Great guacamole and chips. I don't know what makes the chips so special, but they are special. I'm sure they're fried in something magical. I usually get the carne guisado: It's jalapeño-braised beef brisket and it is damn good. Kind of spicy, so tender. And of course, no Mexican dinner is complete without an obscene amount of margaritas. I enjoy the frozen margaritas here. They serve them with the largest straws I have every seen, which in my mind, enhances the drinking experience.
Sunday, January 5
The margarita binge-drinking fest made it nearly impossible to motivate in the morning. And by morning, I mean afternoon. But because this is New York and because it is amazing, I was able to help myself heal with a large breakfast order from Moonstruck Diner. The breakfast wrap with egg, ham, and cheese is perfect for hang-overs — both physical and psychological.
My eating schedule was totally fucked up. Between my hang-over and watching an obscene amount of HGTV, my boyfriend and I could barely leave the apartment. But it was Nikki M. James's last night in the Book of Mormon, and I love her madly. We pulled ourselves together and headed to the Palm in Midtown to celebrate her amazing run. The Palm is a top-notch place for steaks. I know my steaks. I'm from Omaha, Nebraska. I tried to show restraint and got a nine-ounce filet. I wanted the fourteen-ounce, but that seemed ridiculous. The creamed spinach was amazing, too: I'm not the best sharer when that's on the table. And because I was hanging out with my old castmates celebrating, there was a lot of wine consumed. Those Mormon boys really know how to knock 'em back. I've missed them terribly.
Monday, January 6
I was so excited and a little nervous for the party and screening of Girls' third season! I hadn't seen any of the episodes yet. Elijah left on horrible terms with Hannah and Marnie, and he's trying very hard to get back into their good graces.
I made a little breakfast scramble with eggs, spinach, and cheese. Sort of boring, but delicious. And then I met up with my pal Zuzanna again for lunch. I made her come to my neighborhood because that's the kind of friend I am. We went to Café Orlin, and I got the warm mozzarella sandwich with vegetables and sun-dried tomatoes. I've been ordering that sandwich since I moved to New York in 1997. Café Orlin was the first restaurant I discovered, and it seemed so fucking cool. I felt like I was really living in New York when I ate there. I still do. The fact that the staff has stayed the same age gives it a real timeless quality for me.
I was too, too nervous for dinner. I knew it was a bad idea to not eat, but I did it anyway. And I was correct. I didn't eat at the party because I was too excited to talk to people and I didn't want to chew while I was talking to the president of HBO. But I made the bold choice to drink with abandon. I mean, it's an open bar and it's the Girls premiere … am I supposed to not drink? I don't think so.
Luckily, Landmarc is open late, and my friends and I could grab one more drink (meaning three) and some food. This diary is quickly turning into a cry for help. It's so anorexic-y, and it was a drunken accident, but we only ate French fries. They were sort of closing … I don't know. I have the diet of an alcoholic 12-year-old boy. Sandwiches and French fries!
Tuesday, January 7
My phone said it was seven degrees! My boyfriend and I barely made it to breakfast without our faces falling off. We managed to get to Amelia's, an adorable diner on Varick Street. I know I hit a lot of diners, but I've been in L.A. for over a year, and there aren't really any diners there. They're not real diners, you know? I ordered pancakes, eggs, and sausage — also known as the Lumberjack! I love the Lumberjack. Even if a diner doesn't call that order "the Lumberjack," I still order it as such.
Even though my body nearly shut down from the cold, I still managed to get to Brooklyn Heights to have yet another lunch with my friend Zuzanna. This time I was a good friend and went to her neighborhood. We went to Custom House on Montague Street. Adorable. Very nice staff. We had a flatbread pizza and an order of Buffalo chicken tenders. I also had a hot toddy, because did I mention it's fucking cold? If I'm going to freeze, I might as well be tipsy when I do it.
Wednesday, January 8
I had a breakfast sandwich from Starbucks — just out of necessity, not because I wanted it. It was not the greatest sandwich in the world. Then I had a coffee at Gemma — one of my favorite places in the East Village.
For lunch, I'm going back to Tarallucci E Vino. I love that place. It's one of those Italian coffee-and-pastry places, and at night, it turns into a wine bar.
Dinner tonight is at Bill's Food and Drink. My boyfriend and I are going to a party for Zac Posen. I've never been to that place, so I'm kind of excited. I'm never on the Upper East Side. I went to school up there, and I now I avoid it all costs.