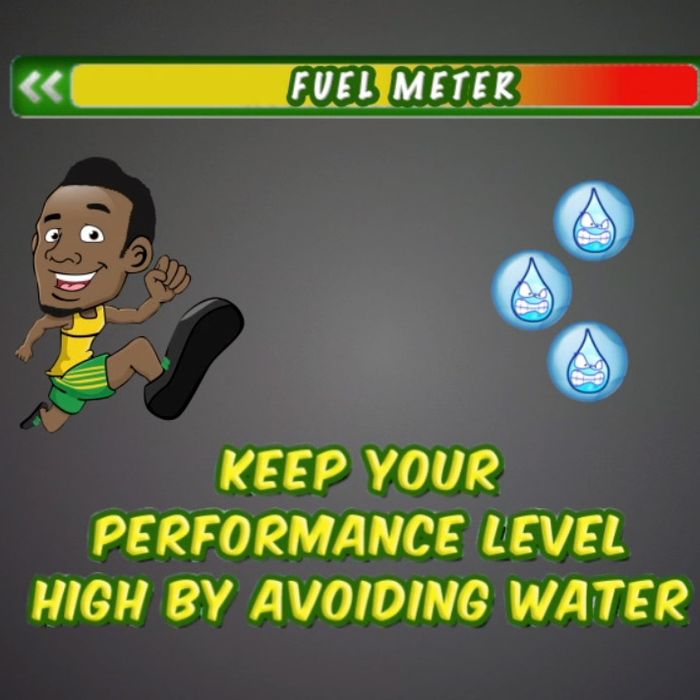 2.5 million people downloaded the app, most of them between 13 and 24 years old.
Photo: Gatorade
In the summer of 2012, the PepsiCo-owned Gatorade released a branded gaming app with Usain Bolt called, fittingly, Bolt! The object of the game, produced by media agency OMD and developer RockLive, was to complete an obstacle course and "collect a booty of gold coins while avoiding Caribbean pirates, cannon fire, and the occasional explosion." Oh, that and also by avoiding water, Civil Eats reports, which the app helpfully identified as the "enemy of performance." Take it away, marketers.
Bolt!, which was free to download and play and has since been removed from the iTunes store, let users step into the McNugget-loving athlete's size-fourteen trainers and tear, Temple Run–style, through a Jamaican field of exploding barrels, floating crates, and treacherous drops of water. Yes, that evil water costs you points: "The integration needed to position Gatorade as the hero," the narrator of the OMD case-study video says. The company deliberately positioned the soft drink in the form of Gatorade-branded power-up tokens meant to "drive better performance and higher scores, with water as the enemy that hinders performance."
There's also the "network of influential celebrities" used to hype the message. Tapping folks like Mike Tyson, Rob Kardashian, and Bolt himself apparently paid off: The app had 2.5 million downloads and was played 87 million times. "The last app I downloaded was called Bolt," Justin Bieber says, doing his part in the name of compensated endorsements.
I got 344,169 in Bolt! by @RockLive. Get this free iPhone game and run with Usain Bolt! @MikeTyson Beat u😏 #TooGoodForTyson— Justin Bieber (@JBofficialx) August 17, 2012

I got 624,915 in Bolt! by @RockLive. Get this free iPhone game and run with Usain Bolt! Download here: http://t.co/nP6FZAaq @MikeTyson— Justin Bieber (@JBofficialx) August 17, 2012

Sure, making water the enemy in favor of a branded, sugary drink seems somewhat innocuous, if not predictable — it's a game, after all — but it's also despicable: Of those millions of users, OMD says, roughly 75 percent fall into "Gatorade's key 13-24-year-old demographic.
"More importantly though," the narrator says, "the 820 million brand impressions generated, drove home the message that Gatorade helps you perform better than water."
Water is the Enemy, Gatorade Mobile Game Tells Youth [Civil Eats]
* This post has been updated to include the Bolt! promotional video.