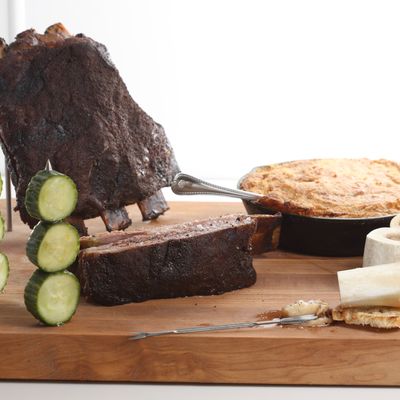 Whole short ribs with marrow bones, homemade pickles, and pommes gratin.
Photo: Melissa Hom
By now, you have heard of Queen of the Night, the circus-opera-dinner-performance showpiece from Sleep No More's Randy Weiner that's currently running in the reopened Diamond Horseshoe. You've possibly even tried to buy tickets for the six-week run but have found them to be somewhat difficult to procure. No matter: It is running and people seem to be very impressed with it. We will leave analysis of the show itself to more theatrically minded writers. As with all aspects of life, Grub is most interested in the food.
A quick explanation: The food itself is just one part of the entire show, and other reports have touched on it. But chef Jason Kallert (who, we should mention, is married to Grub photographer Melissa Hom) and director of food performance Jennifer Rubell (who is not married to anyone on Grub's staff, but who did once allow herself to be covered in honey for New York) have been somewhat secretive about what, exactly, their collaborative menu entails.
Turns out the prevailing culinary theme of the meal is: food that everyone loves, presented in a totally over-the-top fashion. "The level of ambition of the food performance bumped up against absolute constraints," Rubell says. "And Jason's been really good at pushing every one of those constraints to the limit." These are the kinds of things Grub Street likes to hear.
So how did the meal — which is integrated into the show itself — come together? "I'm collaborating with Jason," Rubell explains. "He does everything up to the kitchen door, and I do everything after that." But that's not 100 percent accurate, because one discipline informs the other. For example, Rubell says, "There's something we call the food parade, so I might work with the choreographers to bring that into existence, but lines get blurry, because, in order to do a parade where food for 220 people comes out in one minute, everything feeds into that — the menu, what to make, how to make it, so it's not entirely fair to say Jason's work is only in the kitchen."
As you can tell, it's all sort of hard to … describe. But that's the point. "I'm excited to be part of something that has this kind of exuberance," Rubell says, "that you cannot put in a box." So, yes, no boxes, especially where the food is concerned. But there are plenty of skewers and rotisseries and even birdcages full of lobster. See what we mean: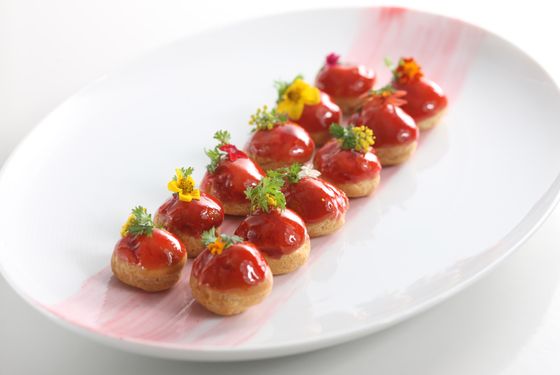 Foie gras gougeres glazed with brandied-cherry jam.Photo: Melissa Hom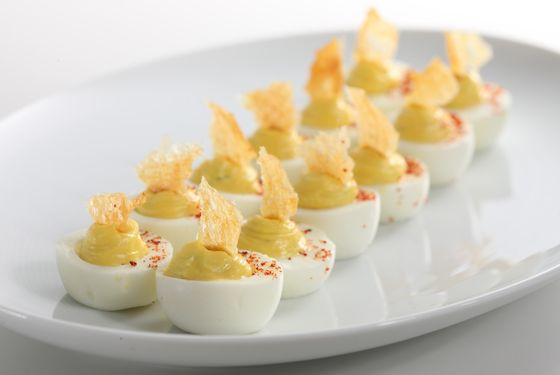 Deviled eggs with crispy chicken skin.Photo: Melissa Hom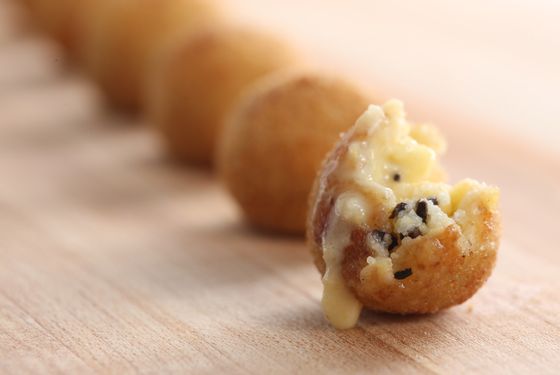 Black truffle polenta arancini.Photo: Melissa Hom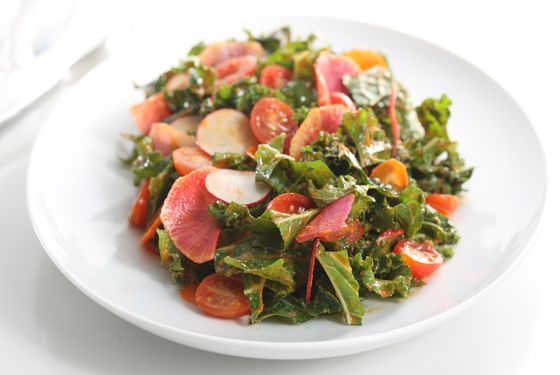 Kale salad with carrots and radishes.Photo: Melissa Hom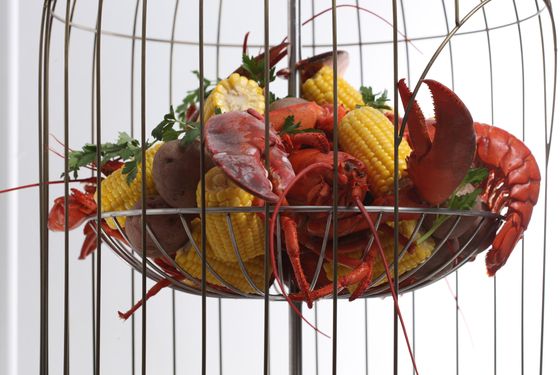 Steamed lobster with red bliss potatoes and fresh corn, served with beurre monte.Photo: Melissa Hom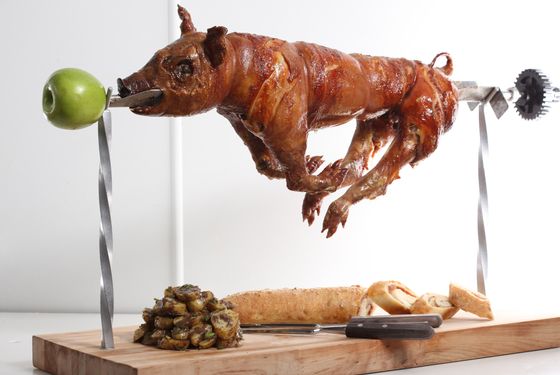 Whole suckling pig with soppressata stromboli and warm fingerling potato salad.Photo: Melissa Hom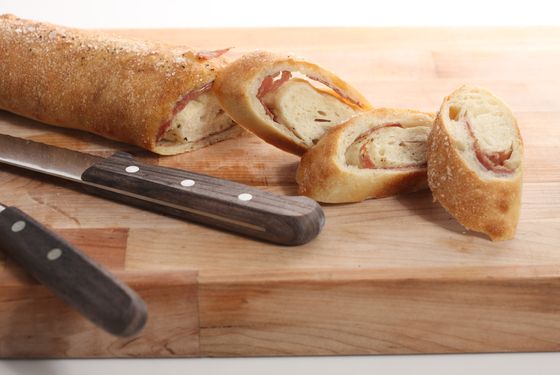 A closer look at the stromboli.Photo: Melissa Hom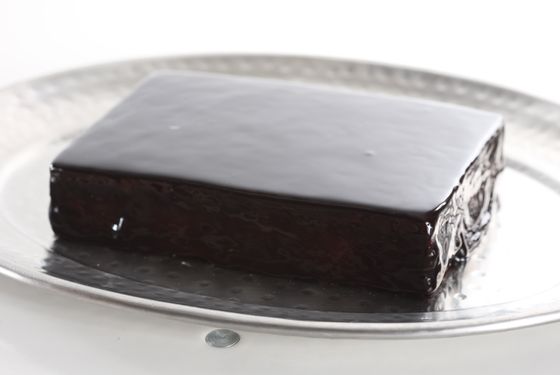 Hazelnut dacquoise.Photo: Melissa Hom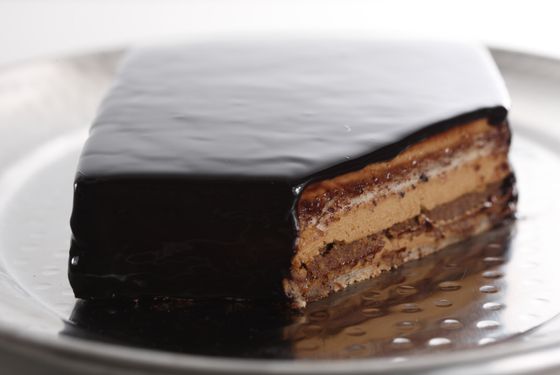 And, inside, layers of coffee-flavored diplomat cream and praline feuilletine.Photo: Melissa Hom
Earlier: Diamond Horseshoe Reopens in the Paramount Hotel, Torched-Rosemary Cocktails and All