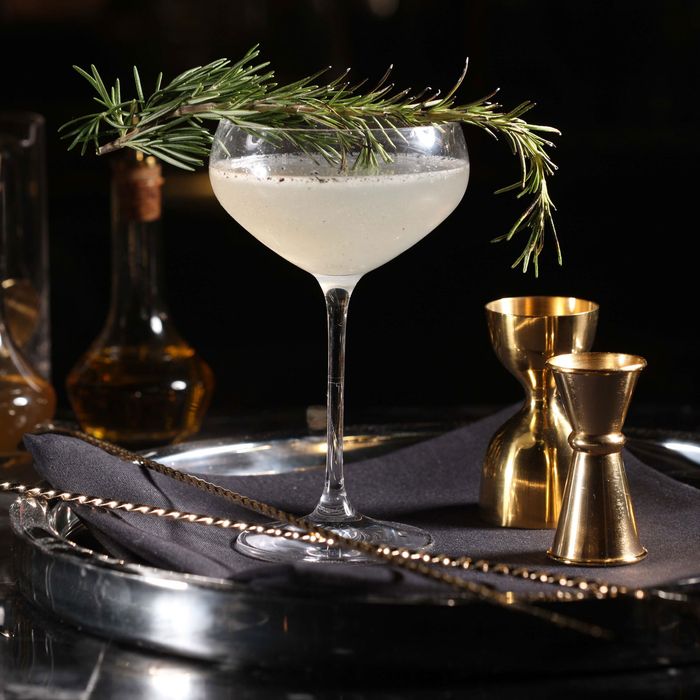 Shine bright like a diamond, or at least a cocktail made with torched rosemary oil.
Photo: Melissa Hom
What's old is new again with this week's reopening of Diamond Horseshoe, 75 years and a $20 million restoration after the long-standing "gayest frolic on Broadway" first debuted in what is now the basement of the Paramount Hotel. The opening show, called Queen of the Night, is here for six weeks only, and departs from the original's vaudevillian feats of greatness and glamorous showgirls full of shimmy.
The new Queen of the Night is an immersive, theaterlike collaboration between real-estate developer (and Paramount owner) Aby Rosen, LDV Hospitality, and Sleep No More producer Randy Weiner. It is loosely based on Mozart's opera The Magic Flute, with a focus on food-themed performance art.
Tony winner Christine Jones directs the actors, who roam in costumes designed by Thom Browne. The story follows a "dark debutante ball" thrown by the Marchesa, the eponymous Queen, for her daughter Pamina. While at Sleep No More audience members are able to remain anonymous and be solely voyeuristic, opting out isn't much of an option here: Diners are called upon to participate in the performance, which infuses circus acrobatics, music, food, and cocktails, including the saucily named "Queen's Bush," pictured above. During the performance one learns the original recipe was "created when the queen torched her garden for the masked ball of 1874." Today you get vodka, lemon, rosemary simple syrup, and a toasted rosemary sprig for garnish, served during the torch-free cocktail hour.

Food is the domain of chef Jason Kallert, an alum of Tavern on the Green, Le Cirque, and the Friars Club (and, full disclosure, he's married to New York photographer Melissa Hom), and food performance artist Jennifer Rubell, who have put together four menus — including a vegetarian one — to coincide with crucial moments of the performance. Tickets start at $125 and you'll have to buy one to see the full menu. The show's organizers are making an effort, for now, to keep the food presentations under wraps; below, however, is a taste of Kallert's foie-gras-filled gougères.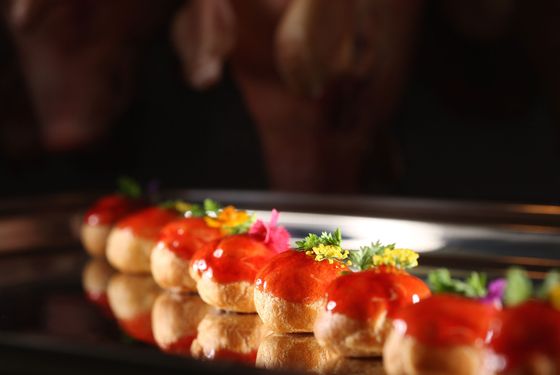 Some mini pâte à choux filled with foie gras mousse, glazed with a brandied cherry jam and decorated with micro edible flowers, which, we're pretty sure, did not come from the Queen's bush.Photo: Melissa Hom


"Queen of the Night"at Diamond Horseshoe [Official Site]